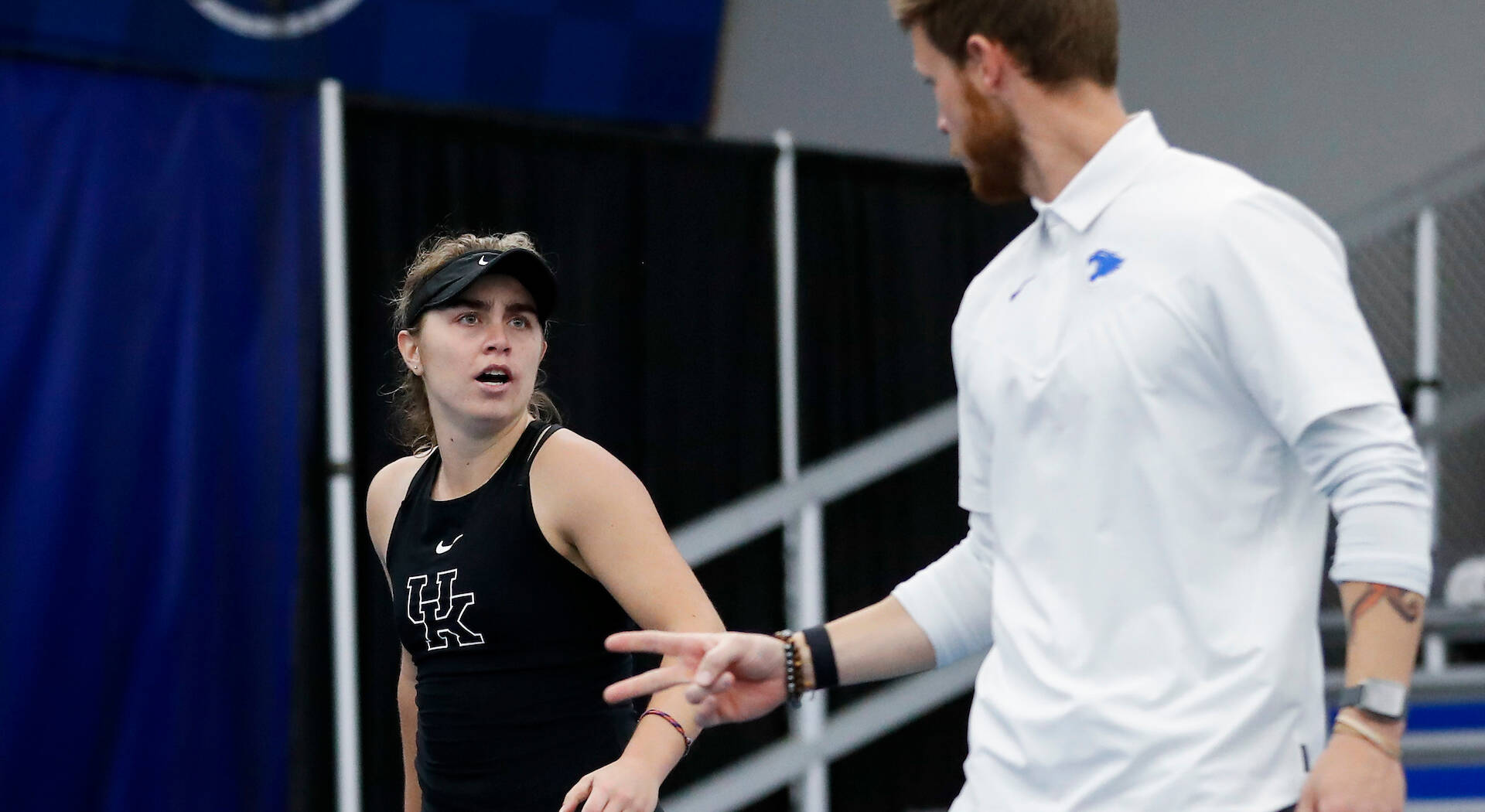 March 16, 2023 - 10:43 PM
Women's Tennis Takes on Two SEC Opponents on the Road
LEXINGTON, Ky. – No. 68 Kentucky women's tennis (7-6, 1-3 SEC) will travel to Columbia, S.C. on Friday to take on the No. 34-ranked Gamecocks (6-6, 1-2 SEC) at the Carolina Tennis Center for a 5 p.m. EST matchup. Following Friday's competition, the Cats will then head to Gainesville, Fla. to face the No. 18- ranked Gators (7-3, 2-1 SEC) on Sunday at Noon. The match will take place at Linder Stadium.
After falling to Southeastern Conference opponent Tennessee last Sunday in a tough battle, the Cats look to secure another conference victory on the road.
UK last went head-to-head with South Carolina in the 2022 regular spring season in Lexington, Ky. The match resulted in a Wildcat loss with the Gamecocks finding victory, 4-2. South Carolina and Kentucky would battle it out once more in the 2022 season at the SEC Tournament where the Gamecocks eliminated the Cats, 4-1.
Sunday's opponent Florida also faced Kentucky in Lexington last season. The match concluded with a 5-2 win for the Gators over the Wildcats.
Key Notes:
Kentucky is 7-6 overall this season with a 1-3 mark in SEC action. The Cats began SEC play with a 5-2 win at Mississippi State but have since fallen to Ole Miss, Georgia, and Tennessee.
Kentucky is coming off a 5-2 win against non-conference opponent Bellarmine at the Hilary J. Boone Varsity Tennis Center. The match was the second of a double header which began with a 2-4 loss against SEC rival No. 12 Tennessee.
The Wildcats have one player ranked in the ITA Singles Rankings – No. 74 Florencia Urrutia. Urrutia has spent most of her time holding down the top spot in the singles lineup for Kentucky.
Live streaming and live stats are both available this weekend's contests by clicking here.
For the latest on Kentucky Women's Tennis, follow @UKWomensTennis on Twitter, Facebook and Instagram, as well as on the web at UKAthletics.com.