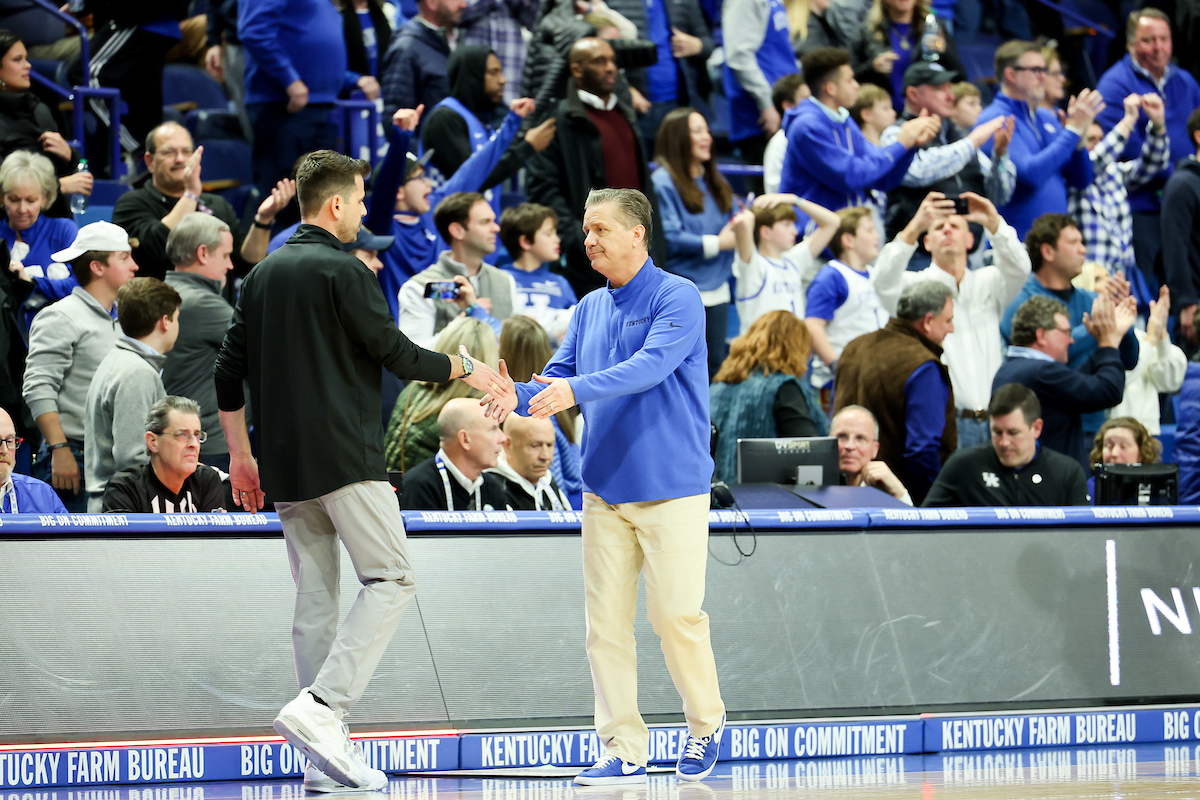 March 16, 2023 - 03:32 PM
NCAA Tournament Thursday Press Conference Quotes
NCAA Men's Basketball Championship: First Round – Providence vs Kentucky
Thursday, March 16, 2023
Greensboro, North Carolina, USA
Greensboro Coliseum
Kentucky Wildcats
Coach John Calipari
Jacob Toppin
CJ Fredrick
Lance Ware
Media Conference
THE MODERATOR: Ready to go with the student-athletes for Kentucky.
So you all obviously know Bryce Hopkins. Have you talked to him since the draw came out, and how excited are you to play him tomorrow?
JACOB TOPPIN: When we saw we were playing Providence, we have a group chat still from last year's team, and I texted in group chat. He texted back. We had a little fun with it.
Yeah, we're excited to play them. Providence, they're a really good team. Bryce, he is a really good player. We played against him, so we know he is a really good player.
We just have to come in and fight and understand we have to respect them but not fear them. Just be ready for the game.
THE MODERATOR: CJ.
CJ FREDRICK: Like Jacob said, we're all in that group chat. All three of us were on that team last year, so we were able to talk to them for a little bit and just have some fun.
Like Jacob said, it's going to be really fun competing against him, against Providence. A really good team, a well-coached team. We're looking forward to this opportunity.
THE MODERATOR: Lance.
LANCE WARE: Following up on what they said. We love Bryce. He is a brother to us. We had good times last year with him, and to be able to go out here and play the game that we all love together is special, but, you know, number one thing is the game and to win the game and make sure that we fight, play hard, and do the things that we're supposed to do.
You battled injury all year long. CJ specifically, how are you doing, and how is the rest of the team doing injury-wise?
CJ FREDRICK: Yeah, I'm doing well. Rest has been nice for me these last couple of days. At this point of the season everybody is a little banged up. There's always something lingering at this point of the year, but I'm feeling pretty good going into the game, and the rest of the team is feeling good, fresh, so we're excited.
Jacob, emotionally your kind of claim to fame this year has been coming out and being so open about your emotional and mental status. I was wondering how is the team doing from that aspect? Where is their mindset heading into the tournament?
JACOB TOPPIN: I feel like together as a whole we're in a great mindset ready for this game. We've prepared. We've had two great practices. We're going to have another great practice today. We're just all in the right mindset of staying connected, fighting through adversity if it comes, staying humble and just living in the moment.
We understand that whatever happens in the end happens. As long as we fight, as long as we stay together, good things will happen.
So I feel like as a whole we're definitely in a great mindset.
Just wondered if each of you could speak to the tradition at Kentucky, what it means to each of you, and what it means to have to try to uphold that with so much expectation that comes along with playing at a program like Kentucky.
LANCE WARE: I think that being at a place like Kentucky, playing in front of the best fans in the country, no matter where we play, there will always be a Kentucky fan. We were in London; there was Kentucky fans. We were in the Bahamas; Kentucky fans.
Just everywhere we go, how much love they have for us. But it also means that they expect you to perform and go out and play the best brand of basketball that we can play.
Sometimes that's a lot, but that's what is expected, and that's what you get when you come here. That's known when you commit here and you sign up to be a basketball player here.
CJ FREDRICK: Just to follow up with what Lance said. He hit it on the nose. When you are playing at the highest level and the highest brand, there's a lot of good, and there's a lot of expectations that come with that. So that's on us moving forward. So many great players and the tradition of this place, we're looking to keep that going this weekend, and obviously more.
Like Lance said also, we have the best fans in the country, so it's awesome to have their support behind us, so we hope to play a good brand of basketball for them.
JACOB TOPPIN: Yeah, they basically said what I was going to say. We play at Kentucky, so there's expectations that's higher than most places, and we understand that. We've been through a lot of adversity, but we fought through it together.
I feel like we're well-prepared for the tournament because every team that we played this year, it was their Super Bowl, and that's how it always is. We understood that.
It's got us prepared for this moment now, so we're excited for the moment, and right now we're just living in the moment.
Jacob, obviously you played your first year at Rhode Island and made a decision to transfer to Kentucky. Can you reflect on that decision a little bit and just speak to how much you've grown as a player and as a person these last couple of years.
JACOB TOPPIN: Yeah, definitely. Transferring to Kentucky has helped me tremendously in every aspect of my life, not just basketball, but as a person. Mentally, physically, I've grown. On the court I've grown a lot. I was immature coming into Kentucky, and Coach Cal, the coaching staff and everyone around me has helped me tremendously grow as a man and as a basketball player.
So I appreciate everything Kentucky has done for me, and I'm just getting better day by day.
Jacob and Lance, you guys were named captains of this team, something that Coach Cal rarely does. Can you answer why you think he did that, and what does it mean to you to be named captain?
LANCE WARE: We named CJ co-captain, so he is co-captain.
JACOB TOPPIN: As everyone knows, Coach Cal wants to put this on his players. He wants to make it players first, so he named us captains so we could take control of the ship, understand that he is not going to be on the court with us. We're on the court with our teammates. So we have to have some leadership as-is.
It just takes the pressure off of him and puts it on us. So we'll take that pressure because we've been through a lot, so we can take that pressure, and we understand what comes with it. We're excited to lead this group and just have a good outcome, hopefully.
LANCE WARE: Also, I think that it's different sometimes to hear something from your peer rather than your coach. Like, we've been — me and Jacob have been around Coach for a few years now, so we kind of know what he likes and what he wants from players. Us being able to tell other players what it is instead of having Coach scream at them, and they might handle it a different way if it's coming from their peers, so…
Jacob, and this is for all of you, you guys were around last year, and you saw the pressure around the program and how Coach Cal handled it. How do you think he has gone about it differently this year?
JACOB TOPPIN: I think he's kind of canceled out all that noise. He has gotten better at doing that, and he has gotten better at teaching us to cancel out all the negativity. Because in life, if you focus on the negative, things won't go well.
So we try to stay focused on the positive things, stay within ourselves, stay within this team and see how we can get better as a team and individually within our system and not worry about all the outside noise because it can affect us not just on the court, but in life.
So we try to stay away from what people have to say about this team because we understand what this team is capable of. And we're together every day 24/7, so nobody else knows what we go through, what practice is like, what games are like. No one knows what we're going through.
So everyone has their say, but at the end of the day we know each other's personal life, we know what we all go through. We're just going to stay in the moment, like I said before, and just understand that we've got to stay together and not worry about outside noise.
CJ FREDRICK: Yeah, I would agree with what Jacob said. Super positive. There's been a lot of highs and lows throughout the season, but he has been super positive and just big on staying in the moment, blocking out that outside noise like Jacob said, and just worrying about us. So that's really about it.
THE MODERATOR: Do you want to go?
LANCE WARE: I don't need to. They said everything. That's okay.
Similarly, Cal has talked about keeping you guys loose this week. What's an example of something he is doing in practice to keep you loose and relaxed going into the first round game?
THE MODERATOR: Lance, we'll let you lead with that.
LANCE WARE: Not so much practice, but I think just yesterday a moment that really stuck out to me was, like, on the bus after team dinner we were all having really a good time on the bus joking around with each other. Super loose, high energy. Kind of just ready and trying to embrace the moment, so…
CJ FREDRICK: A moment that kind of stood out to me before practice he kind of just showed not like big impactful clips, but just moments of past teams. They were just having so much fun and smiling and having joy. That was a moment that stood out to me. It was just kind of telling us, this is supposed to be a fun time. Smile, have fun, and do what you guys love to do.
THE MODERATOR: Jacob?
JACOB TOPPIN: Yeah, they hit it on the head.
THE MODERATOR: Third person gets it easy. Okay, guys, thank you.
JOHN CALIPARI: Excited to be here. My team is excited to be here. Last night's dinner was more chatter at the table for the players than I've heard in a long time. I don't know if that means they're a little nervous, but they were no headphones, and they were doing stuff together, which made me feel really good. I slept better last night because of that.
Questions.
Sahvir said that he has been practicing this week and that he thinks he is going to be available tomorrow. Just what are you expecting from him?
JOHN CALIPARI: Well, he is trying his hardest, and he is doing great stuff, but, you know, I've got to really feel that he is going to be maybe not 100 percent, but he can't be 80. Not in a game like this.
Providence is well-coached. They've got terrific players. Obviously, I know Bryce well and respect him and love him to death. He is a terrific player, but their guards are good. They're downhill runners.
And so we'll see. He'll go through the shoot-around. We'll practice a little bit after this, and then the docs and the trainers will tell me what they think.
You talked a lot about how some of your best teams are those player-dominant teams, and you made captains going into this postseason, but what has the process been like in trying to get these guys to have that mindset of being a player-dominant team?
JOHN CALIPARI: You want to empower the players, and you want to give them say in what you are doing, and this team has shown signs of that.
But this has been about growth, about getting healthy. Someone was asking me about Oscar. He had a knee operation to start the season. Was out four weeks, and really should have been out six, and is starting to come back to where he was. We've had some others. No excuse. We're Kentucky. You're supposed to win every game by 20. I get it.
But what they've been through, we never lost more than two games in a row, but what they've been through with a loss and then the onslaught that they withstood it and stayed together and grew and became a better team, I told them you're going to remember 2023 the rest of your life, and you're going to be able to say we can get through this. Yeah, you should have seen 2023.
Then you come out on the other side stronger, mentally tougher, better. So, yeah, this was — this was kind of — everybody counted us out. They're still counting us out. I told the guys I like this. This is kind of like my UMass and Memphis days: Ah, they didn't play… they're not… they didn't… they're not…
All right. We'll see where we are. We'll see.
But this — I'm liking the group. I wish we were fully healthy, but we'll have to see what happens Friday, who can play.
You sound pretty relaxed. There's a lot of chatter about how much pressure is on the team and on you, and, yet, there's always pressure. This is Kentucky, but what have you done specifically this year to —
JOHN CALIPARI: Let me say this. Every coach in this tournament has butterflies. Whether they lost last year or they won the whole tournament or they're in the Final Four, they have butterflies.
Their teams have butterflies. That's part of what this is. I want this team to fully experience the NCAA tournament. Not deal with, well, what if and they're saying this and that. No.
My job is to shield them from all that stuff and make sure this is an experience that you go through that you're fortunate to be in this and really enjoy the experience. Don't listen to all the outside voices and — it doesn't matter. You play the games. You play the games.
What anybody says and, again, my job is to shield them from all that. The problem is some of them have phones, and they'll read some of the stuff, and you try to tell them, it makes no difference what anybody says. You still play the games.
So I've done this a long time. I mean, this is another tournament game for me, but my job is let's get them in the right mindset. Let's get them to understand who we are and what we are. You know we bring out the best in other teams.
In my time at Kentucky, you've had teams play out of their minds against us at times, but we've done some good things too.
Over the course of your career, can you compare and contrast SEC teams versus Big East teams?
JOHN CALIPARI: Well, you know I was in the Big East back in the day when everybody had three NBA players on their team. Then I coached in New England and tried to survive in that region of Big East teams.
You know what's crazy in it all, they've survived and thrived with all the changes. They have done the things that they have to do to keep thriving.
Eddie has done a great job. I mean, what he has done. I like to go to Providence because I like to go up by the pineapple and go get a nice Italian meal. It's a great city. But what he has done and how he has done it, and this year he has done it different. He has a bunch of transfers. Now all of a sudden he has done it another way. It shows what a great coach he is.
John, what are you expecting going up against Bryce tomorrow?
JOHN CALIPARI: He is a terrific player. Being with us and part of our family and hated to see him go, but I understood. Still love him.
He bounces it. He is physical. He can shoot the ball. He gets to the foul line. He is a terrific player.
I'm just wondering if you could speak for a moment to the pressure that's inherent in the job that you have at the University of Kentucky, and what it means to try to have to live up to the tag of blue blood in college basketball circles?
JOHN CALIPARI: Here's what I don't want any of us to do. Every job in college basketball is really hard. Not just — you make it like you've got the hardest job, Cal. Yeah, there are a hundred other jobs that I would say are just as hard, and the coaches deserve people to say, they've got hard jobs too.
Right now even a mid-major, what happens is you build your team, and what happens at the end of the year? Your best players, what? They leave. That is a ridiculously hard job. All coaches, in what we do, there's an expectation of every job, understanding that Kentucky's expectations may be higher, but so are everybody else's.
And one thing goes wrong and you slip, all of a sudden it becomes doubly hard. Coaching basketball these days is very hard. Rewarding financially and all that. I'm not saying that. My dad was a baggage handler, so don't think that I don't understand. He'll be here, by the way. He is 90 years old. Got his knee replaced, so he is walking good. He is into it.
But these jobs, they're hard. Yeah, I've got a hard job. I love this job. I love being at Kentucky. I love walking in every arena, and it's full. Every arena we go to, every game at home we led the nation in attendance. Who wouldn't want to coach there? Yeah, there's the other side of it. There's a high expectation, but that's never scared me. It doesn't scare me now.
But, please, understand the coaches are saying thank you for me saying that right now. We all have got hard jobs. They're hard, and they're intense, and people, social media has made them even crazier.
I just want wondered if you would speak to Jacob Toppin's growth, the player that you got out of the portal from Rhode Island?
JOHN CALIPARI: There were people calling about him, and I knew he wasn't a one-year project, but his growth has been phenomenal. Are you ready? This year. This year.
Yes, he got better each year, but he hit a bump in the road.
All the kids on this team — I probably had half of them that hit a bump in the road the same way because they need to know, here's the juggling we do. I've got to hold them accountable. You've got to be about your team. There's a certain responsibility you have to all of us, but the other side is they've got to know I believe in them, and I pick them up. So you're juggling.
Like, look, you are doing this or you can't be in there. Yet, you believe in them. Jacob was one, you know, holding them to a high standard and then he needed, look — I say to him now, think about where you were. Don't go back there, and I won't let you go back there. I believe in you, but you cannot revert back to where you were.
I got a couple of other guys. We had meetings. You remember that meeting we had where you came to see me? Well, think about where you are now. Let's not go back there. So this is — all those kids out there, there are things that we didn't have to do. We never had to be 18 and 19 and 20-year-olds and have social media coming at you. We never dealt with that. How they're dealing with it, I tell them, I respect you because, you know, people can be mean and nasty because you don't know who they are.
With Jacob, what he has been able to do this year, phenomenal. He went from eh to this kid is a pro. He did it. He did it. And he fought, which made him stronger.
I mean, I always say when I'm evaluating a player, I want to see when he is at his worst, what is he then? Does he blame? Does he take stock? Does he take responsibility? You want to know, how is he when he is at his worst? You know how everybody is when they're at their best, including coaches. Things are good, we're telling jokes and we're fun. Now go through the avalanche. All right, how do you deal with it then? Do you still take responsibility, or are you blaming? We've got to do some stuff, and it starts with me.
I mean, all this stuff, I respect all these kids. I really do. And I tell my team probably once every two weeks, you know how much I respect what you guys do, what they have to deal with. It's not only social media. Who else do they have to deal with? Everybody around them. They've got ten voices coming at them. Here they are 18, and you want to be a pleaser.
This is hard for these kids. The opportunity they have — and I tell them all the time — at Kentucky, the biggest of the big stages you get an opportunity to show, like all the other players that played for us.
Today we had Ashton Hagans come in for lunch, and he spoke to the group. He is going to play tonight. I'm going to go over I think half the game. I said I have a game tomorrow. I can't stay for the whole game. He is in Greensboro. You know what he said? He looked at them and said, Appreciate all this. Appreciate how they treat you. Appreciate how you're coached. Appreciate this NCAA tournament. He said my first year we went to the Elite Eight. My second year we all thought we were winning the national title. We won our league by four games, I believe.
He said, And then they took the tournament and said they're not having a tournament. You have to look at what has happened for you now and you're here. Take advantage. Go have a ball. Be for each other. Love each other.
When he was sitting up there, I was thinking he was one of the quietest guys on my team. To be able to do that made me proud that he was able to speak the way he spoke to the team. And he connected with them. They all got up and hugged him and shook his hand. That kind of stuff, when you are into coaching, seeing your guys and your former guys and seeing their growth, it's — there's nothing better.
Coach, I wanted to ask you about Devin Carter and Noah Locke, two guys that you scouted in the past. What stood out in how Coach Cooley has used both of them this year?
JOHN CALIPARI: I keep saying, Eddie has done a terrific job. You got downhill runners. You know what Locke is going to do, and he runs them off baseline screens and puts them in different situations, screen to screener action. So he can get out and catch balls and shoot.
And Carter is just attacking the basket, and he also plays the ball. So he will attack the ball defensively. They don't stop. I've seen them down 20, and all of a sudden it's a five-point game. They do not stop. They play. And they will rebound. That's a big thing for them, offensive rebounding.
How concerned are you at all with the story developing that if you push Oscar hard enough, you might get a flagrant one out of him? What's happening to him, and how do you prevent that from happening tomorrow?
JOHN CALIPARI: I don't know. This is — the NCAA tournament very rarely do you have to deal with officiating because it's really good officiating. A couple of games I've had where I've been a little more outspoken, but normal situation is you're coaching your team, and they're officiating the game.
What you hope is the physicalness of the game is called. Oscar has been with me now two years. How many times has he had outbursts? You watched us. I think he just got tired of it. He said, That's it.
And this is a quiet, faithful — you know, I'm a sinner, and when I'm around him, I feel like a miserable sinner. This kid is — who he looks to be is who he is. What I would guess is if they try to get too physical, if they block out facing him, they'll be called fouls, and that would be my hope.
Over the years your program has had some pretty intense rivalries with a couple of the schools here in this general vicinity. Is there any kind of irony or strangeness to the fact that you are here and they're not? And then earlier you alluded to the fact that everybody comes out to see Kentucky. How do you think here in enemy territory your team will be received by some of the folks up in the stands?
JOHN CALIPARI: Well, if they bought tickets prior to this thing thinking they would have one of their teams down here, they're not going to be happy with us. You know, look, the rivalry between, you know, Roy and Mike and myself, I love playing those games. We won some, we lost some, but you are going against the best, like, ever.
As a coach, you walk in knowing you better be on your toes. I mean, this thing right now, you talk about pressure. It's kind of like the boiling water, and you want it to bring out your best, the boiling water, because it's going to happen.
Every team will start the game so excited that they're jumping and making it. As the game goes on, the water gets hotter, and whose team and what coach can stay, like this brings out my best? You know, that's what makes this great.
I'm going to tell you what else. One game. None of us know what's going to happen. None of us. We could all — the 1 has beaten a 16. And you may not know this, a 2 has beaten a 15. A few times. A couple of Hall of Famers too, by the way. That's happened.
So you don't know. 12-5, 6-11. I mean, I'm looking at the 11 saying, Why aren't they the 6? And, you know, I mean, no one knows.
Being here I was happy because it was an hour plane flight. Because they were talking about us going to Sacramento or somewhere else. Even though I would have liked to been around Trey Lyles and De'Aaron Fox and Malik out there where they are, but way far.
So I'm happy to be here, and Greensboro is a great town. I hate to tell you, the last time I came to Greensboro, it worked out really well for us, me personally, our program. Why was I here? Bam Adebayo. That's why I was here. Worked out well last time. So hopefully this will be an exciting run, and our team is going to enjoy themselves. Thank you.
FastScripts Transcript by ASAP Sports