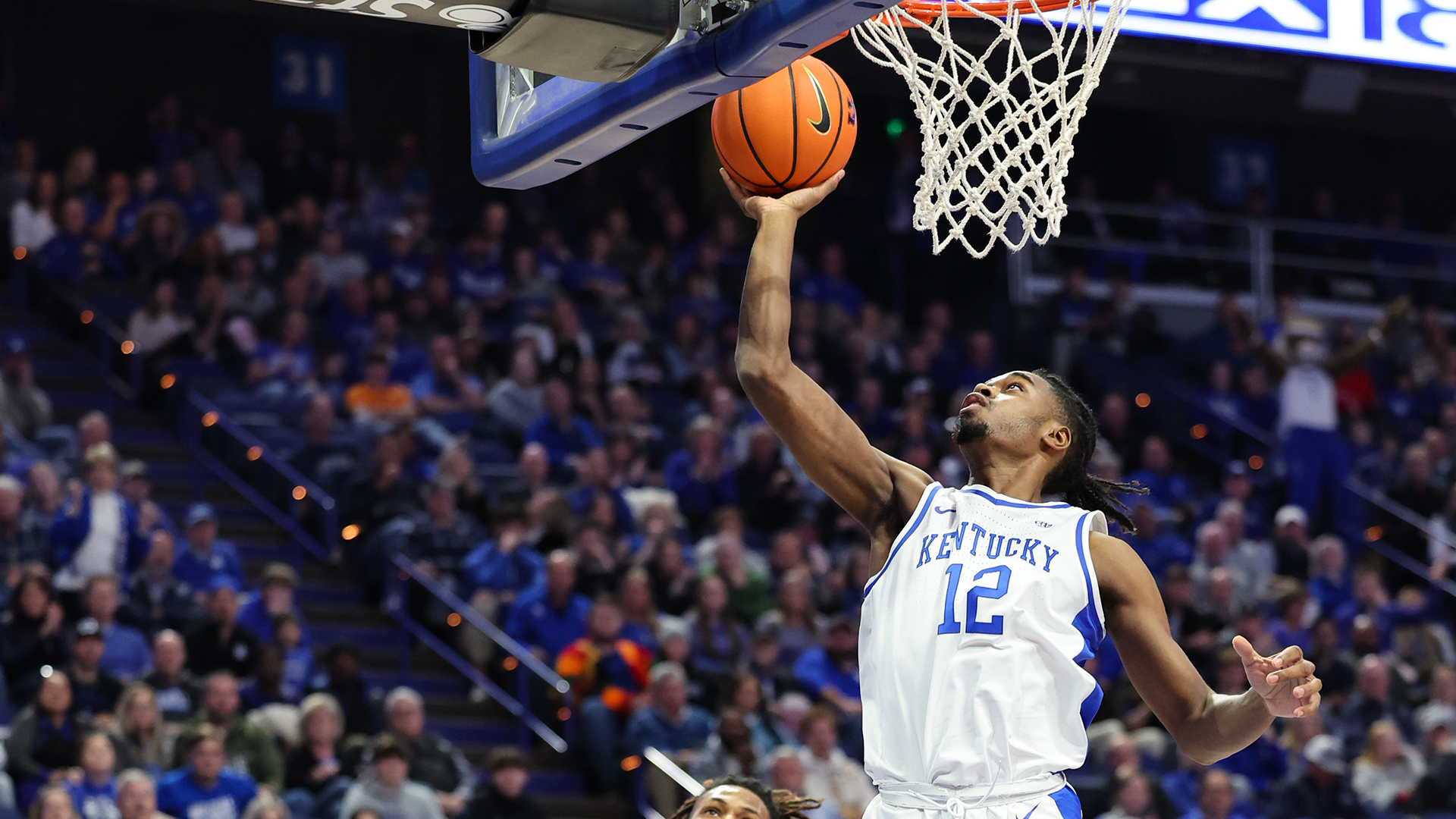 March 16, 2023 - 03:52 PM
Big Blue Preview: Kentucky vs. Providence (NCAA Tournament)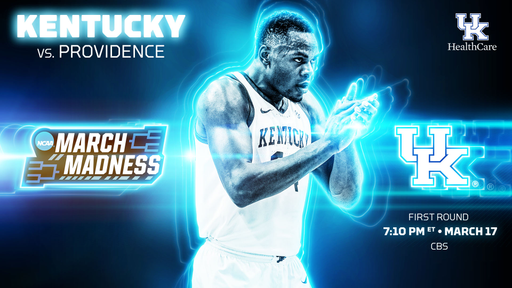 Since finding out who they would play in the NCAA Tournament, the Kentucky basketball players have all heard the narrative. The Cats will face Providence, with leading scorer Bryce Hopkins, who was on the UK roster last season.
Sure enough, in the Cats' press conference on Thursday, the first question was about facing Hopkins. The Cats all still like and respect Hopkins.
"We love Bryce," said UK forward Lance Ware. "He's a brother to us."
Kentucky head coach John Calipari also spoke very highly of Hopkins.
"Obviously, I know Bryce well and respect him and love him to death," Calipari said. "He is a terrific player."
Senior Jacob Toppin agreed.
"Bryce, he's a really good player," Toppin said. "We played against him, so we know he's a really good player."
Senior guard CJ Fredrick is also looking forward to the game.
"It's going to be really fun competing against (Hopkins), against Providence – a really good team, well-coached team," Fredrick said. "We're looking forward to this opportunity."
The Cats admitted that they have been in touch with Hopkins, in a group chat with last year's UK team, since the pairings were announced. But this year's Cats know that they have a job to do and that this game is bigger than them against their former teammate.
"We're excited to play them," Toppin said. "Providence, they're a really good team. We've just got to come in and fight and understand that we've got to respect them but not fear them."
Hopkins, for his part, has been outstanding in his first season at Providence. He leads the team in scoring (16.1 ppg) and rebounding (8.5 rpg). He has scored in double figures in 28 of the Friars' 32 games this season. In 17 games, he has either led or tied for the high scorer for Providence this season.
Kentucky comes into this year's NCAA Tournament trying to overcome a couple of additional items. Primarily, the Cats lost to Vanderbilt in the first round of the Southeastern Conference Tournament last week. Also, the Cats will be trying to get past last year's first-round upset to Saint Peter's.
Toppin thinks that the Cats will not let those items bother them and that he and his teammates are mentally prepared.
"I feel like we're in a great mindset, ready for this game," Toppin said. "We've prepared and we're just all in the right mindset, staying connected, fighting through adversity if it comes, staying humble and just living in the moment."
Despite all of the chatter about Hopkins, about losing to Vandy and about last year's tournament, UK must focus on the task at hand. Ware summed it up.
"Number one thing is the game and to win the game," he said.
Kentucky and Providence meet on Friday night at 7:10 ET. The game can be seen on CBS.
NCAA Tournament Success under Calipari
UK ranks second in the nation in all-time NCAA Tournament victories with 129, but no team has more wins in the tournament than the Wildcats since 2010, when John Calipari first led the Wildcats into the Big Dance, entering the 2023 tournament:
31 – Kentucky, Kansas
30 – Duke
29 – North Carolina
27 – Gonzaga
24 – Michigan
23 – Villanova
22 – Michigan State
20 – Syracuse, Wisconsin
19 – Florida
18 – Baylor
16 – Butler, Louisville
15 – Ohio State
14 – Oregon
13 – Connecticut, Virginia
Since Calipari took over the reins at UK, no team has more:
• NCAA Tournament wins (31)
• Final Four appearances (four)
• Elite Eight appearances (seven)
• Sweet 16 appearances (eight)
Kentucky is 31-9 (77.5%) in NCAA Tournament games under the direction of Calipari, surpassing Adolph Rupp (30-18) for most wins by a Kentucky coach. Overall, Calipari is 56-20 (73.7%) as a head coach in NCAA Tournament games.
Calipari, with 56 career NCAA Tournament wins, leads all active head coaches. Bill Self (55) and Tom Izzo (53) are the only other two coaches with at least 50 wins in NCAA Tournament action.
Tshiebwe Named Consensus Second-Team All-American
Kentucky senior forward Oscar Tshiebwe continues to rewrite Kentucky's history books. The Lubumbashi, Democratic Republic of the Congo native became just the ninth consensus two-time All-American in program history.
He is a consensus second-team selection after earning second-team honors by the Associated Press, the United States Basketball Writers Association and the National Basketball Coaches Association. He was a third-team pick by The Sporting News. Tshiebwe is the first two-time consensus All-American at Kentucky since Kenny Walker.
Tshiebwe joins Forest Sale (1932, 33), Ralph Beard (1947, 48, 49), Alex Groza (1947, 48, 49), Cliff Hagan (1952, 54), Cotton Nash (1962, 63, 64), Louie Dampier (1966, 67), Dani Issel (1969, 70) and Walker (1985, 86) as the only Wildcats to earn the distinguished honor in at least two seasons.
A total of 24 Wildcats have been a two-time All-American in program history, but only nine were consensus selections in at least two seasons.
Tshiebwe leads the Wildcats in scoring (16.5) and rebounds (13.1) for the second-consecutive season. He is the only player in the country averaging at least 15.0 points, 10.0 rebound, 1.5 steals and 1.0 blocks per game in another banner season for the Wildcats.
Reeves Leads Wildcat SEC Honorees
Headlined by senior guard Antonio Reeves being tabbed the Southeastern Conference Co-Sixth Man of the Year, four members of the Kentucky men's basketball team were honored with postseason honors by the conference's coaches and media. In addition to Reeves' honor, Oscar Tshiebwe was a first-team selection by both the coaches and media, while newcomers Chris Livingston and Cason Wallace were named to the All-Freshman Team by the coaches.
• With Tshiebwe's most-recent honor, head coach John Calipari has now coached 32 players (34 total honors) who have earned All-SEC first- or second-team accolades
• At least one player has been named to the All-SEC Freshman Team in each of Calipari's 14 seasons, including 31 total honors
• Tshiebwe becomes the first Wildcat to earn All-SEC First Team honors in consecutive seasons since Patrick Patterson in 2009 and 2010