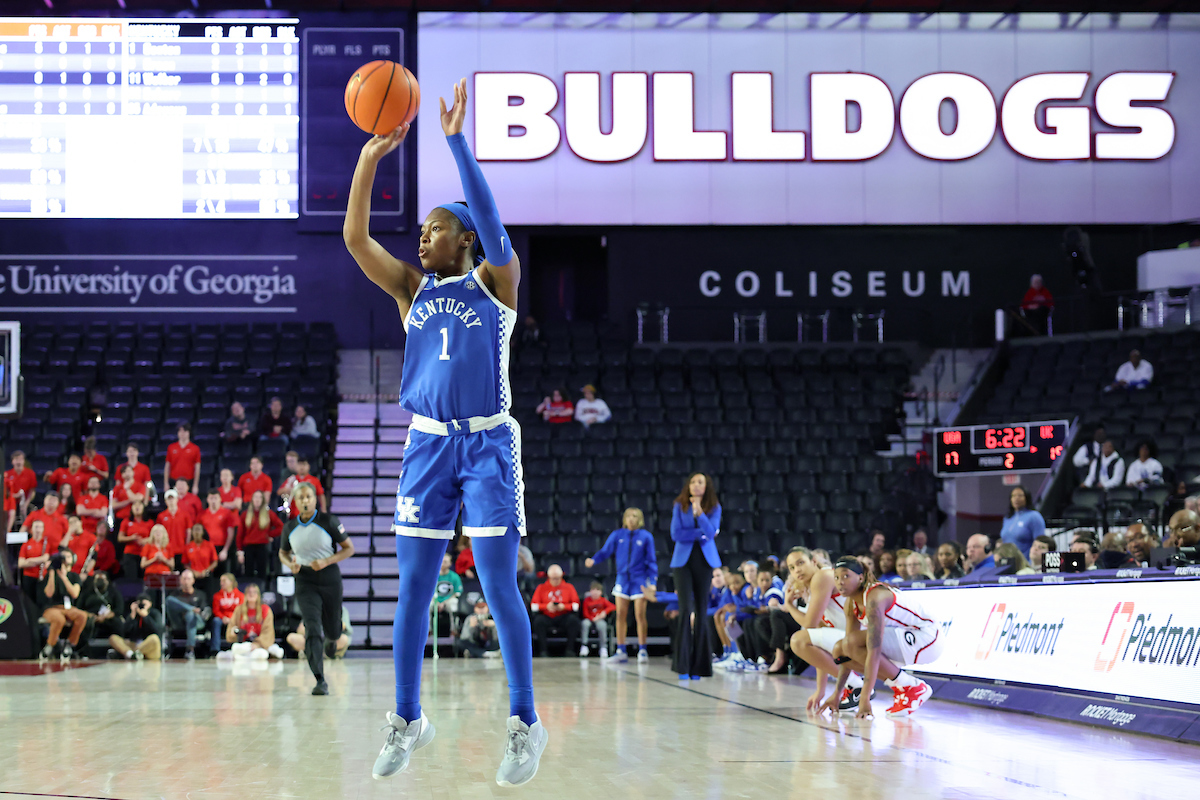 Kentucky Beats Florida in SEC Tournament First Round
GREENVILLE, S.C. – For the Kentucky women's basketball team, there's something about the Southeastern Conference Tournament.
The Cats, who won four games in four days to claim the title last season, won their first game of the 2023 tournament on Wednesday, beating Florida 72-57 at Bon Secours Arena.
Kentucky (11-18) snapped a seven-game losing streak with the victory, behind 20 points from Robyn Benton and 12 points from Jada Walker.
Adebola Adeyeye had 11 points and a career-high 17 rebounds in the win, while Maddie Scherr had 10 points, six assists and four rebounds while battling through injuries.
Kentucky advances to the second round of the SEC Tournament, where the Cats will face Alabama on Thursday at 8:30 p.m. ET. The Tide won the earlier meeting between the teams 72-65 at Memorial Coliseum on Feb. 9.
Wednesday's win was the second time this season that the Cats had topped the Gators. On Jan. 15 in Gainesville, UK won 81-75.
Florida scored first on an Alberte Rimdal layup, but UK answered with a 7-2 run to grab a four-point lead early. The Gators would rally and would take a 10-9 lead before the Cats scored nine in a row to make it 18-10. Kentucky would hold an 18-12 advantage after one quarter.
In the second period, Kentucky stretched its lead to 22-14 before an altercation between the two teams stopped play. The game officials needed more than 20 minutes to sort out the penalties, which included multiple players for both teams being ejected.
When play resumed, Florida was able to outscore Kentucky 7-0 over the final 3:06, but the Cats held a 22-21 lead at the break.
Kentucky scored the first four points of the third period to extend its lead to five, 26-21. Florida cut the lead to 26-24 before UK scored six straight to lead 32-24. Later in the stanza, Florida would score six in a row to lead 41-39. But Kentucky got late baskets from Robyn Benton and Maddie Scherr to lead 43-41 with 10 minutes to play.
Florida scored the first three points of the fourth quarter to lead 44-43. But that advantage lasted just 23 seconds, as Benton scored five in a row to give UK the lead by four. Later in the period, with UK leading 56-52, the Cats scored 10 straight to lead 66-52. That run proved to be decisive as the Cats claimed the win.