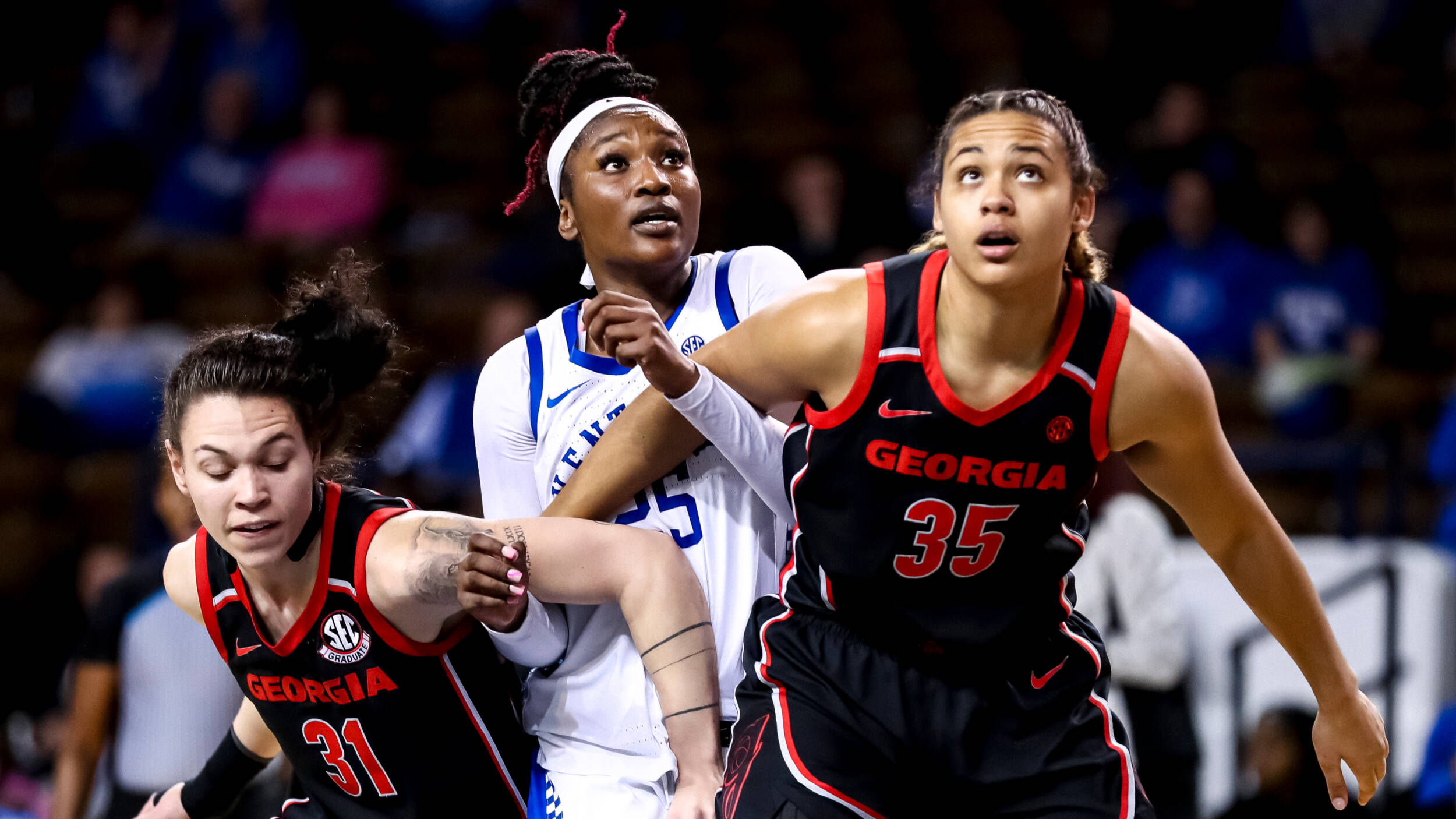 Kentucky-Florida Postgame Quotes
Southeastern Conference Women's Basketball Tournament
Wednesday, March 1, 2023
Greenville, South Carolina, USA
Bon Secours Wellness Arena
Kentucky Wildcats
Coach Kyra Elzy
Jada Walker
Adebola Adeyeye
Postgame Press Conference
Kentucky 72, Florida 57
THE MODERATOR: Joining Kentucky head Coach, Kyra Elzy, our student athletes, Jada Walker and Adebola Adeyeye.
Coach?
COACH ELZY: So proud of this team. We have battled adversity all year. Just happy to get a win. We fought for it and this team played their hearts out so excited for them, a win! We needed it!
Q. For both of y'all, can you speak to the intensity of this game? Obviously in the second quarter, the fight, how did that set the tone for the remainder of the game?
ADEBOLA ADEYEYE: Yes, of course, we know that situation happened, and then we just really had to regroup and lock into each other. Because there are lots of extra noises, but we had to come together and pick up the intensity and pick up the slack and buy into each other.
We only had the second half left, so we had to lock into each other, lock into what our coaches said, and just pour it out.
JADA WALKER: Definitely what she said. And our energy was great before that, and then after that you saw us stretching trying to get ourselves ready to play again.
And then we finally picked that energy back up and picked that defensive intensity back up, good things happened throughout the game, and that's how we won.
Q. Adebola, 17 rebounds; 11 points tonight. How did you lock down on your intensity that you brought to the game today?
ADEBOLA ADEYEYE: Honestly, it's really like Ajae Petty. She really showed me how to fight, pick it up. So I was going off that energy and just really locking into what our coaches were saying our game plan. We had to switch it up just because of our numbers. And really locking in and praying before the game of, Lord, just use me how you want, and I feel like He showed out and showed up today.
Q. Jada, y'all have been here before. This is a big upset today. Can you speak to the advantage it gives you being here today and winning it?
JADA WALKER: It's a good feeling. I had confidence coming into this tournament because we did win it last year, so anyone has a chance to win it this year, and not just the teams that people project are going to win. Anyone can win if they put their mind to it.
And it's March. March Madness, anything can happen on any game, and so you've got to give your best and play like it's your last game.
Q. Both of you guys had 18 assists today, which I believe is the most since you played Ohio back in December. What was going well for ya'll out there to see all those options?
ADEBOLA ADEYEYE: Honestly, I really think we played free. Like our Coach said before the game have fun, and I think we forget that and we're so tight. So we just had fun. People were running. People were just so loose that it was easy to make that pass. It was easy to make this. It was easy to pass it out.
JADA WALKER: Yeah, and I definitely think our confidence going into this game was just higher than it had been, and that's a really good thing, because we were hitting all our shots, sharing the ball, and having fun.
We were out there laughing. The past few games haven't been as exciting, so I'm glad we brought that intensity today.
Q. The conversation before the game, 14th seed in the tournament, trying to get that boost of confidence, lost a number of games in a row. But you know this Florida Gator team, having gone down to Gainesville and beating them before. What was that conversation like before the game going into this one?
ADEBOLA ADEYEYE: Going into the game we're 0-0. We put the past behind us, and Coach really emphasized survive and advance going into this game.
JADA WALKER: Yeah, definitely. We beat this team before, so coming into the game we were like, yeah, we got a win against this team, so we should win again.
Q. Jada, talk about the end of game. The last couple of minute you had back-to-back bucket. How were you feeling?
JADA WALKER: I felt pretty good. I felt like I was stagnant through a couple quarters, just trying to be more aggressive. When my defensive intensity is up, that really translates to the offensive end. Coach Elzy already told me before the game my job was to lock down the best player on the team, and I did it.
I was just happy about that, happy that my teammates bough in on defense as well and got stops and got buckets at the end.
THE MODERATOR: Thanks, ladies.
Questions for Coach.
COACH ELZY: I will say real quick, Addie did have 17 rebounds, and she wanted that 18th one really bad. I told her to get off the free throw line so we could get our defense set, and she was like, are you sure? Give me one more. Are you sure? Yes, get off the free throw line so we can have a defensive stop. But you have to love that about that kid, competitor.
Q. Coach, I want to ask you about the fight. That's the elephant in the room. You say you lost your shoe. Glad you got that back.
COACH ELZY: Yeah, I came out of my shoes. I turned around and everybody was flooding toward our bench and I got knocked over. I didn't know what was happening.
But listen, this is two teams battling for wins. The intensity was high. The emotions were high. Obviously myself or Coach Finley, that's not how we want to play out, and we will both address our teams. It was an unfortunate situation, and it's a learning experience for all coaches and student athletes.
Q. How do you feel like it affected your team throughout the game?
COACH ELZY: Well, you know, during that time it was just — it felt like an eternity. I don't know how long it was. For me, just trying to keep our team focused and locked in, put that behind you, and right now we can only focus on the now. I thought we had momentum during that time, so you never know how they're going to come out after we have been sitting and they're thinking about it.
So I just tried to keep talking to them in the time out. Let's focus. These are the things we need to do to finish this quarter out.
Q. Coach, before you got on the bus to come to the game from the hotel, big support coming out, really just throughout the region, of course from Lexington. BBN travels well. Winning season, losing season. What do you have to say about that?
COACH ELZY: That's why you have to love BBN. Thank you for showing up and showing out. They continue to support us through the good and the bad, and, you know, just to have a fan base that's always behind you, that's big. It's big for our team, our program, and UK athletics over all. That's why this is a special place to play.
Q. Coach, the third quarter has been a struggle all season long. Did you change up your message at halftime, because you guys did win the third quarter today?
COACH ELZY: I'm glad we won the third quarter. I did not change up my message. I thought they stayed locked in, and I really tried to keep it light today, not put too much on them. But four minutes at a time, that's what we kept talking about. Can we sell out? Let's rebound, let's run, lock in defensively, but I really wanted them to have fun.
We have been through so much this year, I wanted everyone to be free and empty their tank.
Q. Maddie has been dealing with issues off the court, and once again today she went down and came back out. Can you speak to that?
COACH ELZY: She runs off, I didn't see what happened, but she was running off and she was like, I think I got kneed in the head, but I'm going to be okay, Coach. I was like, okay. And then I didn't see her. I was like, where's Maddie?
But she was in the back trying to get herself together, but it just speaks to the toughness she has. She wanted to get back on the floor, help her team win. But her mental toughness is huge, and we need it for us to continue to be successful.
Q. You know about runs from last year. What's the message for the team going into tomorrow night's game, just younger players, from where you've been before?
COACH ELZY: The funny thing is everyone keeps asking me about the run from last year, which was magical; it was an amazing run. Fairy tales do come true.
But this is a different team. Ten new players, so we don't really focus on last year. Right now all I'm trying to focus on with this team, 1-0, right now. This is the present moment. 1-0, what can we do to get this game. 1-0.
We can't look past this game, we can only focus on the now. That's our message.
Q. You did win this tournament last year?
COACH ELZY: We did. It was a great time, yeah.
Q. Do you think it helps y'all's confidence, coming here with so much confidence? Does it change your mind-set going into the game?
COACH ELZY: For our veterans, they have been here before, so I do think they play with a level of confidence, so it's not their first time. Our rookies, I have six of them. Speaking of rookies, I thought Mimi Jenkins came in and gave us a big spark early. She's really turning the corner. Ajae Petty. These are players that have never been in this tournament, so I think we have a mix of young that don't know what's happening, a mix of veterans that understand what's going on in this tournament.
So I have three mixes of people, obviously a group of transfers that has never played in this tournament. So, you know, just try to keep our focus on the now, but I do think it does help our veterans.
THE MODERATOR: Thank you, Coach.
FastScripts Transcript by ASAP Sports