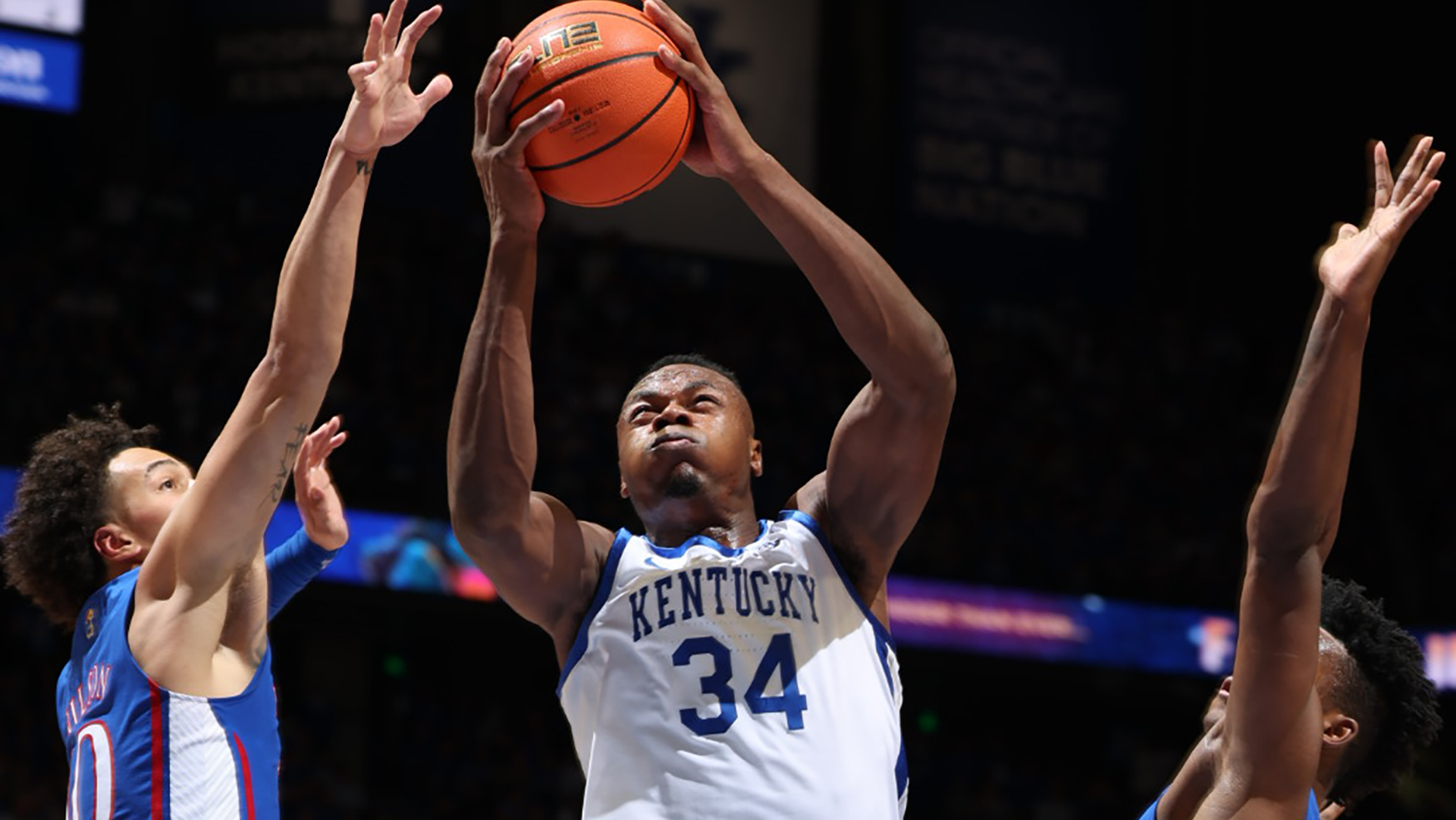 February 28, 2023 - 01:44 PM
Big Blue Preview: Kentucky vs. Vanderbilt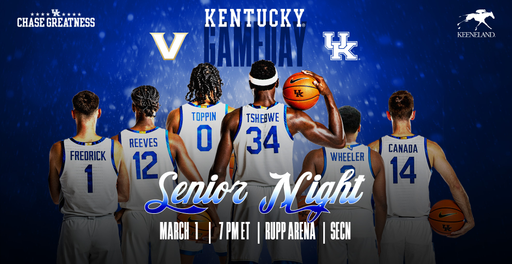 Senior Day at Kentucky is one of the most enduring traditions in college basketball. From the seniors running through paper hoops featuring their pictures to the signing of My Old Kentucky Home, it's a stirring moment that creates memories of a lifetime.
UK will host its annual Senior Day on Tuesday night prior to the Cats' game against Vanderbilt. This year, Kentucky will honor six players – Brennan Canada, CJ Fredrick, Antonio Reeves, Jacob Toppin, Oscar Tshiebwe and Sahvir Wheeler.
While the players will all soak in the Senior Day festivities, and all that goes with them, they also know that they need to be focused on the task at hand. Namely, beating Vanderbilt and continuing to improve their postseason resume.
Will the emotions come into play, especially at the beginning of the game?
"I feel like I'm going to be locked into the game honestly," Toppin said. "Yeah, it's my last game at Rupp Arena. But at the end of the day, we have to worry about the game. I'm just worried about winning tomorrow."
The Cats have won four in a row and have seemingly locked up a bid in the NCAA Tournament. Toppin knows that the Cats are peaking at the right time.
"Everyone's in the right mind space right now," Toppin said. "We're dialed in, we're locked in to what we need to do to end this season off strong."
As for those NCAA Tournament projections, the Cats are not looking at those right now.
"The word Coach Cal always uses is rat poison, and that's what that is," Toppin said. "If we're not going to look at the negativity, we don't need to look at the positivity. We just need to stay within ourselves and understand what we have to do to make a run."
On Wednesday, the Cats will battle Vanderbilt for the second time this season. On Jan. 24, Kentucky won at Vandy 69-53 in Memorial Gymnasium. Five Cats were in double figures, led by Reeves' 16 points. Tshiebwe had 15 points and 13 rebounds, while Toppin had 12 points and 10 boards.
While this may be the final home game of the 2022-23 campaign, Toppin knows that much is left to be told about this year's Cats.
"At the end of the day, we're still writing our story," Toppin said. "And we have a long way to go."
Cats Winners of 10 of Last 12 in SEC Play
Since the losses at No. 7 Alabama and against South Carolina,
Kentucky has been on a roll, winning 10 of its last 12 conference
games. The Cats won six consecutive contests starting with the
Jan. 14 victory at No. 5 Tennessee, dropped a home game to Arkansas and a road matchup at Georgia, but then bounced back
with four straight wins.
Consider what has transpired over the Cats' last dozen games:
• UK has played shorthanded in the last six games, with Sahvir Wheeler first missing the Arkansas loss with a right ankle injury. CJ Fredrick, who played that Arkansas game was banged up with a rib injury, then sat out the next four games starting with the Georgia defeat
• The Cats have overcome the 15-point loss to the Razorbacks to outscore their opponents by 7.7 points per game (73.8-66.1)
• UK has achieved a plus-11.0 rebounding margin, including a total of 156-83 on the offensive boards
• Oscar Tshiebwe leads the Cats with 16.7 points and 12.8 rebounds per game while totaling a team-high 19 steals
• Antonio Reeves is shooting 46.4% (32-69) from deep on his way to a 15.8 points per game average, while Jacob Topping is going for 13.5 points and 7.8 boards per contest and shooting 51.6% from the field and 52.9% (9-17) from 3-point range
• Cason Wallace is averaging 12.2 points and 5.2 assists per game and shooting 90.0% (27-30) from the free-throw line
• As a team, Kentucky's shot 76.2% (173-227) from the charity stripe
What's Trending over the Last Five Games
A snapshot of what has been trending with the Cats over their last five games played:
• UK is 4-1 with four straight wins at Mississippi State, vs. Tennessee, at Florida and vs. Auburn
• Sahvir Wheeler has missed all five outings with a right ankle injury, while CJ Fredrick returned Saturday after missing the previous four games with a rib injury
• Five Wildcats are averaging double-figure points: Tshiebwe (20.2), Reeves (15.8), Toppin (14.2), Wallace (10.4) and Livingston (10.0) – that group has comprised the starting five for each of the last five games
• Kentucky is plus-12.4 on the boards. Six players are averaging 2.0 boards per game or better
• Kentucky is shooting 37.8% (28-74) from 3-point range, compared to just 30.8% (33-107) for its opponents
• The Cats have owned the offensive glass. UK has racked up 67 offensive rebounds compared with just 39 for its opponents
• Wallace is averaging 7.6 assists per game. He has dished out at least five assists in each of the five games
• Tshiebwe is averaging 7.0 free-throw attempts per game. Over the last five games, he's shooting 82.9% (29-35) from the line