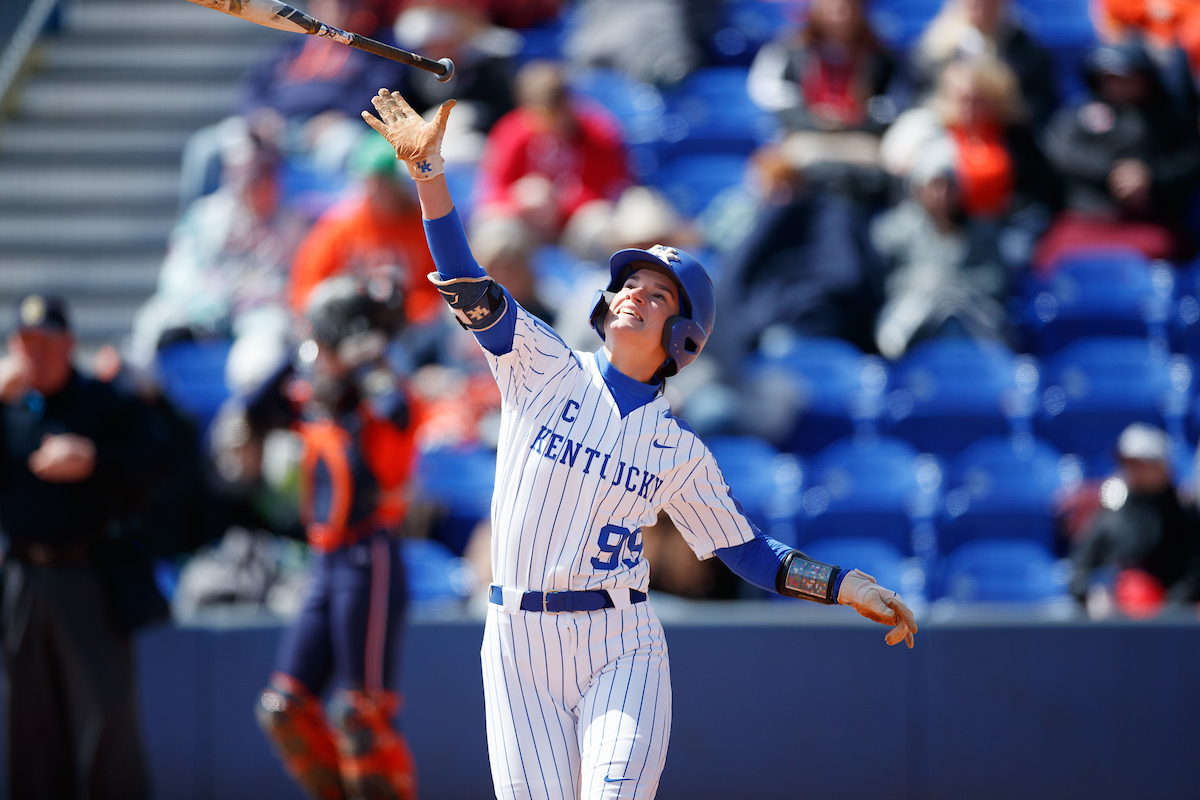 PALM SPRINGS, Calif. – The No. 18 Kentucky Softball team split a pair of games on Saturday night in its final day of the 2023 Mary Nutter Collegiate Classic in Palm Springs, California. The Wildcats fell 9-3 to No. 19 Northwestern in the first game of the night before holding off UC Riverside in a 3-0 scoreline, as the game was stopped in the sixth inning at 11:26 p.m. PT/2:26 a.m. ET.
In the first game, Kentucky scored the opening two runs of the game to take a 2-0 lead before Northwestern scored nine unanswered runs on UK, off of three different pitchers. Stephanie Schoonover started the game, lasting into the fourth inning, before Izzy Harrison and Kennedy Sullivan came on in relief, and couldn't stop the bleeding. NU ended up taking a 9-2 lead in the sixth inning before a Kayla Kowalik RBI triple to score freshman Lauryn Borzilleri in the bottom of the seventh gave the Wildcats their final run. Izzy Harrison took the loss in the circle for UK.
In the nightcap, Kentucky again started fast, scoring in the bottom of the first inning on a Karissa Hamilton RBI single. Kayla Kowlaik homered to straight-away center on the first pitch of her at bat in the top of the fourth inning and Kennedy Sullivan singled through the right side to score Karissa Hamilton in the top of the fifth inning. Schoonover earned her sixth win of the season in the circle, pitching another complete-game shutout, her fifth in a six-start stretch, dating back to last weekend's Tracy Beard Classic. Schoonover has now faced McNeese, North Texas, Loyola-Marymount, San Diego State, and UC Riverside – throwing complete-game shutouts against all of them.
Kentucky closes out its west-coast swing with a 7-3 record, with the losses coming to UT Arlington, No. 1 UCLA and No. 19 Northwestern. Kentucky picked up critical RPI wins over No. 8 Washington, No. 24 North Texas, San Diego State and McNeese in the trip. UK is now 10-3-1 on the season and next weekend takes to the No. 2 Oklahoma Sooners tournament in Norman, where UK will play the defending back-to-back national champions on Saturday and Sunday.
For the latest on UK Softball, follow the Wildcats on Twitter and Instagram at @UKSoftball.