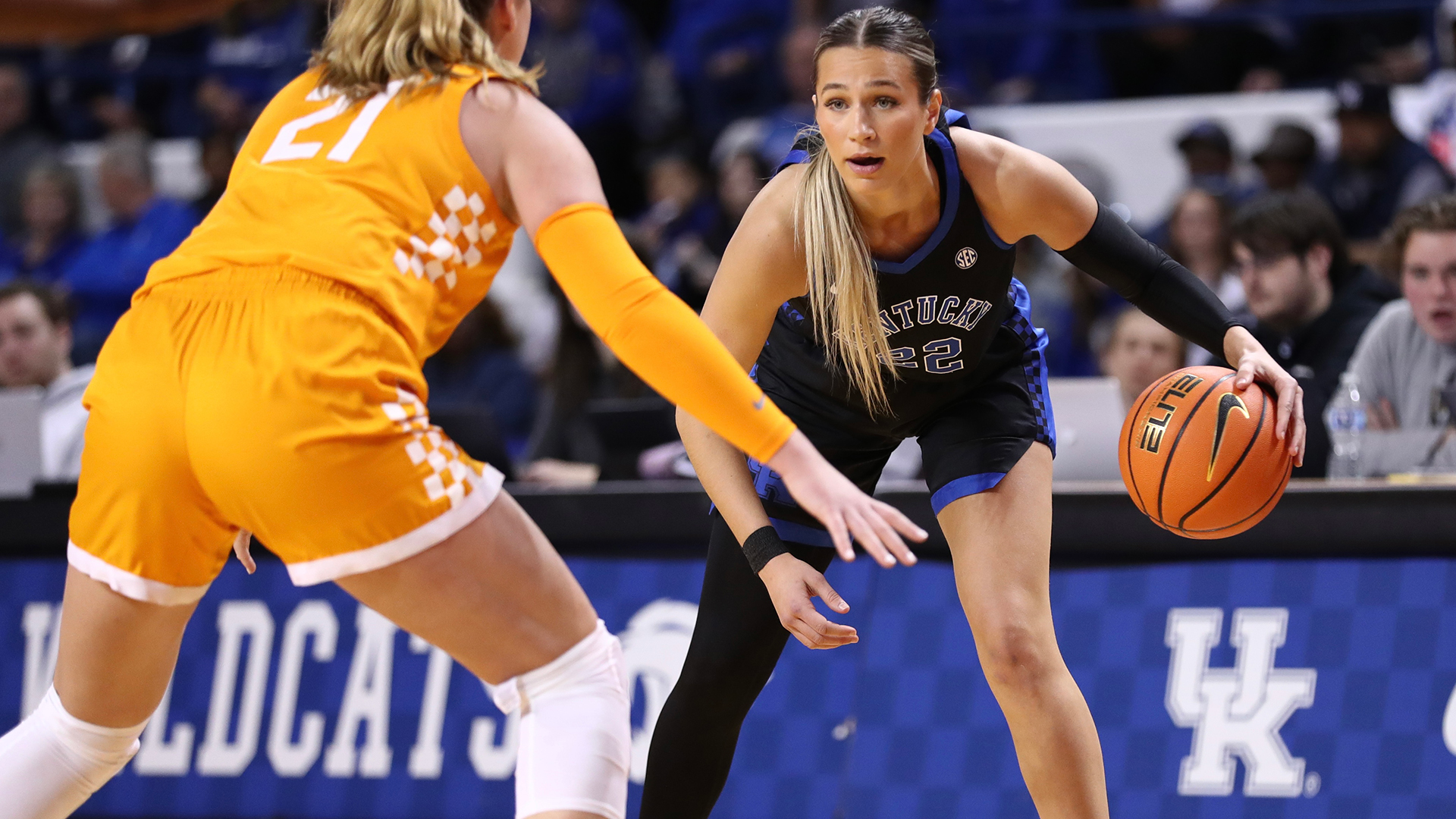 February 26, 2023 - 03:56 PM
Kentucky Falls to Tennessee in Home Finale
LEXINGTON, Ky. – Maddie Scherr scored a career-high 27 points, but the Kentucky women's basketball team lost to Tennessee 83-63 on Sunday at Memorial Coliseum.
Scherr went eclipsed her previous career high of 25 points, which came against top-ranked South Carolina earlier this season. In Sunday's game, the junior from Florence, Kentucky, made 10 of 21 from the floor, including two of three from behind the arc. She made all five of her free throw attempts and added four rebounds, an assist and a steal.
Kentucky (10-18, 2-14 SEC) got 17 points from Robyn Benton, who was playing her final game in Memorial Coliseum, and 10 points from Jada Walker.
Tennessee raced out of the gates and took a 13-0 advantage. Kentucky finally got on the board on a Maddie Scherr layup with 5:31 left in the first. From there, the Cats would climb back into the game, using a 10-0 run to get within eight. The Lady Vols would lead 25-15 after one period.
The teams would trade baskets over the first five minutes of the second period, with UT maintaining a 10-point advantage. But Tennessee would close the half on a 12-3 run and the Lady Vols would lead 45-28 at the half.
In the third period, Tennessee used a 14-4 run to stretch the lead to 25 points, 59-34. Kentucky would get a basket and free throw from Scherr before the Lady Vols scored another four straight. Tennessee would lead 68-41 after three periods of play.
The fourth quarter saw Tennessee lead by as many as 29 points before the Cats rallied to get within 16 points on two occasions.
Tennessee (21-10, 13-3) got 21 points from Rickea Jackson.
Kentucky's next game will be in the Southeastern Conference Tournament on Wednesday in Greenville, South Carolina. More information about the opponent and the time will be available after the completion of Sunday's SEC action.