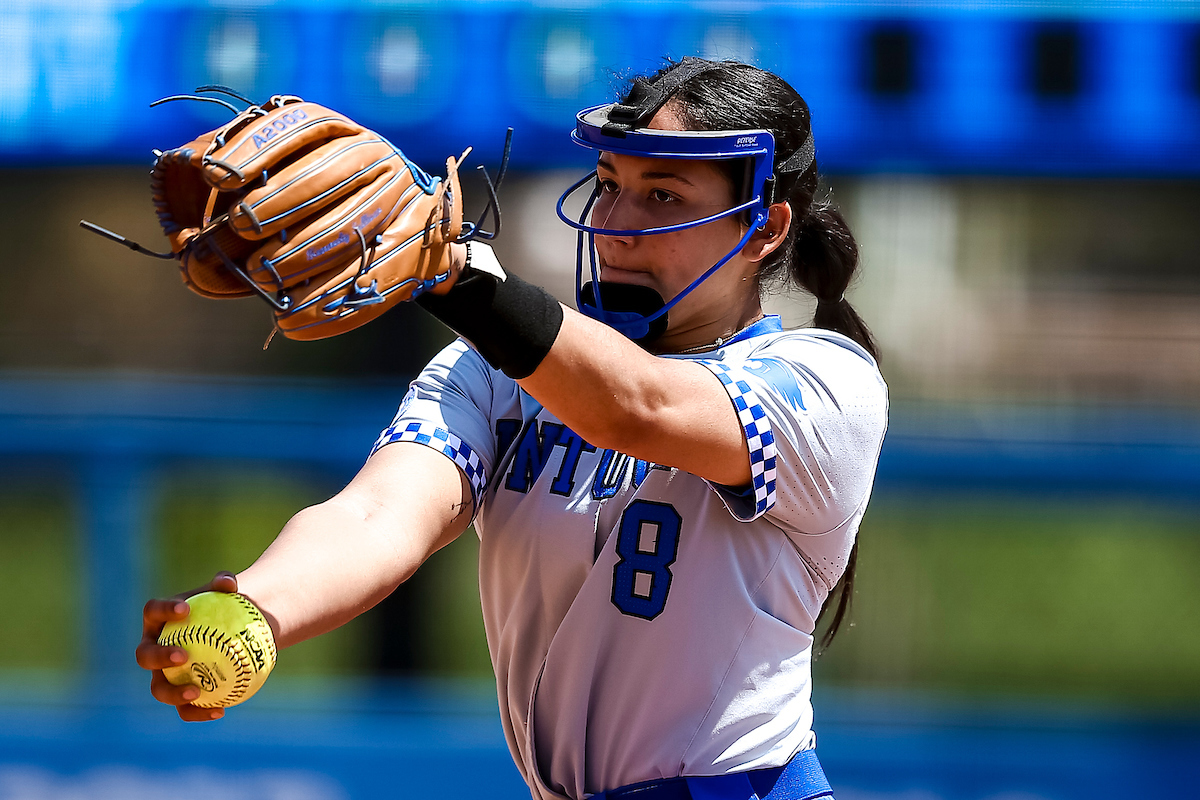 PALM SPRINGS, Calif. – The No. 18 Kentucky Softball team took the top-ranked UCLA Bruins to the brink Friday night at the Mary Nutter Collegiate Classic, bringing the tying run to the plate in the fifth and seventh innings, but eventually falling 6-3 in one of the most exciting games of the young softball season.
UK outhit UCLA in the game, eight to six, with Kentucky knocking out Shea Yanez from the game after five innings of work and forcing ace Megan Faraimo to enter the game to earn her first save of the season. Kentucky's Erin Coffel hit a ball to the wall, coming up inches shy of a game-tying three-run home run in the fifth inning, and again in the seventh, UK brought the tying run to the plate, but a deep flyball to CF ended the game on a chilly night in the desert.
Kentucky used three pitchers in the game, as Izzy Harrison started the game, going 0.2 innings and suffering the loss. Sloan Gayan pitched admirably in 1.1 innings of work, striking out one batter, but it was Kennedy Sullivan who stole the show in the circle for UK, throwing 4.0 innings against the nation's top-scoring offense, allowing just two runs on four hits with no walks and a strikeout.
Grace Lorsung hit her second home run of the season in the game, and both Rylea Smith and Vanessa Nesby netted two-hit nights to lead the Wildcats offense.
The Wildcats with the result fall to 9-2-1. UCLA improves to 14-0, one of three undefeated teams remaining in college softball.
Key Play
The key play was the fifth and seventh innings, where UK brought the tying run to the plate.
Key Player
Kennedy Sullivan was the key player in the game, going 4.0 innings in the circle and not walking a batter.
Key Stat
Five different UK players recorded at least one hit in the contest, with Smith and Nesby each netting two.
Run Recap
UCLA hot an RBI single and walks in the first to take the early lead. UCLA 2, UK 0
In the top of the second inning, Grace Lorsung deposited a pitch into left field to cut the Bruins lead in half. UCLA 2, UK 1
The Bruins scored twice more in the bottom of the second as a UK error kick-started a two-hit inning for UCLA. UCLA 4, UK 1
The lead ballooned to five runs after a three-hit inning, including a Maya Brady RBI double. UCLA 6, UK 1
Kentucky scored twice in the top of the fifth as Rylea Smith had an RBI single after Kayla Kowalik did the same with two runners on. FINAL – UCLA 6, Kentucky 3
For the latest on UK Softball, follow the Wildcats on Twitter and Instagram at @UKSoftball.