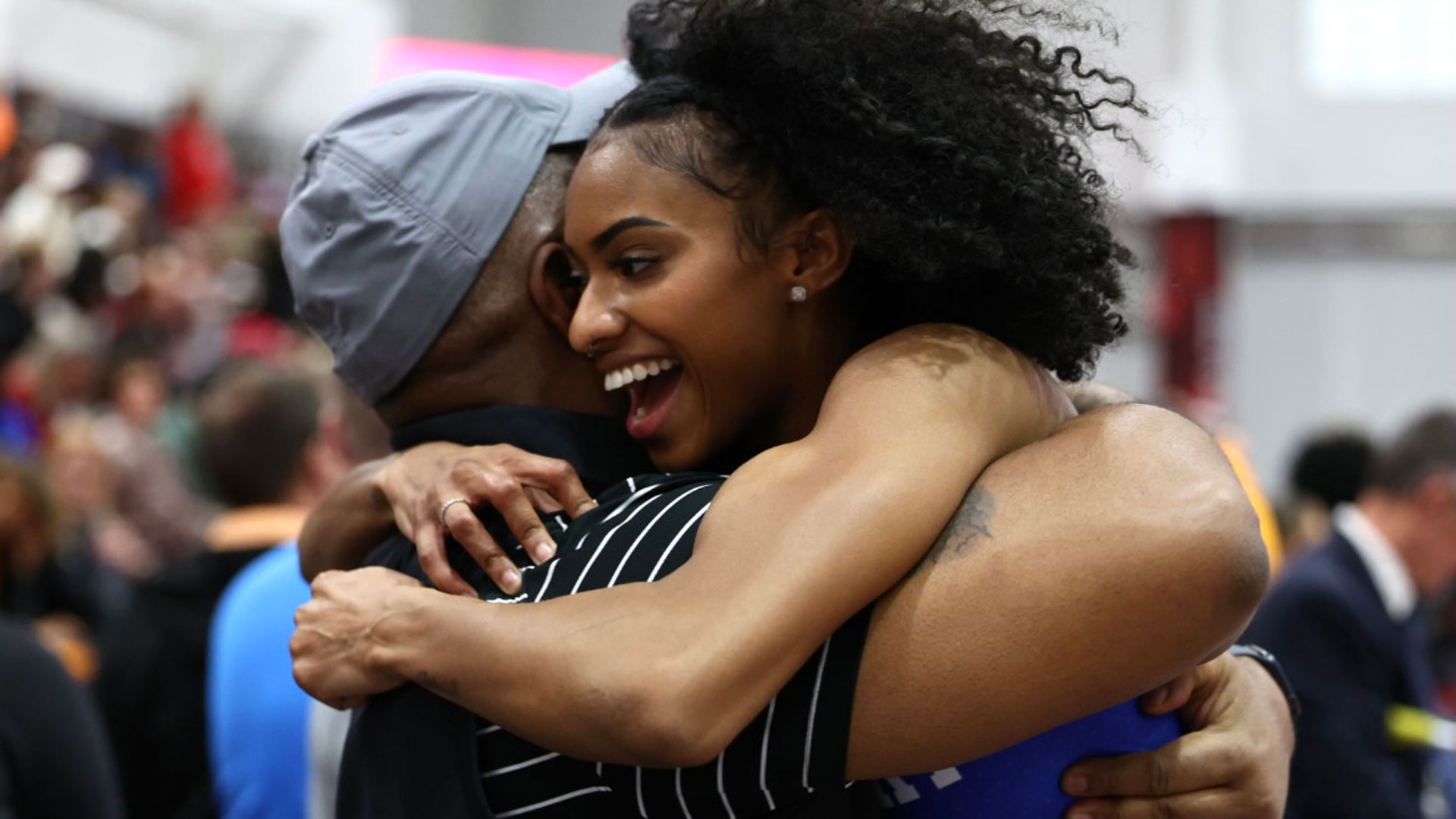 February 25, 2023 - 09:28 PM
Russell Takes Hurdles Gold At SEC Indoor Championships
FAYETTEVILLE, Ark. – Masai Russell built on Kentucky's "Hurdle U" legacy when she broke the SEC Championships and Facility Records en route to her first conference 60-meter hurdles title. Russell's winning time of 7.77 was .02 off the collegiate record she set in late January in Lubbock, Texas.
The Wildcats have won five of the last 10 SEC 60H golds. The other two Wildcats in history to win SEC 60H titles were the 100m hurdles gold and silver medalists at the last Olympic Games. Jasmine Camacho-Quinn won SEC Indoors in 2017 and 2018, and Keni Harrison took the crown in 2014 and 2015.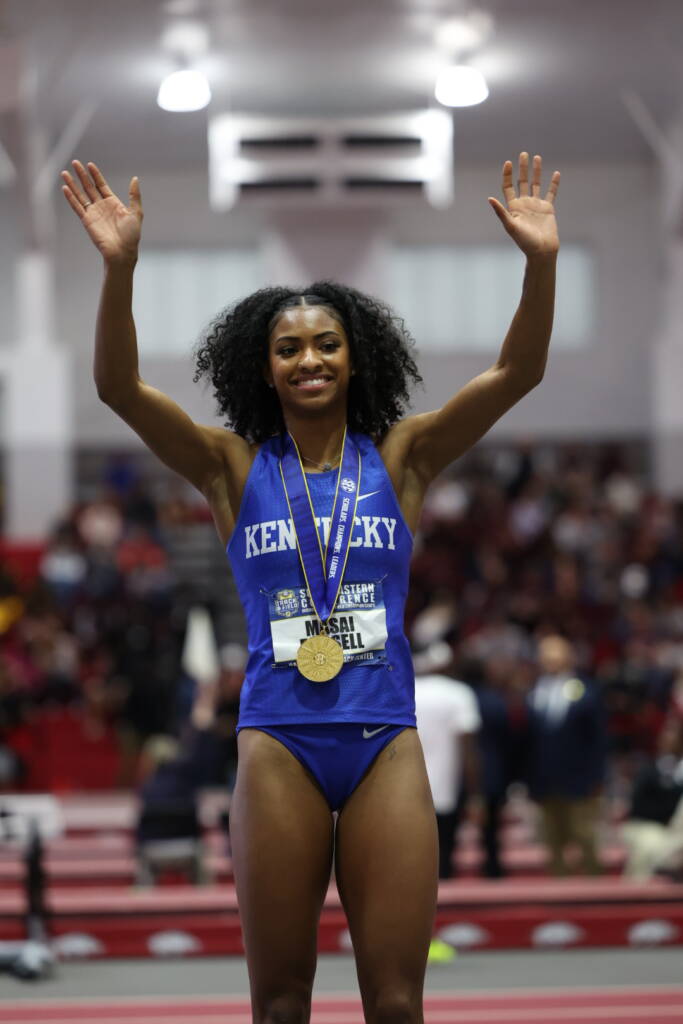 "I wanted to come out with the win," Russell told John Anderson on the SEC Network broadcast. "I've always been like second or third at SECs so to finally come out on top and win is just a blessing. All my hard work has truly paid off … So it's about truly trusting the process and honestly trusting your training and trusting your coaches because no one would have expected me to be putting up the numbers that I have been putting up. But it just takes time."
The UK women's team placed seventh with 51.33 points. The men's team were seventh on 48 points. 
Medals
In other medal-winning events today, freshman Jordan Anthony earned silver in his first SEC final, running a time of 6.57. He was .02 seconds off his personal best time of 6.55 which still ranks in the top 10 in the country as of this weekend.
Dylan Allen dug deep on the bell lap of the men's mile to beat the rest of the chasing pack for the bronze medal with a time of 4:05.26 while Tori Herman earned bronze in the 3k running 9:12.21, a season best.
The five medals won today are added to the four the Wildcats won on Friday for a grand total of nine.
Notables
Luke Brown broke his own school record in the men's triple jump, placing fourth with a mark of 54'9.25"/16.69 meters, earning the Wildcats five points.
Josh Sobota placed fourth in the men's shot put to earn five points with a best mark of 64'04.00"/19.61m.
DeAnna Martin passed two runners in the last 60 meters to score four points with a fifth-place women's 800m time of 2:05.83.
Brandon Miller and Kennedy Lightner went 6-7 in the men's 200m to score three and two points respectively. Miller ran a personal best of 20.68, which moved him to No. 4 on the UK indoor all-time list, and Lightner ran 20.73.
Phoebe McCowan made a pass on the final straight to earn two women's mile points with a seventh-place, personal best time of 4:45.82.
Yasmin Brooks scored one point in the women's 60m hurdles, running 8.24, to add to the 10 Russell secured in the event.
Jacob Sobota scored a point in the men's heptathlon with a score of 5478 points.
The women's 4×400 put in a season-best 3:28.39 to close out the night, which momentarily vaulted them to a third-place finish for the second season in a row. They were disqualified however on a technicality knocking them back down to 7th place overall finishing with 51.33 points while the men took seventh overall with 48 points.
Follow Kentucky Track and Field on Facebook, Instagram, Twitter, and UKathletics.com.
Heptathlon Saturday's Events (Total includes Friday's events)
Hept. 60 Hurdles
Final
9. Jacob Sobota: 8.43 | season-best | 877 points
Hept. Pole Vault
Final
3. Jacob Sobota: 15'7"/4.75m | 834 points
Hept. 1000 Meter
Final
11. Jacob Sobota: 2:50.61 | 759 points
Heptathlon Total
8. Jacob Sobota: 5478 | 1 point
Saturday, February 25th (Times CT – Local in Fayetteville)
Women
High Jump
Final
10. Mallory Mullen: 5'5.75"/1.67m
Men
Shot Put
Prelim/Final
4. Josh Sobota: 64'04.00"/19.61m | 5 points
Men
Mile
Final
3. Dylan Allen: 4:05.26 | 6 points
Women
Mile
Final
7. Phoebe McCowan: 4:45.82 | personal-best | 2 points
Women
Triple Jump
Prelim/Final
9. Sophie Galloway: 41'8.75"/12.72m
Men
60 Meter
Final
2. Jordan Anthony: 6.57 | 8 points
Men
400 Meter
Final
DNF: Wayne Lawrence Jr.
Men
Triple Jump
Final
4. Luke Brown: 54'09.25"/16.69m | personal-best | 5 points

15. Jordan Palmer: 47'00.25"/14.33m

Women
Shot Put
Prelim/Final
18. Simisola Akinrinsola: 43'01.25"/13.14m
Women
800 Meter
Final
5. DeAnna Martin: 2:05.83 | 4 points
Women
60 Hurdles
Final
1. Masai Russell: 7.77 | SEC Championship Record, Facility Record| 10 points

8. Yasmin Brooks: 8.24 | 1 point

Men
200 Meter
Final
6. Brandon Miller: 20.68 | personal-best, No. 4 on the UK indoor all-time list | 3 points
7. Kennedy Lightner: 20.73 | 2 points
Men
3,000 Meter
Final
26. Jake Allen: 8:26.59
Women
3,000 Meter
Final
3. Tori Herman: 9:12.21 | season-best | 6 points
Men
4 X 400 Meter Relay
Final
DNF: Brandon Miller, Kennedy Lightner, Brandon Nyandoro, Justin Swann
Women
4 X 400 Meter Relay
Final
DQ: Karimah Davis, Masai Russell, Christal Mosley, Dajour Miles