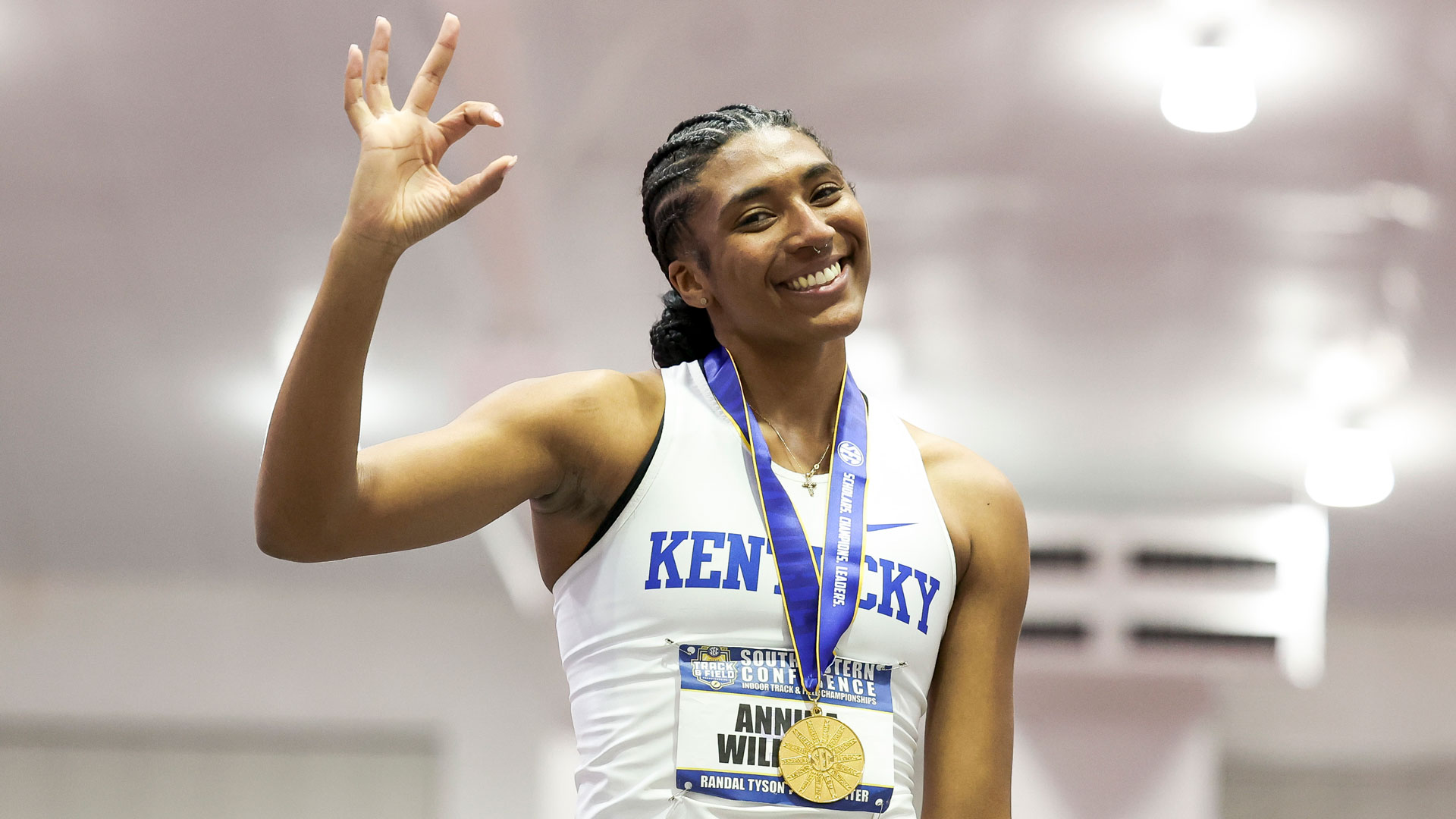 February 25, 2023 - 12:23 AM
Williams Secures Pentathlon Gold On Opening Night of SEC Championships
FAYETTEVILLE, Ark. – Annika Williams scored 4,346 women's pentathlon points to win the first Southeastern Conference gold medal of her career, shattering her personal best by 173 points on Friday at the SEC Indoor Championships inside Randal Tyson Indoor Track Center. Williams' 4,346-point five-event total ranks third in NCAA Division I this season compared with scores recorded before this weekend with Conference Championships happening across the country.
Williams broke Precious Nwokey's 12-year-old school record by 161 points. Williams scored 10 points in the team competition with the victory. She turned in personal bests in the final two of five events, the long jump and grueling 800 meters, and had season bests in the first three events, the 60m hurdles, high jump, and shot put.
"I knew I had to go out here and give it everything I had left," Williams said trackside with ESPN's John Anderson after the competition. "I knew I had to go out here and PR. Because one, I scored my ticket to Nationals. Two, it's my first time ever winning SECs. I knew what I needed to do. I listened to the coaches, and I followed through … I'm pretty proud of myself. I executed everything they told me to do. I can't wait to go back there and see my teammates and my coaches."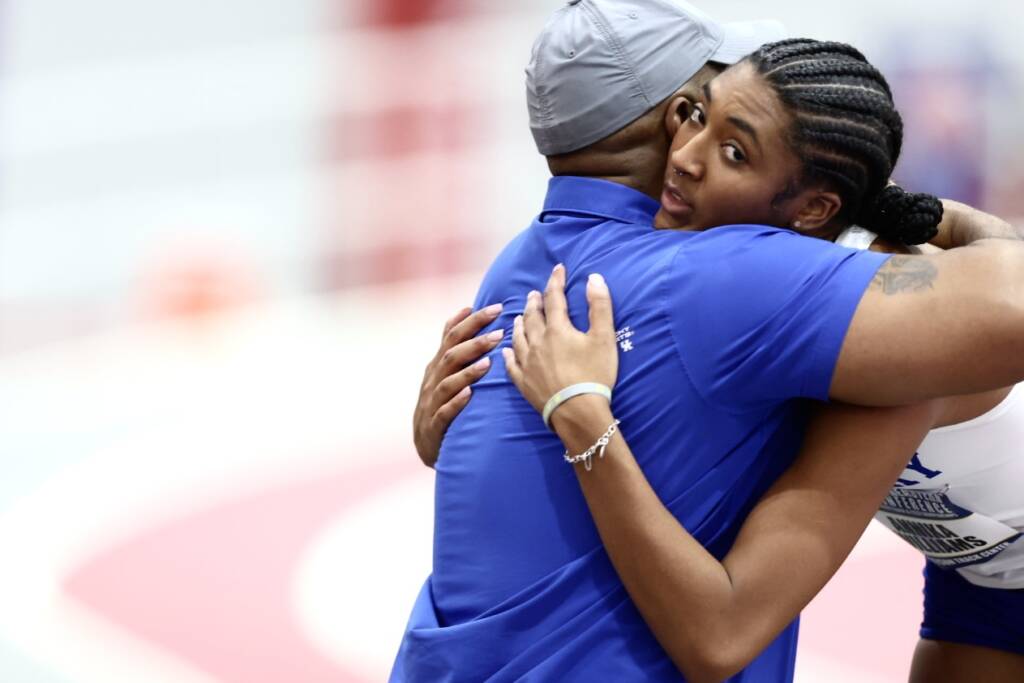 Williams was Kentucky's third-ever SEC pentathlon champion and first since Nwokey in 2011.
Keaton Daniel won his first SEC Indoor Pole Vault title to go along with his two outdoor golds in 2021 and 2022 scoring the first 10 points of the meet. Daniel cleared 17'8.5″/5.40m for the win.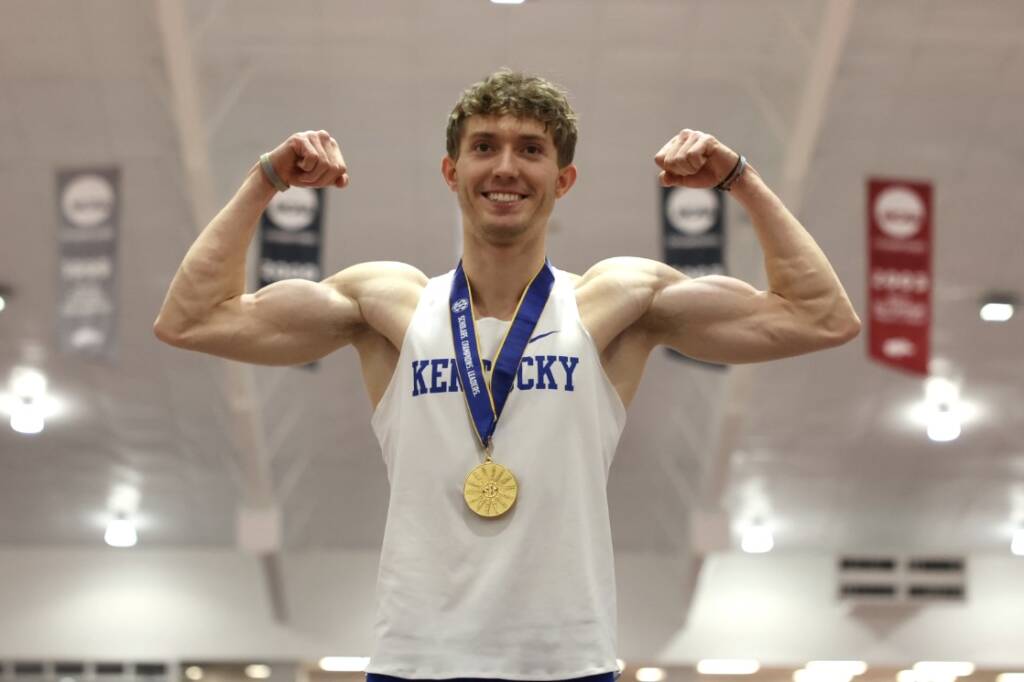 Wildcats have won three of the last four SEC Indoor Pole Vault titles as Matt Peare claimed the crown in 2020 and 2021. Dave Franta was the only other Wildcat to win the SEC Indoor Men's Pole Vault in 1960.
Dalton Shepler added three men's pole vault points with a sixth-place, personal best vault clearance of 7'0.25″/5.20m. Shepler moved to No. 5 on UK all-time indoor performers' list.
Siobhan Szerencsits earned her first SEC medal, a pole vault silver, clearing 14'1.75"/4.31 to score eight points. The mark ranks tied for 13th in NCAA Division I this season based on marks recorded before this weekend. Payton Phillips split the eighth place point three ways (.33) with a clearance of 12'11.75"/3.96m.
Anthaya Charlton claimed bronze in the women's long jump with a personal best of 21'5.25"/6.53m. The mark ranks sixth in NCAA Division I this season based on marks recorded before this weekend.
Logan Coles scored a point in the men's weight throw with a new personal best of 66'05.75"/20.26m that moved him up to No. 5 on the UK all-time indoor performers' list.
Michael Browning placed ninth, just outside Coles' last scoring place, with a mark of 64'01.00"/19.53m.
Kentucky qualified eight Wildcats, four men and four women from Friday's preliminary heats into Saturday's finals.
Friday qualifiers
Collegiate record holder Masai Russell was the top qualifier in the women's 60m hurdles with a "big Q" time of 7.90Q. Yasmin Brooks also qualified for Saturday's women's 60m hurdles final with a "little q" 8.18q.
Freshman Jordan Anthony earned a "big Q" automatic qualification into the men's 60m final with a heat-wining timer of 6.64, which was the second fastest overall in the heats.
Dylan Allen unleashed a big kick on the bell lap of the men's mile prelims, winning his heat in 4:04.25Q, a season best. He was the third fastest of the prelims.
Kennedy Lightner won the first of seven men's 200m preliminary heats and was fifth fastest overall running 20.66q. Brandon Miller was the seventh fastest of the heats in 20.74q.
Graduate transfer Wayne Lawrence Jr. Ran a season-best 46.10, the seventh-fastest of the men's 400m prelims to qualify for the final at his first SEC Championships. He moved up a spot to No. 3 on the UK indoor all-time list.
Phoebe McCowan earned a "little q" time qualifier in the women's mile running 4:49.74, the 10th fastest of the prelims.
DeAnna Martin earned the last little q of the women's 800m running a personal best 2:05.25q to place third in the first of three qualifying heats. Martin had the sixth fastest time of the prelims with an advancement procedure of top two in each heat plus the next two fastest times. Jenna Schwinghamer was .05 off Martin's last "little q," missing the final despite running faster than two "big Qs" from heat No. 3.
Men's heptathlon day one report
Jacob Sobota had a personal best in the heptathlon long jump, equaled his PB in the heptathlon high jump, and turned in a season-best heptathlon shot put. Sobota sits in ninth place, one spot outside the scoring positions, through four events with the 60m Hurdles, pole vault, and 1000m to be contested on Saturday.
Notables
Simi Akinrinsola's weight throw season-best 65'4"/19.91m was good for ninth place, one spot outside the scoring positions. Akinrinsola moved up a spot to No. 5 on the UK all-time list.
A new DMR team consisting of Phoebe McCowan, Christal Mosley, Jenna Schwinghamer, and Tori Herman finished the evening with a fifth-place finish and a time of 11:13.18 to place No. 9 on the UK all-time indoor performance list.
The men's DMR team made of Dylan Allen, Justin Swann, Alex Justus, and Jake Allen also took fifth place with a season-best 9:42.50.
At the end of day one, the women's track and field team find themselves in third with 28.33 total points while the men sit tied for fifth with Auburn (Ala.) at 18 points.
The Wildcats will wrap up the Southeastern Conference Indoor Track & Field Championships tomorrow from the Tyson Indoor Track Center in Fayetteville, Arkansas. The meet will be broadcast on SEC Network+ live streams, and SEC Network linear will air the meet replay on Sunday afternoon.
Friday, February 24
Women
Pent. 60 Hurdles
Final
9. Annika Williams: 8.80, season-best | 952 points
Women
Pent. High Jump
Final
1. Annika Williams: 5'10.00"/1.75m, season-best, | 953 points
Women
Pent. Shot Put
Final
2. Annika Williams: 43'3.75"/13.20m, season-best | 741 points
Women
Pent. Long Jump
Final
2. Annika Williams: 20'1"/6.12m | personal-best | 887 points
Women
Pent. 800 Meter
Final
4. Annika Williams: 2:20.76 | personal-best | 813 points
Pentathlon Total
1.      Annika Williams: 4346 points | 173 personal-best, new school record by 161 points 10 points
Men's Heptathlon
Friday, February 24
Men
60 Meters
10. Jacob Sobota: 7.22 | 806 points
Men
Long Jump
7. Jacob Sobota: 23'0.5"/7.02m | personal best | 818 points
Men
Shot Put
7. Jacob Sobota: 41'10.50"/12.76m | season-best | 653 points
Men
High Jump
7. Jacob Sobota: 6'3.50"/1.92m | equal personal-best | 731 points
Day One Total
9. Jacob Sobota: 3008 points
Saturday, February 25
Men
60m Hurdles
Men
Pole Vault
Men
1000 Meters
Heptathlon Total
Friday, February 24
Men
Pole Vault
Final
1. Keaton Daniel: 17'8.5"/5.40m – 10 points

6. Dalton Shepler: 17'0.25″/5.20m – three points | personal best, No. 5 on UK all-time indoor performers' list

Men
Weight Throw
Prelim/Final
8. Logan Coles: 66'05.75"/20.26m | personal-best, No. 5 on UK all-time indoor performers' list | 1 point

9. Michael Browning: 64'01.00"/19.53m

11. Dennis Ohene-Adu: 63'04.75"/19.32m

Men
Mile
Prelim
3. Dylan Allen: 4:04.25Q | season-best
Women
Mile
Prelim
10. Phoebe McCowan 4:49.74q

18. Ally Kruger: 4:57.95

Men
60 Meters
Prelim
2. Jordan Anthony: 6.64Q

16. Langston Jackson: 6.78

Women
60 Meters
Prelim
18. Victoria Perrow: 7.42

21. Anthaya Charlton: 7.45

Men
400 Meters
Prelim
7. Wayne Lawrence Jr.: 46.10q | season-best, No. 3 on UK all-time indoor performers' list

32. Brandon Nyandoro: 48.55 | personal-best

33. Beck O'Daniel: 48.92 | personal-best

Women
Pole Vault
Final
2. Siobhan Szerencsits: 14'1.75"/4.31m | season-best | 8 points

8. Payton Phillips: 12'11.75"/3.96m |0.33 points

Women
400 Meters
Prelim
9. Dajour Miles: 53.06

16. Christal Mosley: 53.27 | personal-best

Men
Long Jump
Prelim/Final
11. Jordan Turner: 24'10.50"/7.58m | personal-best | No. 7 on UK all-time indoor performers' list

15. Robert Springfield III: 24'6.25"/7.47m

Men
800 Meters
Prelim
16. Justin Swann: 1:51.18
Women
800 Meters
Prelim
6. DeAnna Martin: 2:05.25q | personal-best

7. Jenna Schwinghamer: 2:05.30

11. Sydney Steely: 2:07.40

15. Bryanna Lucas: 2:10.14 | season-best

Women
Long Jump
Prelim/Final
3. Anthaya Charlton: 21'5.25"/6.53m | personal-best, No. 2 on UK indoor all-time list | 6 points
Women
Weight Throw
Final
9. Simisola Akinrinsola: 65'04.00"/19.91m | personal-best, No. 5 on UK all-time list
Women
60 Hurdles
Prelim
1. Masai Russell | 7.90Q

6. Yasmin Brooks: 8.18q |equals season-best

Men
5,000 Meters
Final
16. Aaron Withrow: 14:43.71

18. Jackson Watts: 14:46.32

Men
200 Meters
Prelim
5. Kennedy Lightner: 20.66q

7. Brandon Miller: 20.74q

11. Jordan Anthony: 20.91

17. Langston Jackson: 21.34

Women
5,000 Meters
Final
16. Kaylie Kenne: 17:16.77
Women
200 Meters
Prelim
11. Karimah Davis: 23.18

27. Victoria Perrow: 24.03

29. Tamiia Fuller: 24.11

Men
DMR
Final
5. UK (Dylan Allen (1200m), Justin Swann (400m), Alex Justus (800m), Jake Allen (1600m)): 9:42.50 | season-best | 4 points
Women
DMR
Final
5. UK (Phoebe McCowan, Christal Mosley, Jenna Schwinghamer, Tori Herman): 11:13.18 | 4 points