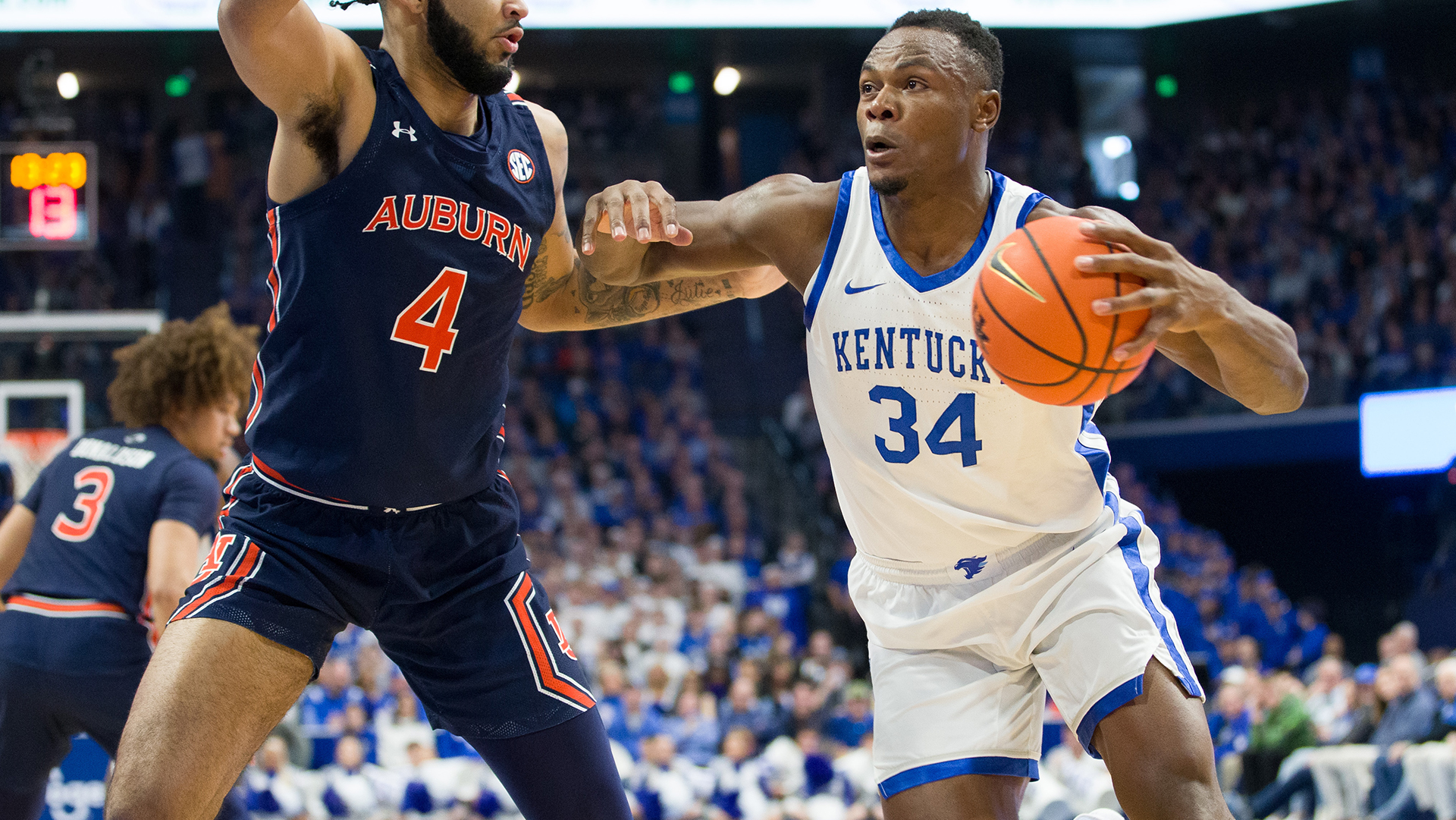 February 25, 2023 - 06:36 PM
Kentucky Blasts Auburn on Saturday
A basketball team that exhibits great balance can be very tough to defend. That's what Kentucky exhibited on Saturday against Auburn.
The Cats had four players in double figures en route to beating the Tigers 86-54 at Rupp Arena. The win was Kentucky's fourth in a row and moved the Cats to 20-9 on the season and 11-5 in the Southeastern Conference with two regular season games remaining.
Oscar Tshiebwe led the Cats with 22 points and 17 rebounds, his 44th career double-double. Antonio Reeves had 21 points, including making four of seven from behind the arc. Cason Wallace had 19 points and nine assists, while Jacob Toppin had another double-double with 13 points and a career-high 12 rebounds.
Early in Saturday's game, Auburn was beating Kentucky at its own game. The Tigers were on the offensive glass early and often and were getting the additional possessions the Cats have been getting in the last three games.
However, those numbers would eventually turn in Kentucky's favor and the Cats would end up with 12 offensive rebounds to just 10 for Auburn. UK had 14 second-chance points compared to just seven for Auburn.
The Cats were also able to beat the Tigers at their own game. Auburn is known for shooting, and making, a lot of threes. But in this game, Reeves and the Cats hit eight threes to just seven for the Tigers.
Kentucky made 32 of 57 (56.1 percent) of its shots from the floor, including eight of 13 (61.5 percent) from behind the arc. Meanwhile, the Cats held Auburn to 19 of 56 (33.9 percent) from the floor and just seven of 21 (33.3 percent) from behind the arc. The Cats forced 13 Auburn turnovers and turned those into 23 points.
Auburn (19-10, 9-7) got 13 points from Jaylin Williams and 12 points from Morehead State transfer Johni Broome.
Kentucky plays its final home game of the season on Wednesday against Vanderbilt. Tipoff is set for 7 p.m. and the game can be seen on the SEC Network.