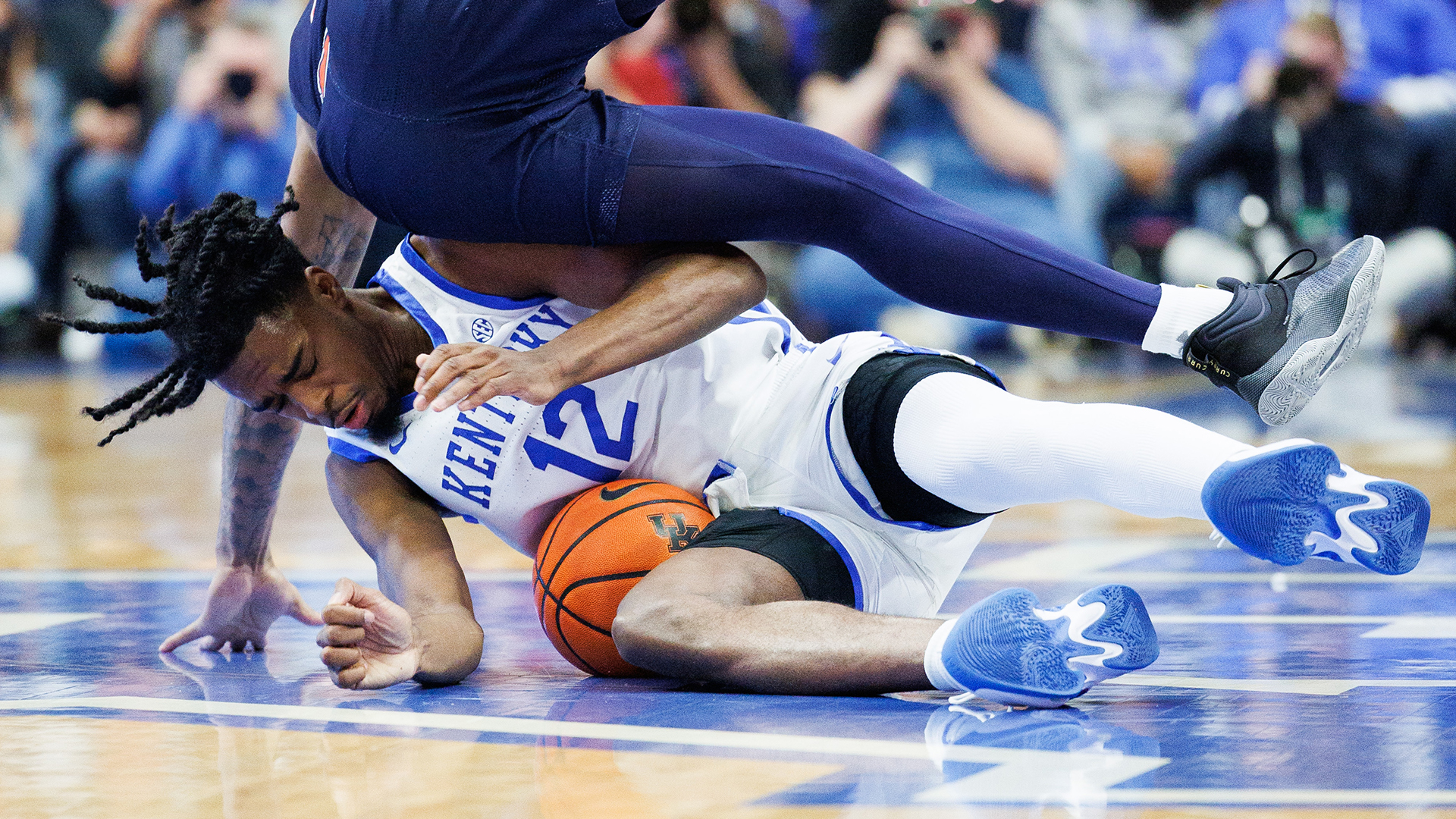 February 25, 2023 - 07:40 PM
Kentucky-Auburn Postgame Notes
KENTUCKY MEN'S BASKETBALL POSTGAME NOTES
RUPP ARENA AT CENTRAL BANK CENTER | LEXINGTON, KY
FEB. 25, 2023
ATTENDANCE: 20,353
Final Score: Kentucky 86, Auburn 54
Team Records and Series Notes
Kentucky won its fourth in a row – tying a season-long win streak for the third time this season – and the Wildcats are 20-9 overall and 11-5 in the Southeastern Conference.
Kentucky has tied at least a tie for fourth place in the league standings but, as this was written, has not clinched a Friday double-bye at the SEC Tournament.
Auburn is 19-10 overall, 9-7 in the league.
Kentucky leads the series 97-23.
UK leads 51-2 in games played in Lexington and has won the last 20 vs. the Tigers in Rupp Arena.
Next for the Wildcats: Kentucky hosts Vanderbilt on Wednesday at 7 p.m. The Senior Night game will be televised on the SEC Network.
Team Notes
Kentucky limited Auburn to 54 points. UK is 88-0 under John Calipari, including 5-0 this season, when keeping the opponent to 55 points or fewer.
Auburn shot 33.9% from the field. UK is 231-24 (90.6%) under Calipari when the opponent shoots 40% or less from the field.
UK won the rebounding 41-23, leading to a 14-7 advantage in second-chance points.

UK is 20-4 this season when winning the rebounding and 13-0 when winning the rebounding by double digits.

Kentucky's 10 steals are the most since 10 thefts at Gonzaga on November 20.
Kentucky's 86 points is a season high in an SEC game.
Kentucky shot 56.1% from the field today, the 10th time this season and second game in a row that the Wildcats have made at least half their shots.
Kentucky shot a season-high 61.5% on 3-pointers, 8 of 13.

UK is 13-0 this season when making at least 36% from long range.

Kentucky made 14 of 15 free throws, a season-high 93.3 percent.
This was the second game in a row that UK had two double-doubles – Toppin and Tshiebwe today and Toppin and Livingston at Florida.
Kentucky led by as many as 40 points today, marking the third-largest lead in any game this season. The Wildcats are 327-13 (96.2%) under John Calipari when leading by at least 10 points at some point during the game.
Player Notes
Oscar Tshiebwe collected 22 points and 17 rebounds.

This is his 16th double-double of the season and 44th in 61 games at Kentucky.
His 44th double-double moved him past Jim Andrews for third place in UK history in that category.
It is his fifth 20-15 game of the season, 12th as a Wildcat.
He has made 20 of 23 shots from the field in the last two games, 87 percent.
He made all six free throws, tying his best perfect performance as a Wildcat, also made 6 of 6 vs. Gonzaga and Florida A&M.

Jacob Toppin had 13 points and a career-high 12 rebounds.

It is his seventh double-double of the season and first time he has done it back-to-back games.
It is his 12th-straight game with double-figure scoring and 14th in the last 16.
He has made 7 of 10 on 3-point shots in the last five games.
He also had a season-high-tying five assists, only one short of his career high.

Antonio Reeves tossed in 21 points – 18 in the second half – his seventh 20-point game of the season.

He has made 15 of 31 on 3-point shots in the last five games.
He has scored in double figures in 13 of his last 15 games.

Cason Wallace almost had a double-double with 19 points and nine assists.

19 points are his most since 24 vs. Arkansas on Feb. 7.
It is his sixth game in a row with at least five assists and nine assists matches his second-most of the season.

After missing four games because of a rib injury, CJ Fredrick returned to action and played seven minutes.   
Coach John Calipari
This is Kentucky's 13th 20-win season in 14 seasons under John Calipari.
Calipari is 14-6 vs. Auburn, all coming at Kentucky.
Calipari has an 830-250 all-time on-court record and is 385-110 in 14 seasons at UK.
UK is 316-62 (83.6%) against unranked competition under Calipari.
Rupp Arena
Kentucky is 647-80 (89.0%) in the 47-year history of Rupp Arena.
Kentucky is 220-20 (91.7%) in Rupp Arena under Calipari.
In the First Half
Kentucky starters were Cason Wallace, Antonio Reeves, Chris Livingston, Jacob Toppin and Oscar Tshiebwe for the fifth game in a row. UK is 4-1 with this lineup.
Adou Thiero and CJ Fredrick were the first substitutes at the 12:33 mark.
The half was played evenly until the final 1:40, when a Toppin 3-pointer, a Wallace 3, and two Tshiebwe foul shots ended the half on an 8-0 run to take a 40-29 advantage into the locker room.
Tshiebwe got a double-double in the first half with 14 points and 10 rebounds.
UK is now 17-0 this season when leading or tied at halftime.
In the Second Half
Kentucky opened the second half with the starting lineup.
After Auburn got the first basket, UK got an 9-0 spurt for a total run of 17-2, pushing the tally to 49-31.
UK led by as many as 40 points at 88-46.