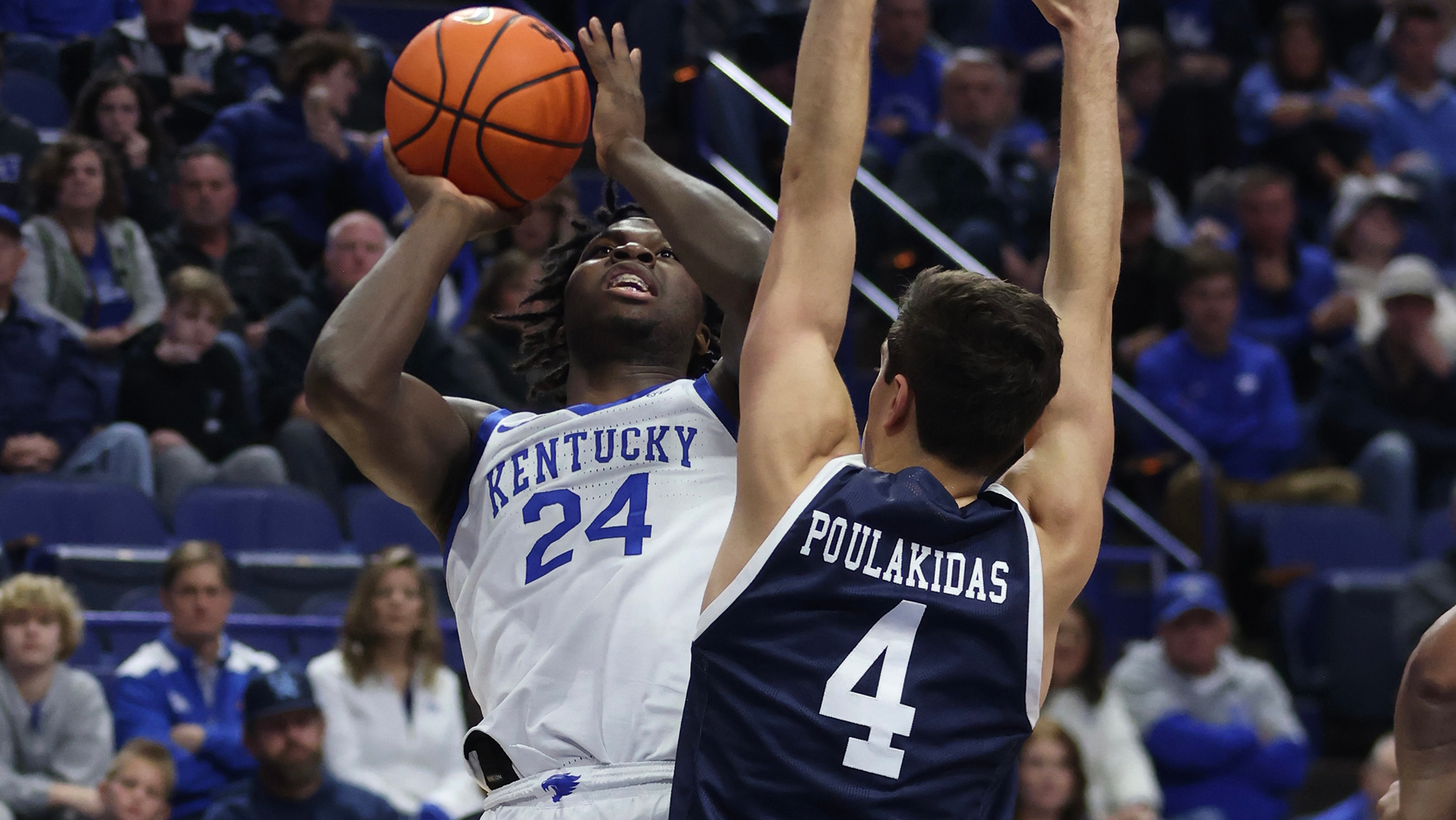 February 24, 2023 - 03:16 PM
Big Blue Preview: Kentucky vs. Auburn
With Kentucky playing several close games in the last few weeks, each possession becomes increasingly important.
That's one of the many reasons why Kentucky's offensive rebounding has been crucial to the Cats' recent success. UK is ninth in the country in offensive rebounds per game, averaging 13.4 per game. Junior forward Lance Ware realizes the significance of what Kentucky is doing on the offensive glass.
"Just being able to create extra possessions," Ware said. "These games are coming down to three, four possessions and us being able to get some extra ones always helps."
There's another factor that, according to Ware, can definitely work in the Cats' favor.
"I think that, especially when we get offensive rebounds off a free throw, which is something we're pretty good at, that kind of demoralizes a team," Ware said. "Then we got two more points or maybe we get fouled again."
During Kentucky's current three-game winning streak, the Cats have 21 more offensive rebounds that their opponents (Mississippi State, Tennessee and Florida). And Kentucky has turned those additional opportunities into points. The Cats have 47 second-chance points in the last three games compared to just 17 for their opponents. On Wednesday, UK had 15 second-chance points and Florida had zero.
Prior to the three-game winning streak, the Cats seemed to have trouble getting things going, especially at the start of games. Ware says that UK needed something to serve as a spark, something they've gotten in the last three contests.
"Leave it all out there. Even though we were going through a rough patch, we had to find something that we could do to get us going and spark us up," Ware said. "Whether it was take a charge or grab a loose ball or dive on the floor, that all brings energy to the team."
Now, the Cats are set to host Auburn (4 p.m. ET, CBS) on Saturday in another important Southeastern Conference contest. UK currently sits in third place in the SEC standings, one game ahead of the Tigers and Tennessee. Ware knows that this is the time of year when teams are jockeying for postseason position.
"This late in the season, teams are going to give us their best because everybody is trying to improve their record and get to the tournament," he said.
As for Auburn, the Tigers employ the high-tempo, three-point shooting attack that head coach Bruce Pearl has used at most of his stops. Ware knows that getting back on defense will be key.
"The way that they push the ball in transition," Ware said. "Big emphasis on transition defense, taking care of the ball and not letting them get out in transition."
If the Cats can continue to control the boards and create most possessions, it will bode well for them with eh postseason just around the corner.
Similar Stories …
In 14 years as head coach of the Wildcats, John Calipari has won a national title, claimed six Southeastern Conference regular-season crowns, six league tournament titles and won more NCAA tournament games than any other coach during this span. He's also led teams plagued by slow starts to memorable late-season runs:
• The 2020 squad suffered a home loss to Evansville in November, lost back-to-back games in Las Vegas prior to Christmas and fell to 16-5 on Feb. 1 with a loss at Auburn. The Wildcats would then rattle off eight straight wins and nine of their last 10 to win the SEC regular-season by a comfortable margin of three games. COVID-19's rise in the United States canceled the SEC and NCAA Tournaments
• In 2018, the Wildcats lost four in a row from Feb. 3-14, marking the first four-game losing streak during Calipari's UK tenure. That team went on to win nine of its next 10 games and captured the SEC Tournament title
• The 2017 squad lost three of four games from Jan. 24-Feb. 4 before rattling off 14 straight victories. Within that run, the Wildcats won the SEC Tournament title and marched all the way to the Elite Eight before a buzzer-beater by eventual champion North Carolina ended their tournament run
• In 2014, the freshman class was heralded as the best ever and preseason expectations had fans dreaming of a 40-0 season. However, that team dropped nine regular-season games before putting together one of the most magical NCAA Tournament runs in program history. The Cats overcame double-digit deficits in all but one game and were led by late-game heroics from Aaron Harrison all the way to the NCAA Championship game
What's Trending Over the Last Five Games
A snapshot of what has been trending with the Cats over their last five games played:
• UK is 3-2 with three straight wins at Mississippi State, vs. Tennessee and at Florida
• Sahvir Wheeler has missed all five outings with a right ankle injury, while CJ Fredrick has missed the last four with an injury to his ribs
• Five Wildcats are averaging double-figure points: Tshiebwe (17.2), Reeves (13.8), Toppin (13.8), Wallace (11.4) and Livingston (11.4) – that group has comprised the starting five for each of the last four games
• Kentucky is plus-9.8 on the boards. Seven players are averaging 2.0 boards per game or better
• Kentucky is shooting 32.4% (24-74) from 3-point range
• The Cats have owned the offensive glass. UK has racked up 69 offensive rebounds compared with just 35 for its opponents
• Wallace is averaging 6.8 assists per game. He has dished out at least five assists in each of the five games
• Tshiebwe is averaging 6.0 free-throw attempts per game. Over the last five games, he's shooting 80% (24-30) from the line
Where UK Stands with Four to Play
If the season concluded on Feb. 24, the Wildcats would own the No. 3 seed in the Southeastern Conference Tournament. Kentucky has a one-game lead on Tennessee and Auburn for the three seed. If UK and Tennessee finished tied, the Cats would own the tiebreaker with a 2-0 season sweep of the Vols. Auburn and Kentucky play on Saturday.
With three games to play, Kentucky cannot finish lower than ninth in the standings. Teams seeded three through 11 are within four games of each other, so a lot is left to be determined over the final seven days of the regular-season.