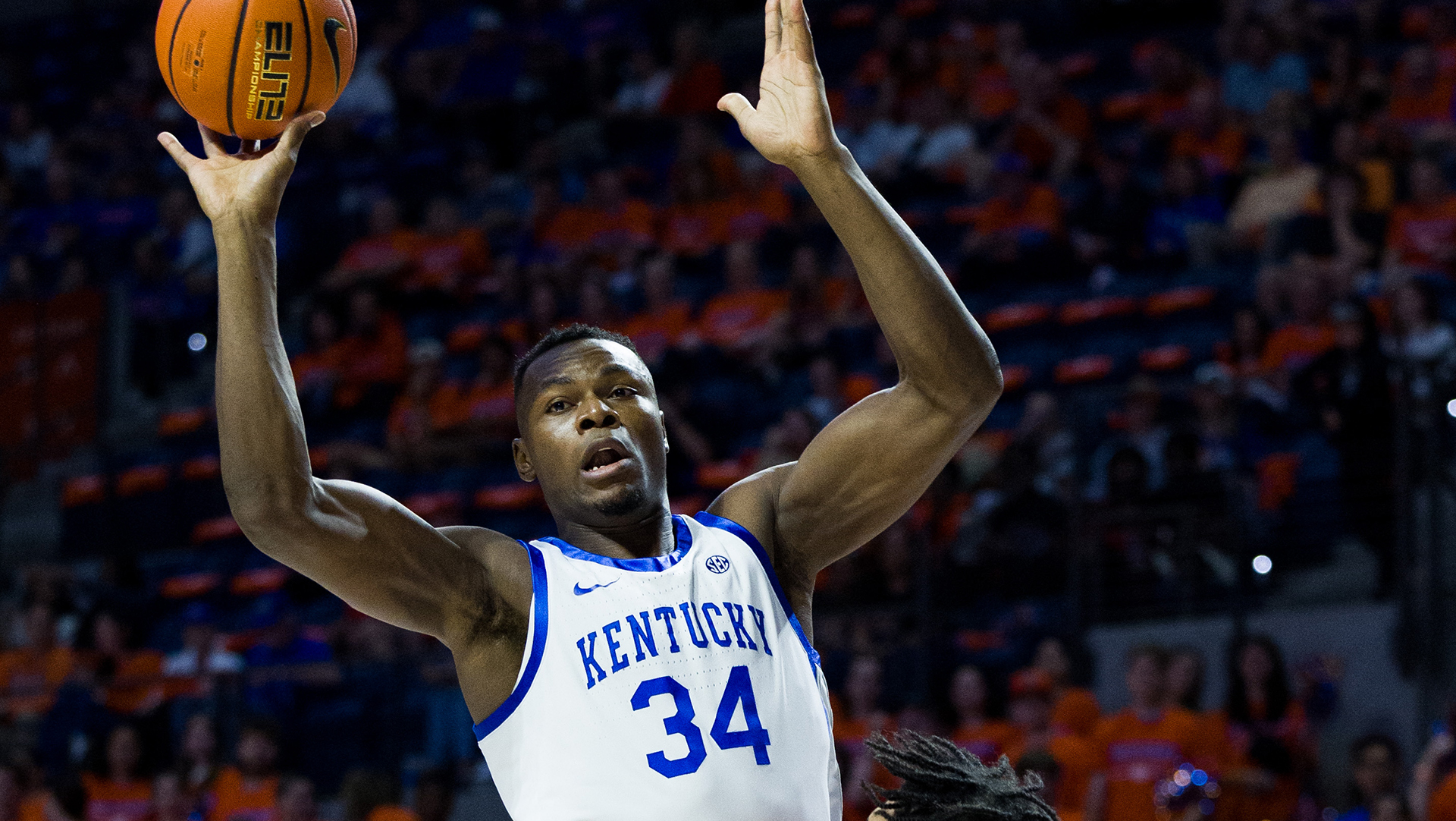 February 22, 2023 - 09:17 PM
Tshiebwe, Veterans Lead Cats Past Gators
Oscar Tshiebwe was not happy with the way he played against Florida earlier this season. The Kentucky big man had just four points, making just two of 14 from the floor, although he did have 15 rebounds.
So when the Cats and the Gators got together on Wednesday night in Gainesville, Tshiebwe was more than ready for the rematch.
The defending National Player of the Year made 12 of 13 from the floor on his way to 25 points as the Cats won 82-74. Tshiebwe's 92.3 percent shooting is fourth best in UK history. The three players above him each made all of their shots.
In fact, it was the veterans who carried Kentucky in Wednesday's victory. Antonio Reeves had 16 points, while Jacob Toppin had a double-double with 19 points and 11 rebounds. It was Toppin's second double-double against Florida this season.
And while the veterans carried the Cats the entire game, it was a freshman that sealed the win. With the Cats leading by two inside the final minute, Livingston grabbed an offensive rebound, stuck it back in and was fouled. The three-point play gave the Cats a 77-72 advantage.
Livingston finished with 11 points and career-high 15 rebounds in the win.
In the first half, everything was going Kentucky's way. The Cats were shooting the lights out on their way to building a double-digit first-half advantage. UK would extend the lead to as many as 15 points, 30-15, before Florida rallied.
And did they ever. The Gators outscored the Cats 22-6 over the remainder of the half to take a 37-36 lead into the break.
Game on.
In the second half, the Cats would pull away, then the Gators would catch up. That scenario happened on multiple occasions. Just when it looked like Kentucky was pulling away for good, Florida would rally. Time and time again it happened until the Cats finally put the game away inside the final minute.
Kentucky returns to action on Saturday, hosting Auburn at Rupp Arena. Tipoff is set for 4 p.m. and the game can be seen on CBS.