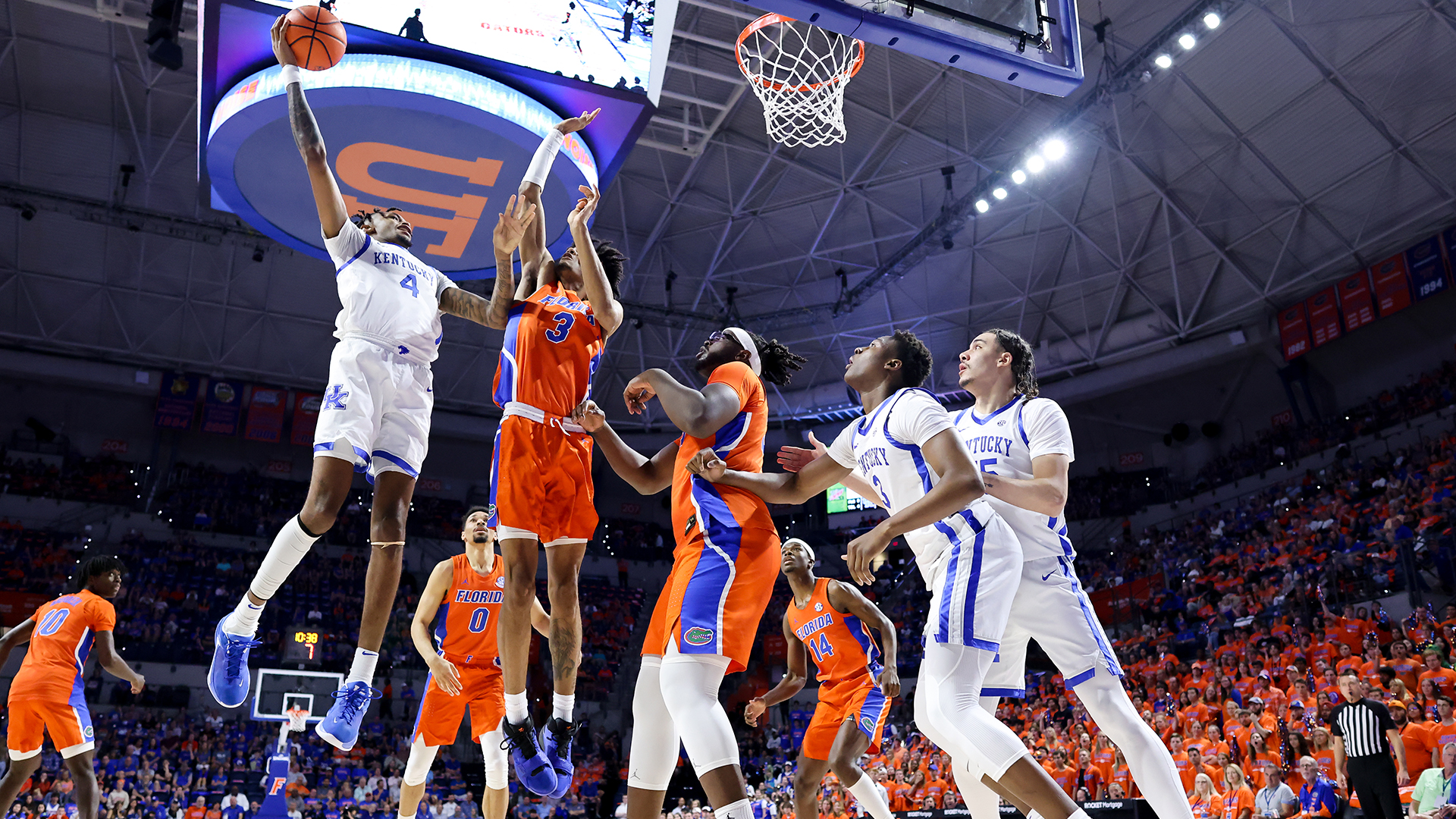 February 22, 2023 - 10:16 PM
Kentucky-Florida Postgame Notes
KENTUCKY MEN'S BASKETBALL POSTGAME NOTES
EXACTECH ARENA AT THE STEPHEN O'CONNELL CENTER | GAINESVILLE, FL
FEB. 22, 2023
ATTENDANCE: 9,540
Final Score: Kentucky 82, Florida 74
Team Records and Series Notes
Kentucky has won three in a row and is now 19-9 overall, 10-5 in the SEC.
Florida is now 14-14 overall and 7-8 in the league.
Kentucky leads the overall series 109-41 and has won four in a row vs. the Gators.
UK leads 40-26 in games played in Gainesville and has won the last five there.
Next for the Wildcats: Kentucky begins a two-game homestand Saturday at 4 p.m. vs. Auburn. The game will be televised by CBS.
Team Notes
Kentucky clinched a winning road record in SEC games this season and is now 5-3 in league play away from home. UK ends the regular season March 4 at Arkansas.
Kentucky led by as many as 15 points. The Wildcats are 326-13 (96.2%) under John Calipari when leading by at least 10 points at some point during the game.
UK dominated the rebounding 40-21, and a 13-2 edge in offensive boards led to a 15-0 tally in second-chance points.

UK is 19-4 this season when winning the rebounding, including 12-0 when winning the rebounding with a double-figure margin.
The plus-19 rebounding margin was the second largest in an SEC road game in the Calipari era. A plus-22 rebounding margin at LSU Feb. 6, 2010 is the best for a Calipari-coached Wildcat team.

Kentucky shot 53.2% from the field, 33 of 62. The Wildcats are 8-1 this season when shooting at least 50%.
Kentucky got double-doubles from Jacob Toppin and Chris Livingston, first UK pair to do since Toppin and Oscar Tshiebwe in the win vs. Georgia on January 17.
Kentucky did a great job taking advantage of turnovers, turning 10 Florida miscues into 21 points. Kentucky won despite Florida making 50% from the field, 26 of 52. This marked the third time this season (also Florida A&M and Mississippi State) that Kentucky won despite the opponent shooting at least 50%.
Player Notes
Chris Livingston had 10 points and a career-high 15 rebounds.

He had the biggest play of the game with his putback-and-one with 50 seconds left that blunted a Florida rally and increased the lead to 77-72.
It's the second-consecutive double-double for the current SEC Freshman of the Week.
The last Wildcat with consecutive double-doubles was Tshiebwe vs. Georgia and Mississippi State on Feb. 11 and 15.

Jacob Toppin had 19 points and 11 rebounds.

It is his sixth double-double of the season, including both games vs. Florida.
It is his 11th-straight game with double-figure scoring.

Oscar Tshiebwe made 12 of 13 shots en route to a game-high 25 points.

His field-goal percentage of 92.3% is fourth-highest in one game in Kentucky history (minimum eight attempts)
Tshiebwe is one of eight players nationally this season to have a game of 12 of 13 or better from the field.
This was his third 25-point game of the season, 10th of his career.
Became the 61st player in Kentucky history to score 1,000 points as a Wildcat. He now has 1,010 points in his two seasons at UK.
With four rebounds today, he totals 844 in only 60 UK games and moved past Sam Bowie (843) for eighth place in UK history.

Antonio Reeves tossed in 16 points, his 21st double-figure game of the season, along with a season-high four assists.
Coach John Calipari
This was Calipari's 183rd SEC regular-season win, moving past legendary Tennessee coach Ray Mears for fifth place in league history.
Calipari is 24-9 vs. Florida, with all but one win coming at Kentucky.
Calipari has an 829-250 all-time on-court record and is 384-110 in 14 seasons at UK.
UK is 315-62 (83.6%) against unranked competition under Calipari.
In the First Half
Kentucky opened with a starting lineup of Cason Wallace, Antonio Reeves, Chris Livingston, Jacob Toppin and Oscar Tshiebwe for the fourth game in a row.
Adou Thiero, Daimion Collins and Lance Ware were the first subs at the 11:14 mark.
Kentucky built a 30-15 lead by the media timeout at the 7:55 mark.
Florida finished the half with a 22-6 surge to take a 38-37 lead at the break.
Tshiebwe scored 15 points in the first half, reaching an even 1,000 points for his UK career.
UK is now 3-9 this season when trailing at halftime.
In the Second Half
Kentucky opened the second half with the starting lineup, which went on to play the entire half without substitution.
Tshiebwe, Reeves and Toppin combined for the first 14 points as UK regained a 50-43 lead and Florida called timeout at the 15:13 mark.
The Gators responded with an 8-0 run to retake the lead.
Kentucky came back with a 7-0 spurt to make it 57-51; although the Wildcats never trailed again, the win wasn't assured until the final minute.
Florida rallied to tie at 59, but baskets by Livingston, Reeves, Wallace and Tshiebwe restored an eight-point cushion.
Florida got back within 67-63, but foul shots by Reeves and a Toppin 3-pointer coaxed a Gators' timeout at 4:06.
UK pushed the run to 7-0, and a 74-63 lead, on a dunk by Toppin at the 3:43 mark.
Florida came right back with its own 9-0 run to make it 74-72 with a minute to go.
After UK missed a 3-pointer with 50 seconds left, Livingston crashed the backboard for a huge follow-and-one to make it 77-72.
Three free throws by Toppin and two by Wallace preserved the verdict.