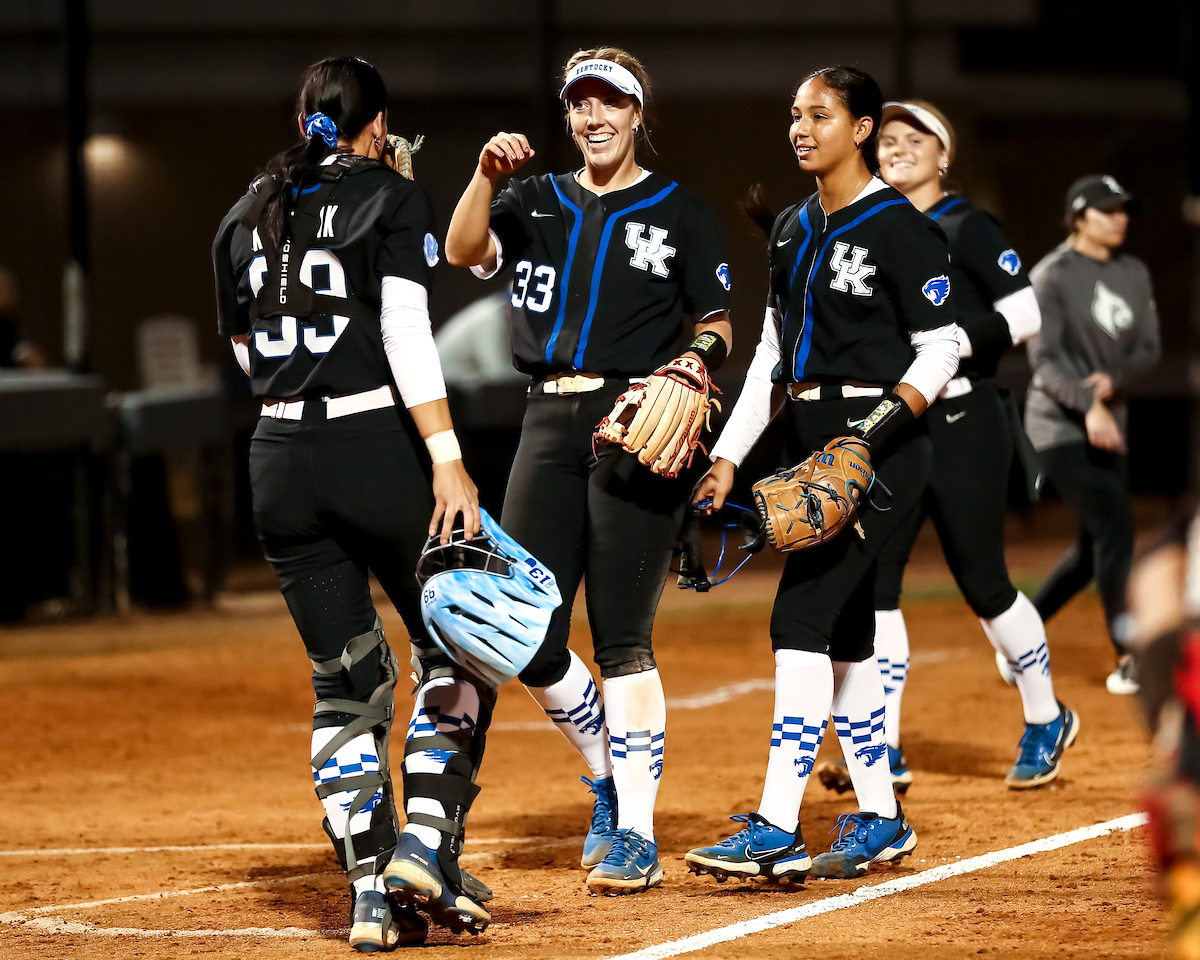 LOS ANGELES – Pitcher Stephanie Schoonover threw her third-straight complete-game shutout Tuesday afternoon as the No. 16/17 Kentucky Softball team defeated Loyola-Marymount 1-0 in Los Angeles.
The Kentucky run came in the top of the sixth inning thanks to an infield RBI single off the bat of Grace Lorsung to score Kayla Kowalik from third with two outs in the inning. The Wildcats and Lions both registered three hits in Tuesday's game, as the pitchers stole the show in the City of Angels.
Schoonover not only recorded her third-straight complete-game shutout Tuesday in the win, but she also struck out 10 batters in the game, marking her third-straight game of the season in which she has tallied 10+ terminations via the strikeout. Seven of Schoonover's strikeouts were swinging and three were looking.
Kentucky with the win improves to 8-1-1 on the 2023 season as LMU falls to 4-8. The Lions have played one of the toughest schedules, if not – the toughest, so far on the young softball season, having played six power-five teams already.
UK will now head into the final leg of its west coast swing to compete in the 2023 Mary Nutter Collegiate Classic in Palm Springs, California. The Wildcats will play nationally-ranked Washington, UCLA, San Diego State, Northwestern in addition to UC Riverside. There is significant weather moving into the Palm Springs area, so fans are encouraged to check UKathletics.com and the UK Softball Twitter account for possible game time changes as the weekend progresses.
Key Play
The game-ending play, an out recorded at the plate by Kayla Kowalik on a tag, was the key play of the game. With the tying run on third and two outs, the Lions got a single back up the box, but Margaret Tobias threw the ball from deep in the hole at second to home, and Kowalik was there to apply the tag in time to end the game at home to preserve the shutout.
Key Player
Kayla Kowalik was the key player in the game Tuesday, as she was on base twice, via a hit and a walk, scored the game's only run, and applied the tag to the potential game-tying run in the bottom of the seventh inning.
Key Stat
3. Stephanie Schoonover has now thrown three-straight complete games, three-straight shutouts, and each team was held to just three runs in the game.
Run Recap
With runners on second and third with two outs in the sixth inning, Grace Lorsung hit a ball deep in the hole on the left side, deep enough to score Kowalik from third and not garner a throw. It was the only run of the game. FINAL – Kentucky 1, LMU 0
For the latest on UK Softball, follow the Wildcats on Twitter and Instagram at @UKSoftball.