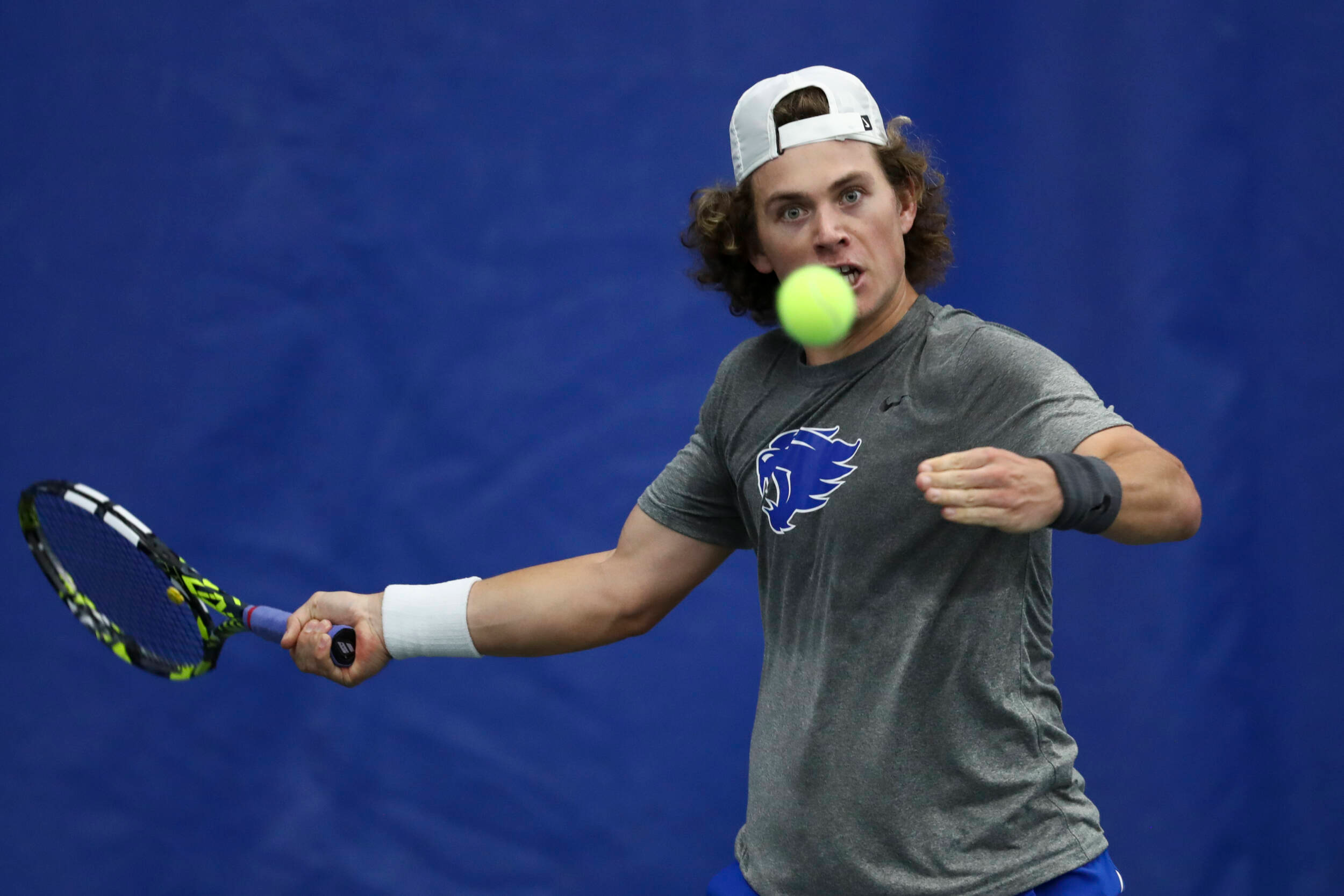 February 19, 2023 - 05:27 PM
No. 2 Kentucky Suffers First Defeat, Falls to No. 3 TCU
CHICAGO – No. 2 Kentucky was unable to overcome an early deficit, falling to No. 3 TCU, 4-2 on Sunday at the XS Tennis Village. Facing off against the event's reigning champions, the Wildcats fell short in a tightly contested match that featured a rematch of last year's NCAA Quarterfinal.
TCU opened the match by claiming the doubles point, taking two of the three courts by a single break. Kentucky opened with a 6-2 win from Joshua Lapadat and JJ Mercer on court two, before TCU secured the set at third doubles, 6-3 over Kentucky's Liam Draxl and Jaden Weekes. With the opening point coming down to the top court, the duo of Alafia Ayeni and Taha Baadi had multiple game points to stay in the match, but the Horned Frogs would break for a 6-4 clincher.
In singles action, the two squads would once again be locked in battle. Each team would take the first set on three of the courts, but TCU was the first team to add a point in the second half of play as Weekes would fall to No. 124 Sebastian Gornzy in straight sets. The 'Cats responded with a straight-set victory of their own, as No. 45 Draxl claimed a top-20 victory, defeating No. 17 Jake Fearnley 7-6 (1), 6-4.
The rest of the singles matches would be decided in third sets, as the final four courts went to deciders. In a ranked matchup, Ayeni would go toe-to-toe with a top-50 opponent, rebounding from a first set defeat before ultimately falling 6-4 in the third. With TCU one point away from clinching the match, Lapadat would add another point to the Wildcat tally, claiming a back-and-forth 6-2, 2-6, 6-2, victory at No. 3 Singles.
The Horned Frogs finished off the match at No. 6 Singles, as Tomas Jirousek claimed a 6-4, 3-6, 6-3 victory over No. 57 Charlelie Cosnet. Cosnet, trailing in the final frame by a break, was able to get back on serve late, but Jirousek immediately regained the advantage. He would serve out the match and send TCU to its second-straight ITA Indoor National Championship match.
Kentucky will have the next week off to rest up before opening Southeastern Conference play. The 'Cats will return to the court on March 2 for a home, top-ten battle with South Carolina to kick off the league season. The match will start at 5 p.m. and take place at the Hillary J. Boone Tennis Complex in Lexington, Ky. Admission is free to the public and fans can follow along via live stats, or by tuning in on Track Tennis.
RESULTS
Kentucky vs. TCU
Doubles
Fearnly/Fomba (TCU) def. Alafia Ayeni/Taha Baadi (UK) 6-4
Joshua Lapadat/JJ Mercer (UK) def. Jong/Pinnington Jones (TCU) 6-2
Gornzy/Vives Marcos (TCU) def. Liam Draxl/Jaden Weekes (UK) 6-3
Singles
No. 45 Liam Draxl (UK) def. No. 17 Fearnley (TCU) 7-6 (1), 6-4
No. 49 Fomba (TCU) def. No. 66 Alafia Ayeni (UK) 6-4, 4-6, 6-4
No. 16 Joshua Lapadat (UK) def. Pinnington (TCU) 6-2, 2-6, 6-2
No. 115 Taha Baadi (UK) vs. Jong (TCU) 7-6 (3), 6-7 (4), 1-1 (unfinished)
No. 124 Gorzny (TCU) def. Jaden Weekes (UK) 6-2, 6-3
Jirousek (TCU) def. No. 57 Charlelie Cosnet (UK) 6-4, 3-6, 6-3
Order of Finish:
Doubles—2, 3, 1
Singles—5, 1, 2, 3, 6
For the latest on UK Men's Tennis, follow the Wildcats on Twitter and Instagram at @UKMensTennis.