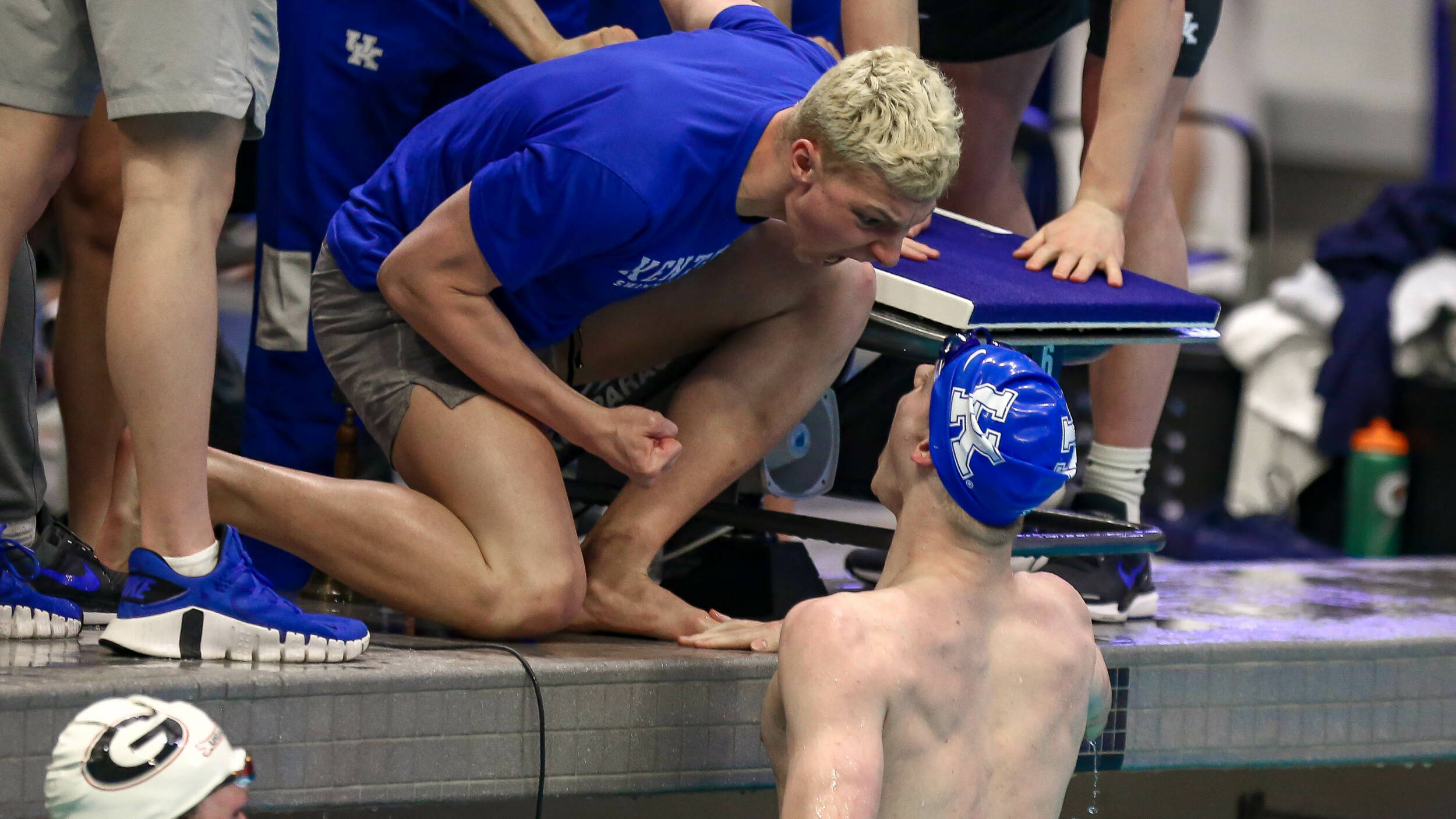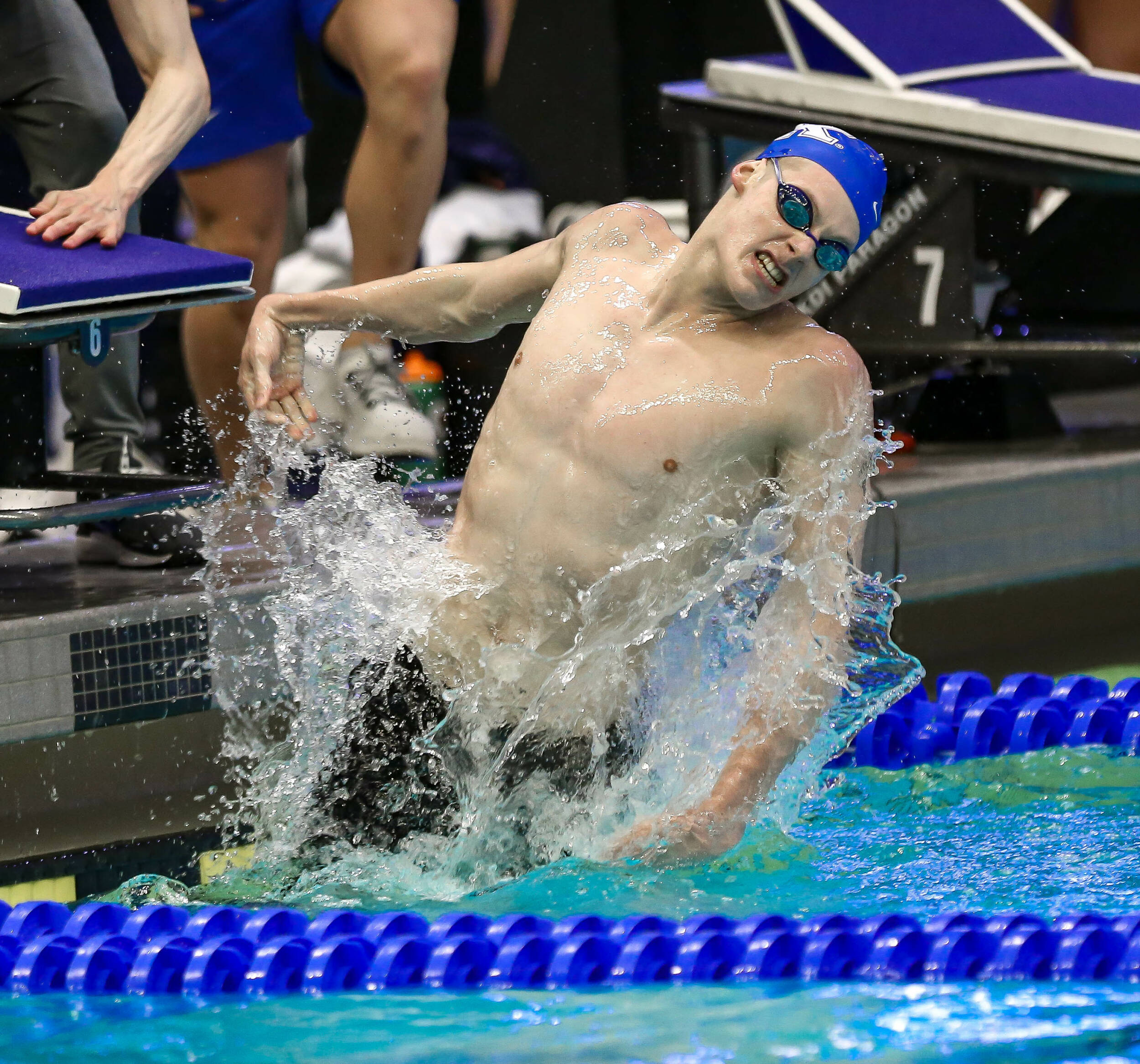 February 18, 2023 - 11:58 PM
Sandidge Makes History, Women Finish Third as SEC Championships Come to a Close
COLLEGE STATION, Texas – A Sandidge spectacle highlighted Kentucky's Saturday night at the 2023 Championships as the Wildcats ended the meet in third place on the women's side and in eighth in the men's competition at the Rec Center Natatorium.
The women's final score of 946 gave the Wildcats third-place overall behind Florida (1,255) and Tennessee (950.50). The men, meanwhile totaled 514 points over the five-day meet, which was won by the Gators with a score of 1,488.5.
Saturday's star was freshman Levi Sandidge who became the first Kentucky male swimmer to win gold at the SEC Championships since Steven Manley in 2006, and the fourth to achieve the feat in program history joining Roget Messick, Daniel Cruz and Steven Manley. The Richardson, Texas native blew away the field to win the 1650 free in a blazing 14:31.47, the fastest time in the country this year and an NCAA "A-cut".
"If I didn't have my teammates there to push me, I wouldn't be able to do it," Sandidge said. "I had a thought in the back of my mind that there was a chance I could win this. [But] I did not expect to go 14:31."
In the women's mile, Beth McNeese was Kentucky's top finisher at 16:08.38, while Megan Drumm posted a new personal best of 16:09.97 to place 14th.
The women's 200 backstroke saw six Wildcats in the night session, including three in the "A-Final". Senior Caitlin Brooks medaled for the third-straight year in the event, grabbing bronze with a time of 1:52.38. For Brooks, the medal was the ninth of her collegiate career at the SEC Championships. Freshman Lydia Hanlon followed Brooks, placing fifth, while fellow first-year Grace Frericks took sixth.
Max Berg continued his sensational SEC performance, breaking yet another program record in the men's 100 freestyle. The junior's time of 42.11 gave the France native sixth place in the highly competitive event. Berg tallied three program records for the week, also resetting the standard in the men's 200 freestyle and 100 backstroke.
Gillian Davey, the defending SEC Champion in the 200 breast, was fourth in this year's race, touching in 2:08.19, her fastest time of the season. In her first SEC "A-final" junior Bridget Engel placed eighth overall, followed by the freshman duo of Denise Phelan (11th) and Olivia Mendenhall (12th). On the men's side, senior Henry Miller nabbed another PR with a 1:56.06 to finish 18th overall. Miller's time moves him into fourth on the UK all-time top 10 in the event.
Kentucky ended the meet with six medals, five school records, 78 personal bests and one NCAA "A-cut".
Medal Count: 6
Bronze (3)
Lauren Poole, Women's 200 IM (1:55.12)
Mason Wilby, Men's 200 Fly (1:41.59)
Caitlin Brooks, Women's 100 Back (1:52.38)
Silver (2)
Lauren Poole, Women's 400 IM (4:04.62)
Kyndal Knight, Women's Platform (285.45)
 Gold (1)
Levi Sandidge, Men's 1650 Free (14:31.47)
UK School Record Count: 5
Max Berg, Men's 200 Free (1:32.67)
Ryan Merani, Men's 400 IM (3:42.19)
Max Berg, Men's 100 Backstroke (46.22)
Levi Sandidge, Men's 1650 Free (14:31.47)
Max Berg, Men's 100 Free (42.11)
NCAA "A-Cut" Count: 1
Levi Sandidge, Men's 1650 Free (14:31.47)
Personal Best Count: 78
For the latest on UK Swim & Dive, follow the Wildcats on Twitter and Instagram at @UKSwimDive, and on Facebook at Kentucky Swimming and Diving.