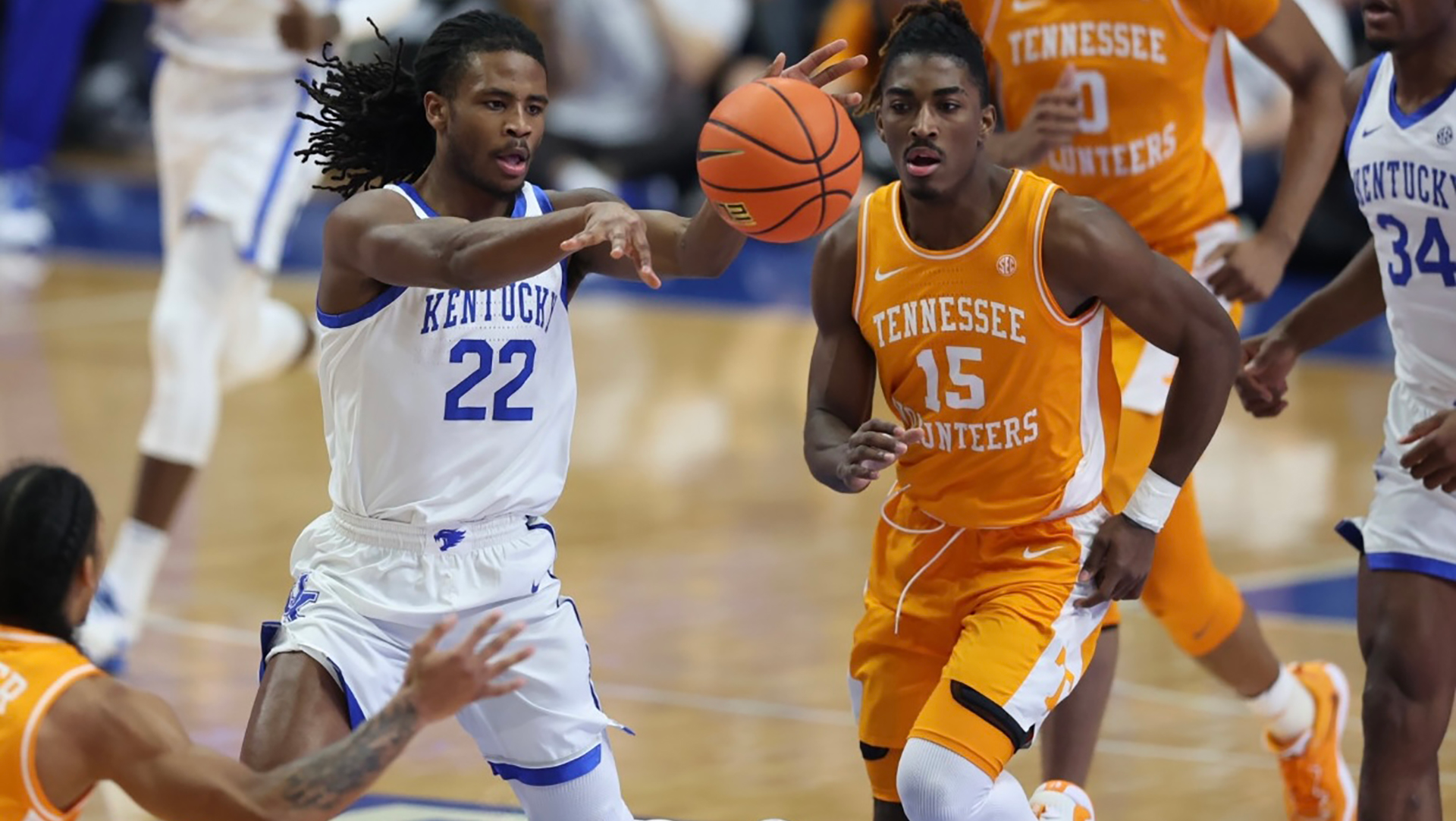 February 18, 2023 - 03:24 PM
Kentucky Tops No. 10 Tennessee, Sweeps Regular Season Series
Throughout his tenure at Kentucky, John Calipari has counted on freshmen every season. The Cats have had great success with a number of first-year players, going four Final Fours and winning the 2012 NCAA Championship under Calipari.
This year's Cats are built around more experienced players. Defending National Player of the Year Oscar Tshiebwe, senior transfer Antonio Reeves and others have led the way for UK this season.
But with the Cats facing No. 10 Tennessee in an extremely important game on Saturday, it was the Kentucky freshmen who stepped up, in a big way.
Kentucky (18-9, 9-5 SEC) got off to an outstanding start in the game, holding UT to one for 11 shooting early in the game and grabbing a 10-2 lead.
The early onslaught continued throughout the half, with UK expanding the lead as the half progressed. The half closed with an 8-0 Kentucky run that gave the Cats a 39-19 lead at the break.
Oh, and those freshmen? Cason Wallace had 16 points, six rebounds and six assists in the game and Chris Livingston had 12 points and a career-high 10 rebounds, his first career double-double, as the Cats beat Tennessee 66-54, giving the Cats a sweep of the regular season series between the rivals.
The freshmen carried the Cats in the first half. Wallace had 12 points, four rebounds and three assists, while Livingston had nine points and five rebounds. That made it 21 points for the UK freshmen and 19 for the Vols in the first half.
And Kentucky needed these freshman on this day. The Cats were again without CJ Fredrick and Sahvir Wheeler, who both missed the game due to injury. Second-leading scorer Antonio Reeves spent much of the game in foul trouble.
Alas, Tennessee made its run in the second half, one befitting of the nation's 10th-ranked team. The Vols would get the lead to single digits, eventually getting within eight points, 62-54, with 2:09 to play. But the Cats scored the final four points of the game from the free throw line to seal the victory.
Tennessee (20-7, 9-5) got a game-high 17 points from Santiago Vescovi.
Kentucky returns to action on Wednesday night, visiting Gainesville to face Florida. Tipoff is set for 7 p.m. and the game can be seen on ESPN.