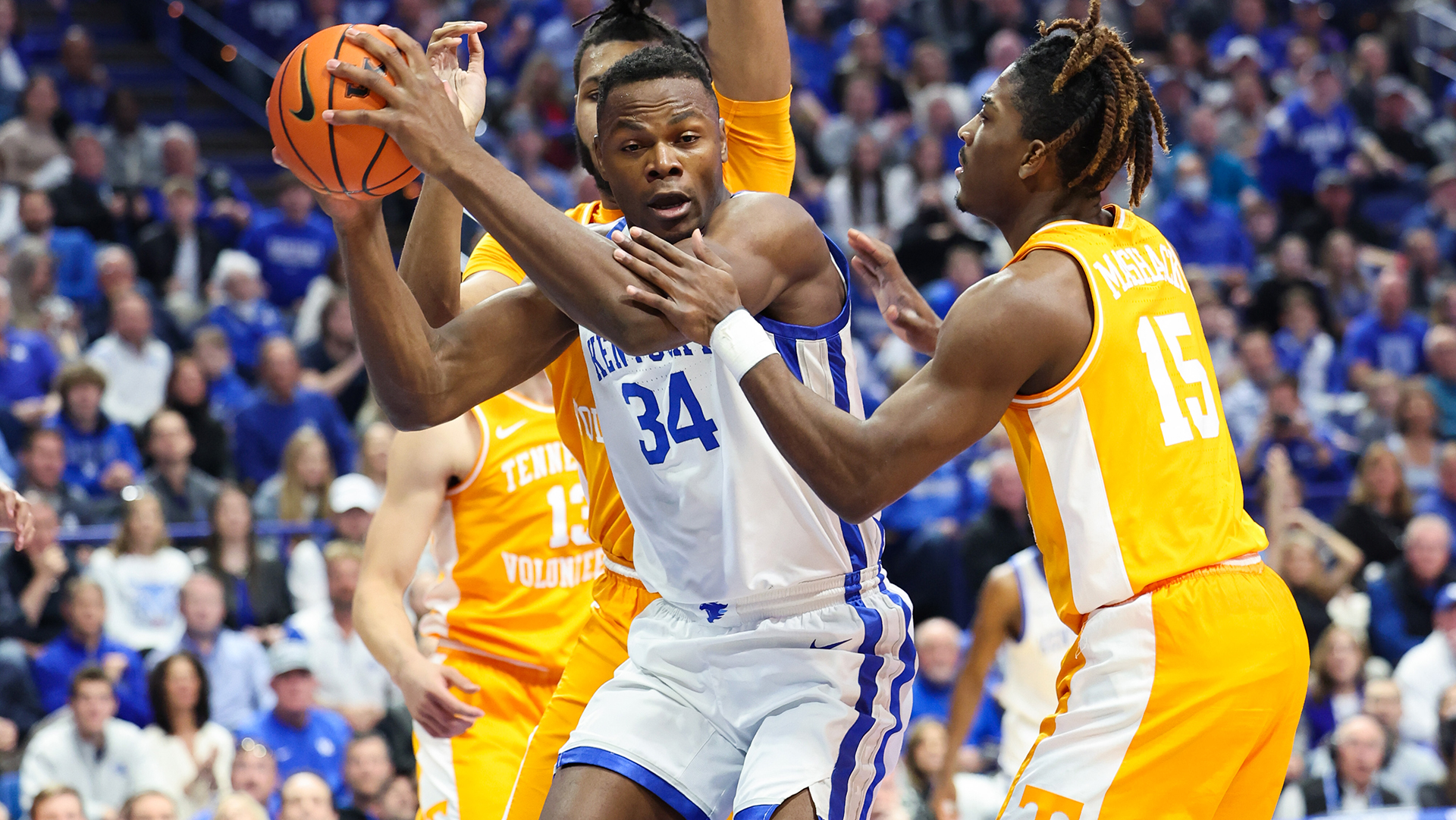 February 18, 2023 - 04:42 PM
Kentucky-Tennessee Postgame Notes
KENTUCKY MEN'S BASKETBALL POSTGAME NOTES
RUPP ARENA AT CENTRAL BANK CENTER | LEXINGTON, KY.
FEB. 18, 2023
ATTENDANCE: 20,323
Final Score: Kentucky 66, No. 10/11 Tennessee 54
Team Records and Series Notes
Kentucky is now 18-9 overall, 9-5 in the Southeastern Conference.
Tennessee is 20-7 overall and 9-5 in the league.
Kentucky leads the series 160-77 and has won two in a row.
UK swept a regular-season two-game series vs. Tennessee for the first time since 2012. (Note: only one game was played between the teams in 2014 and 2015 and UK won each season.)
UK leads 94-19 in games played in Lexington.
Next for the Wildcats: Kentucky has its penultimate true road game of the regular season Wednesday at 7 p.m. at Florida. The game will be televised by ESPN.
Team Notes
Kentucky honored the 1996 and '98 national champions and the '97 national runner-up during a halftime ceremony.
Kentucky limited Tennessee to 54 points. UK is 87-0 under John Calipari, including 4-0 this season, when keeping the opponent to 55 points or fewer.
Tennessee shot 37.3% from the field. UK is 230-24 (90.6%) under Calipari when the opponent shoots 40% or less from the field.
Kentucky led by as many as 20 points. The Wildcats are 325-13 (96.2 percent) under John Calipari when leading by at least 10 points at some point during the game.
UK won the rebounding 40-32, leading to a 14-9 advantage in second-chance points.

UK is 18-4 this season when winning the rebounding.
Kentucky came into the game leading the SEC and ranking eighth nationally in rebounding margin at plus-7.7 while also leading the conference and sitting ninth nationally with 39.88 rebounds per game.

Kentucky shot a season-high 35 free throws, making a season-high-tying 23. UK is 5-0 this season when getting to the charity stripe for at least 25 attempts.
Player Notes
Chris Livingston had 12 points and a season-high 10 rebounds, his first double-double as a Wildcat.

It's his fifth game this season in double figures and first time to do it two games in a row.

Oscar Tshiebwe totaled 16 points, seven rebounds and three steals.

With seven rebounds today, he totals 840 in only 59 UK games and remains in the 10th place in UK history.
He entered the game leading the nation in rebounding at 13.3 boards per game.
It is the sixth time this season he has had three steals in a game.

Cason Wallace tied Tshiebwe for scoring honors with 16 points, adding a game-high six assists.

Wallace entered the game as one of only two freshmen in the nation averaging at least 11.6 points, three rebounds. 3.5 assists and 1.9 steals per game.

Jacob Toppin had 11 points, his 10th-straight game in double-figure scoring.
Coach John Calipari
This was Calipari's 182nd SEC regular-season win, tied with legendary Tennessee coach Ray Mears for fifth place in league history.
Calipari is 21-15 vs. Tennessee, including 18-12 at Kentucky.
Calipari has an 828-250 all-time on-court record and is 383-110 in 14 seasons at UK.
UK is 69-48 (59.0%) against ranked competition under Calipari.
In the First Half
Kentucky opened with a starting lineup of Cason Wallace, Antonio Reeves, Chris Livingston, Jacob Toppin and Oscar Tshiebwe for the third game in a row.
Adou Thiero was the first substitute at the 10:21 mark.
Each team struggled to score early and after eight minutes Kentucky led 10-2.
UK scored the final eight points of the half and took its largest lead, 39-19, into halftime.

Wallace led with 12 points and Tshiebwe and Livingston had nine each.
Limiting Tennessee to 19 points is Kentucky's best defensive half of the season.

UK is now 16-0 this season when leading or tied at halftime.
In the Second Half
Kentucky opened the second half with the starting lineup.
Kentucky began the half with three straight turnovers and Tennessee scored each time to make it 39-26 and prompt a Kentucky timeout at 18:37.
Tennessee kept its hot streak going and pulled within 49-39 at the 13:30 mark.
Tennessee got within single digits, 55-46, with 8:37 on the clock.
Tennessee got within eight, 58-50, at 7:25, and the margin stayed within 8-12 points for the remainder of the game.