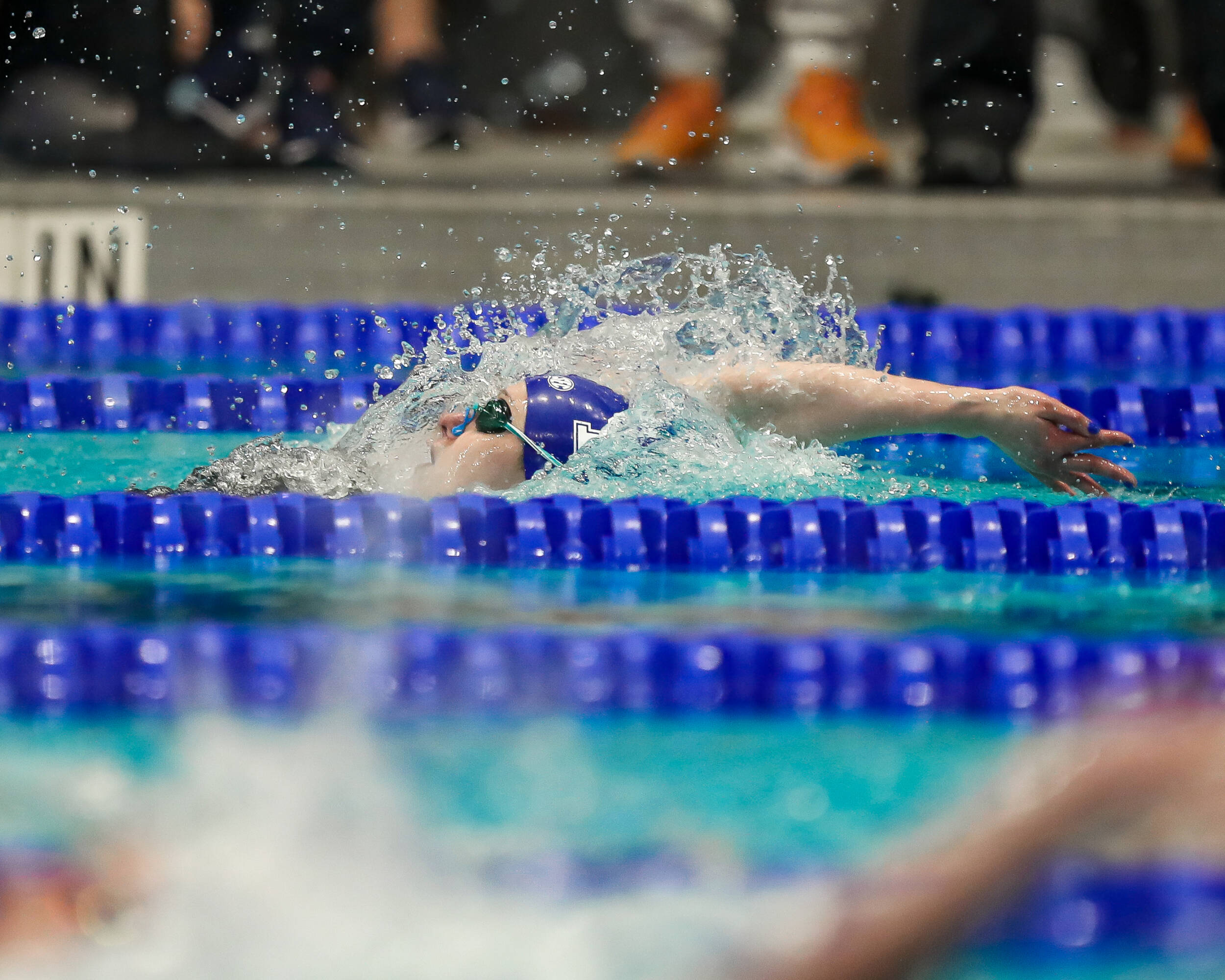 February 15, 2023 - 10:36 PM
Poole Takes Bronze in 200 IM, Cats Post 25 Personal Bests on Day Two of SEC Championships
COLLEGE STATION, Texas – Senior Lauren Poole secured Kentucky's first medal of the 2023 SEC Championships, earning bronze in the 200 IM for the first time in her collegiate career as the Wildcats rounded out day two at the Rec Center Natatorium on Wednesday.
At day's end, the UK women have earned 300 points and are in sixth place, while the men remain in ninth with a tally of 162.
In the first individual event of the evening, Kentucky's Izzy Gati and Beth McNeese went one-two in the women's 500 freestyle "C-Final", with Gati swimming the fourth fastest finals time overall, and the second fastest time in UK history at 4:38.18. In the "A-Final" Kaitlynn Wheeler posted a personal best of 4:40.17 to finish in sixth place for the Cats.
Nick Caruso followed Gati's lead and swam the second-fastest men's 500 freestyle in program history, touching the wall in 4:15.66 to win the "C-Final". Racing in the "B-Final" Zane Rosely took 15th overall at 4:19.01, while freshman Levi Sandidge finished in 21st with a personal best mark of 4:20.24, good for ninth all-time at Kentucky.
Poole collected Kentucky's first medal of the meet in the 200 IM, grabbing bronze with a personal best time of 1:55.12. For Poole, the result marks the first SEC medal in the 200 IM in her collegiate career. She has previously won both silver and gold in the 400 IM. Poole becomes just the second UK swimmer ever to earn an SEC medal in the 200 IM, joining Asia Seidt, who won both silver and bronze in the event.
"It was a huge goal of mine to get a medal in a new event. I definitely found a new love for the 200 IM this year. I put a ton of work into my speed and underwaters which really helped me take the race out fast to give myself a chance."
Gillian Davey also mustered a strong showing in her lone swim of the day, winning the B-final with her fastest career time, 1:56.28. Anna Havens-Rice was 13th overall, improving her personal best to 1:57.34, while Torie Buerger placed 22nd at 1:59.54.
In the sprint session, Max Berg continued to lower his 50-freestyle pace, moving up to second in program history with a swim of 19.36. The junior registered a second-place finish in the "B-Final" of the event to earn 17 points for the Cats.
UK's lone diving finalist, Kyndal Knight scored 293.35 on the women's 1-mtr to place seventh, concluding the session for Kentucky.
The Cats return for day three of the SEC Championships on Thursday. Events to be contested include the 400 IM, 100 fly, 200 free and men's 3-mtr diving. Prelims will begin at 9:30 a.m. CT/10:30 ET for swimming and 12 p.m. CT/ 1 p.m. ET for diving. Finals will start at 5:30 p.m. local time and 6:30 ET.
Medal Count: 1
Lauren Poole, Women's 200 IM (1:55.12)
UK School Record Count: 1
Max Berg, Men's 200 Free (1:32.67)
Personal Best Count: 25
For the latest on UK Swim & Dive, follow the Wildcats on Twitter and Instagram at @UKSwimDive, and on Facebook at Kentucky Swimming and Diving.