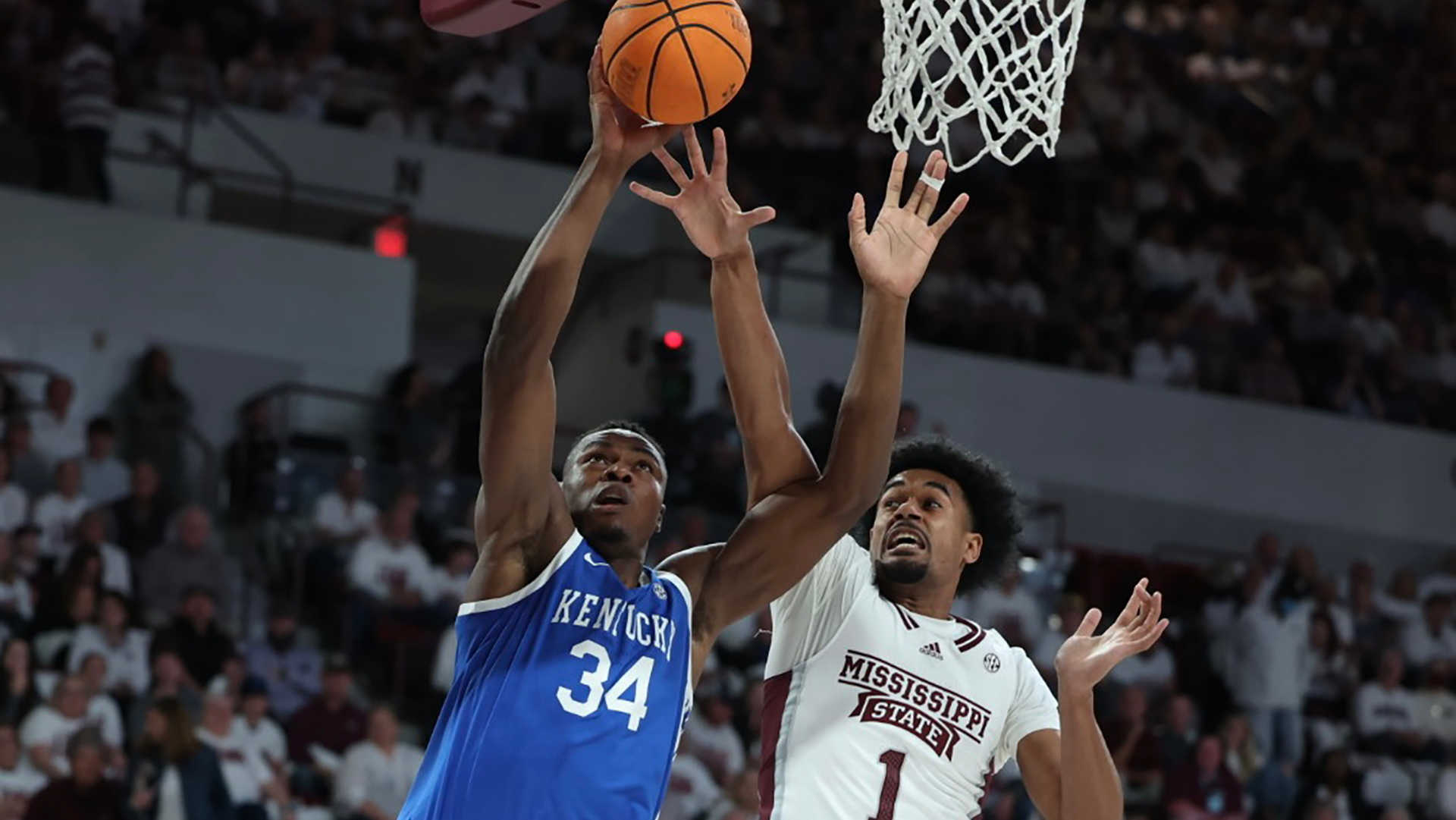 February 15, 2023 - 11:05 PM
Kentucky Holds Off Mississippi State in Starkville
Wednesday's game between Kentucky and Mississippi State was billed as a battle of two teams who were fighting to work their way into the NCAA Tournament. Two teams that were living on the proverbial bubble. Two teams that could use a quality win to help their resume.
The game lived up to the hype.
The Cats made just enough plays down the stretch to hold off the Bulldogs 71-68 inside a rowdy Humphrey Coliseum in Starkville.
Kentucky (16-9, 7-5 SEC) got exactly what it needed in this game – a total team effort. The Cats had no clear star in the game, just a bunch of players who played hard and who made plays when UK needed them most.
Oscar Tshiebwe scored 18 points, including three crucial free throws late, and grabbed 11 rebounds in the game. Jacob Toppin had 16 points and Antonio Reeves had 14. Chris Livingston had 13 points and Cason Wallace, despite struggling from the floor, dished out a career-high 11 assists.
Kentucky took a one-point lead into the second half, a 20-minute period that was highlighted by big runs for each team.
The Cats went first. Trailing 41-38, Kentucky went on an 18-2 run, including 11 in a row, to lead 56-43 with 8:33 to play.
Just when it appeared that the Cats might be able to exhale and cruise to victory, the Bulldogs made their run. Mississippi State scored nine in a row and assembled a 12-2 run to cut the UK lead to 58-55 with 4:10 to play.
Mississippi State (17-10, 5-8) would get within one, 69-68, with three seconds to play but Tshiebwe sealed the win with a pair of free throws just one second later.
Livingston made perhaps the play that saved the game with under 10 seconds to play. After Reeves missed a three with nine seconds left, Livingston grabbed the offensive rebound and was fouled with eight seconds to play. The freshman calmly knocked down both free throws to allow the Cats to keep the lead late.
Kentucky plays again on Saturday, hosting Tennessee at Rupp Arena. Tipoff is set for 1 p.m. ET and the game can be seen on CBS.