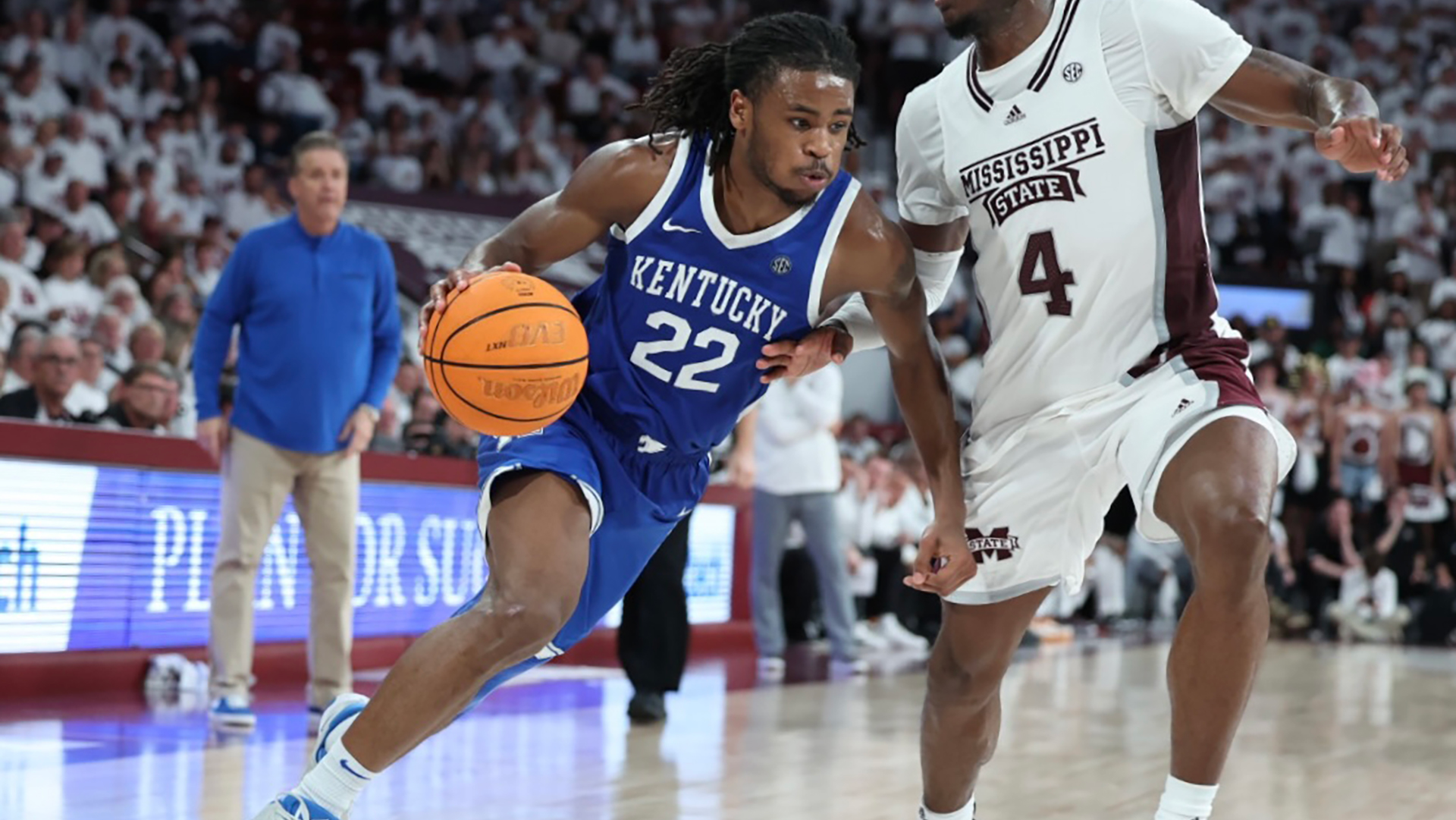 February 15, 2023 - 11:46 PM
Kentucky-Mississippi State Postgame Notes
KENTUCKY MEN'S BASKETBALL POSTGAME NOTES
HUMPHREY COLISEUM | STARKVILLE, MISS.
FEB. 15, 2023
ATTENDANCE: 9,297
Final Score: Kentucky 71, Mississippi State 68
Team Records and Series Notes
Kentucky is now 17-9 overall, 8-5 in the Southeastern Conference.
Mississippi State is 17-9 overall, ending a five-game win streak, and is 5-8 in the league.
Kentucky leads the series 101-21 and has won two in a row vs. MSU.
UK leads 38-12 in games played in Starkville, winning the last eight there.
Next for the Wildcats: Kentucky comes home to play host to Tennessee on Saturday. Game time is 1 p.m. and it will be televised by CBS.
Team Notes
Kentucky is now 4-3 in SEC road games this season.
Kentucky led by as many as 13 points tonight. The Wildcats are 324-13 (96.1 percent) under John Calipari when leading by at least 10 points at some point during the game.
Kentucky controlled the rebounding 38-22 and is now 11-0 this season when winning the boardwork by double figures. The Wildcats won second-chance points, 18-8.
Coming into the game making 62.4 percent of their free throws, the Bulldogs made 73.7 percent of their foul shots tonight (14 of 19). Over the last eight games, UK opponents have made 86.1 percent, 118 of 137.
Player Notes
Oscar Tshiebwe led the Wildcats with 18 points and 11 rebounds.

It is his 15th double-double of the season.
He has 43 double-doubles in 58 games at Kentucky.
With 11 rebounds tonight, he moved into 10th place on the UK career list with 833 total in only 58 games.
He entered the game leading the nation in rebounding at 13.6 boards per game.

Jacob Toppin had 16 points and three rebounds, two assists and two steals, his ninth-straight game in double-figure scoring.
Antonio Reeves got his seventh start of the season and second game in a row. He tallied 14 points, his 20th double-figure game of the season and 11th in the last 12 games.
Chris Livingston had one of his best games as a Wildcat, totaling 13 points – one shy of his career high – and was a cool customer at the free throw line by making 6 of 6.

He had a fine all-around game with five rebounds, a career-high three assists and two steals.

Despite a tough night shooting, Cason Wallace played a fine floor game with a career-high 11 assists, only one turnover, four rebounds and two steals.

His 11 assists are the second-most by a UK freshman in a true road game, trailing only Dirk Minnifield's 13 assists at Mississippi State on Jan. 23, 1980.
Wallace entered the game as one of only two freshmen in the nation averaging at least 12 points, three rebounds. 3.5 assists and 1.9 steals per game.

With Sahvir Wheeler and CJ Fredrick out with injury, Adou Theiro saw action for only the third time in the last eight games. He played eight minutes, contributing four points and four rebounds.
Coach John Calipari
Calipari is 18-1 vs. Mississippi State, with all but one win coming at UK. He is undefeated in his time at UK in games played in Starkville.
Calipari has an 827-250 all-time on-court record and is 382-110 in 14 seasons at UK.
UK is 314-62 (83.5%) against unranked competition under Calipari.
In the First Half
Kentucky opened with a starting lineup of Cason Wallace, Antonio Reeves, Chris Livingston, Jacob Toppin and Oscar Tshiebwe for the second game in a row.
Lance Ware was the first substitute at the 14:39 mark.
UK led by as many as seven points on two occasions and went to halftime up 36-35.

Toppin and Reeves led the Wildcats with 11 points each.

UK is now 15-0 this season when leading or tied at halftime.
In the Second Half
Kentucky opened the second half with the starting lineup.
Trailing 41-38 with 16:30 left, UK went on an 18-2 run over the next eight minutes for a 56-43 lead.
At that point, the Wildcats went scoreless for more than four minutes and a 9-0 MSU spurt closed within 56-52.
The Bulldogs edged to 66-64 with 40 seconds left. Reeves missed a 3-pointer but Livingston tracked down the rebound, was fouled with eight seconds left, and made both free shots to make it 68-64.
MSU made two free throws with five seconds left and Tshiebwe was fouled with 4.6 left.  He made the second to make it 69-66.
MSU was fouled with 3.8 seconds and made both, now 69-68.
Tshiebwe was fouled with 3.4 seconds left and made both, 71-68.
MSU completed a long pass downcourt but fumbled the ball going up for the shot and UK recovered to preserve the win.