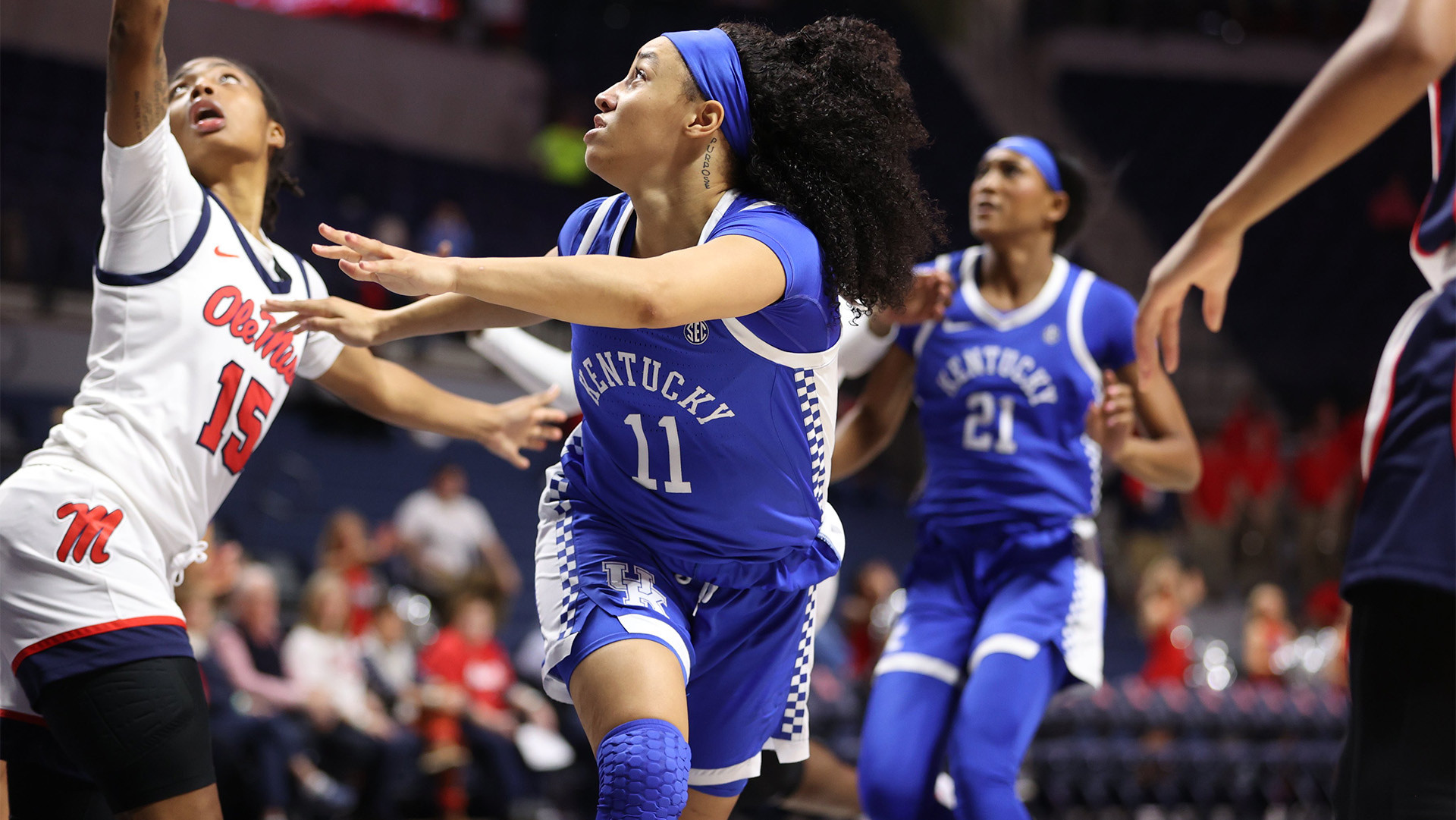 February 13, 2023 - 08:56 PM
Kentucky Falls at Ole Miss on Monday
OXFORD, Miss. – Robyn Benton scored 15 points, but the Kentucky women's basketball team lost at Ole Miss 74-52 on Monday night at the Sandy and John Black Pavilion.
Kentucky (10-14, 2-10 SEC) struggled shooting the ball all night long. The Ole Miss defense kept the Cats in check, as UK hit just 15 of 57 (26.3 percent) from the floor in the game. Kentucky was just three of 14 (21.4 percent) from behind the arc.
The Cats played the second half without Maddie Scherr, who leads the team in assists and rebounds. Scherr was suffering from headaches and was unable to play after halftime.
Kentucky got on the board first on a Benton jumper. However, Ole Miss answered, scoring the next nine points, and forcing a UK timeout. The Cats would make just one of their first 10 shots, but the Cats remained close. UK would make just three of 15 shots in the first period but trailed by just three, 13-10, after 10 minutes of play.
In the second period, Ole Miss opened with a 7-2 run to take a double digit advantage. The Rebels would eventually stretch the lead to as many as 15 points and Ole Miss took a 35-22 lead into the half.
Ole Miss (20-5, 9-3) scored the first five points of the third period to lead 40-22. But Kentucky answered with a 9-2 run, sparked by five points from freshman Kennedy Cambridge, to cut the deficit to 42-31. Ole Miss would maintain its advantage and would hold a 54-40 lead after three periods.
In the fourth quarter, Ole Miss would lead by as many as 25 before settling for the 23-point victory.
Kentucky returns to action on Thursday, hosting Georgia at Memorial Coliseum. Tipoff is set for 7 p.m. ET and the game can be seen on SEC Network Plus.