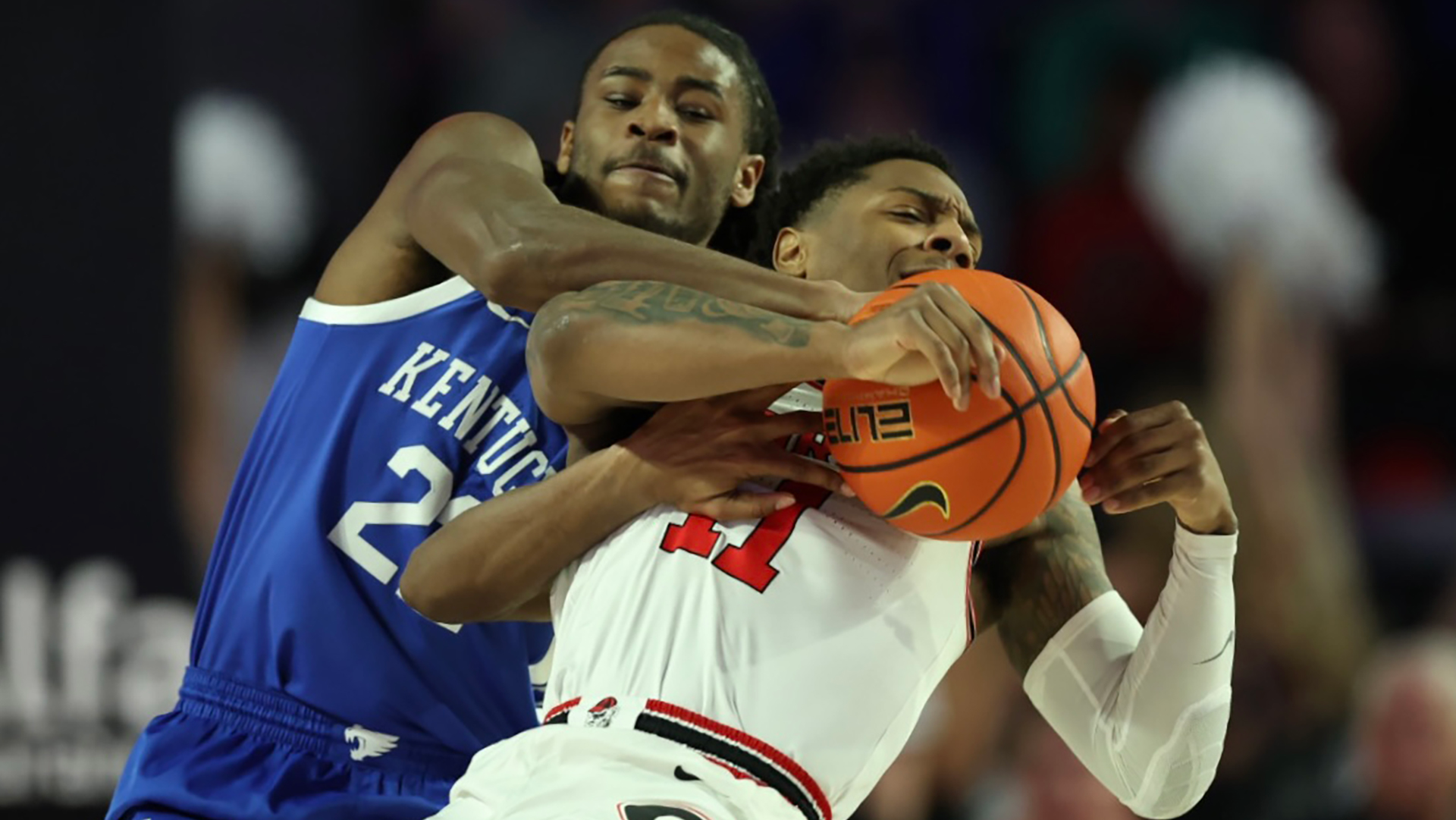 February 11, 2023 - 03:19 PM
Kentucky-Georgia Postgame Notes
KENTUCKY MEN'S BASKETBALL POSTGAME NOTES
STEGEMAN COLISEUM | ATHENS, GA
FEB. 11, 2023
ATTENDANCE: 10,376
Final Score: Georgia 75, Kentucky 68
Team Records and Series Notes
Kentucky is now 16-9 overall, 7-5 in the Southeastern Conference.
Georgia is 15-10 overall, 5-7 in the league.
Kentucky leads the series 131-28, ending a two-game win streak vs. Georgia.
UK leads 44-19 in games played in Athens.
Next for the Wildcats: Kentucky completes a two-game road swing Wednesday at Mississippi State. Game time is 8:30 p.m. ET (7:30 p.m. CT in Starkville) and it will be televised on the SEC Network.
Team Notes
Kentucky got 20 points each from Antonio Reeves and Oscar Tshiebwe, UK's first 20-20 game since Tshiebwe and Jacob Toppin did so in the win over Louisville.
Kentucky won the rebounding 38-37 and are now 16-4 this season when winning the boardwork. The Wildcats won second-chance points, 18-5.
The Bulldogs made 86.2 percent of their foul shots today. Over the last seven games, UK opponents have made 88.1 percent, 104 of 118.

Entering today, UK opponents had made 75.9 percent of their free throws and UK ranked 348th in the nation (out of 358 teams) in opponent free throw percentage.
Player Notes
Oscar Tshiebwe totaled 20 points, 14 rebounds, four assists and four blocked shots, only the fourth such stat line in the NCAA this season.

It is his 14th double-double of the season.
He has 42 double-doubles in 57 games at Kentucky.
It is his sixth 20-point game of the season.
Four blocked shots tied his season high.

Antonio Reeves got his sixth start of the season and first since the UCLA game on Dec. 17. Playing a season-high 40 minutes, he tallied 20 points, his sixth 20-point game of the season.

It's his 19th double-figure game of the season and 10th in the last 11 games.
He also had a season-high-tying six rebounds.

Jacob Toppin had 12 points and eight rebounds, his eighth-straight game in double-figure scoring.
Cason Wallace had five points and led the Wildcats with six assists. It is his fifth game of the season with at least six assists.

Wallace entered the game as the only freshman in the nation averaging at least 12 points, three rebounds. 3.5 assists and two steals per game.

With Sahvir Wheeler and CJ Fredrick out with injury, Adou Thiero saw action for only the second time in the last seven games. He played 16 minutes, contributing two points, three rebounds, an assist and a steal.
Coach John Calipari
Calipari is 21-4 vs. Georgia, all coming at UK.
Calipari has an 826-250 all-time on-court record and is 381-110 in 14 seasons at UK.
UK is 313-62 (83.5%) against unranked competition under Calipari.
In the First Half
Kentucky opened with a starting lineup of Cason Wallace, Antonio Reeves, Chris Livingston, Jacob Toppin and Oscar Tshiebwe for the first time this season.
With Sahvir Wheeler and CJ Fredrick each out because of injury, Adou Thiero was the first substitute at the 16:12 mark. It is the first time this season he has been first off the bench and the 10th Wildcat this season who has been the first sub.
Kentucky missed its first six field goal attempts until Reeves connected with a 3-pointer at the 16:12 mark.
UK missed 13 of its first 14 field goal attempts as Georgia built a 13-5 lead.
UK warmed to the task with an eight-point run to equalize at 13.
UK took its first lead with 6:08 on the clock when Toppin scored to make it 23-22.
In the last six minutes, Georgia went on a 20-9 run and took a 42-32 lead into halftime.

Kario Oquendo led all players with 17 in the first half while Reeves had 15 for UK.

UK is now 2-9 this season when trailing at halftime.
In the Second Half
Kentucky opened the second half with the starting lineup.
The Wildcats steadily cut into the disadvantage and a Toppin basket at 12:47 gave the Wildcats a 49-48 lead. Toppin followed with a 3-pointer for UK's largest lead at 52-48.
Georgia retook the lead with a 7-0 run and the Bulldogs led the rest of the way.
With Georgia leading 59-58, another 7-0 run gave the Bulldogs a 66-58 lead.