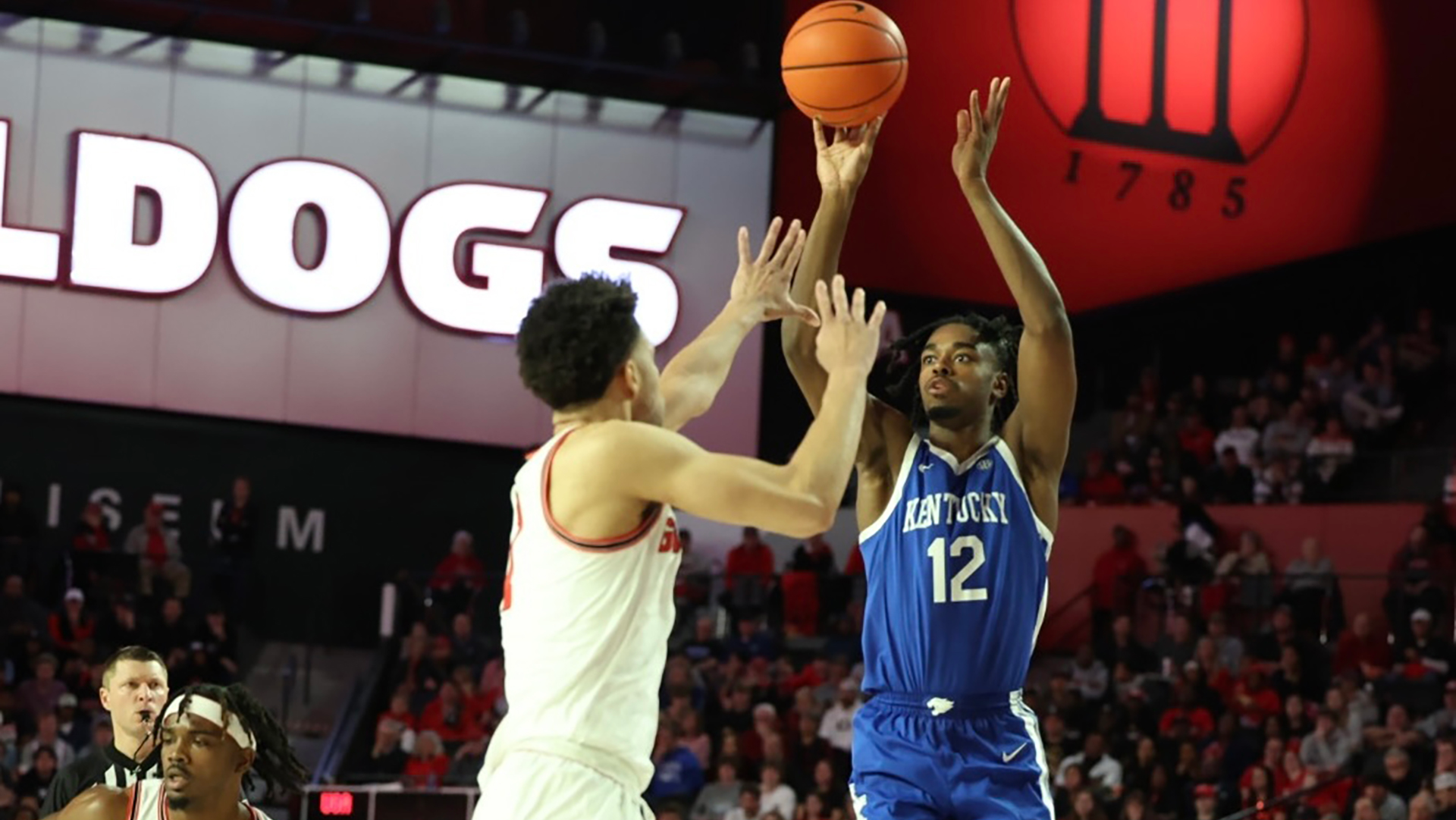 February 11, 2023 - 02:35 PM
Kentucky Falls at Georgia on Saturday
On Saturday in Athens, Kentucky found itself in an uphill battle against Georgia, even before the game started.
The Cats were without guards CJ Fredrick and Sahvir Wheeler, who missed the game due to injury. Then, point guard Cason Wallace picked up a pair of early fouls and went to the bench.
Meanwhile, Kentucky was struggling from the floor, making the uphill climb even tougher. UK made just one of its first 14 shots and fell behind 13-5 over the first seven minutes.
However, that's when Antonio Reeves began to heat up. The Illinois State transfer scored 11 of UK's first 15 points as the Cats started to climb back into the game. Eventually, UK would grab the lead, 23-22, on a Jacob Toppin jumper.
Georgia would answer by scoring the next six points, the beginning of a 20-9 run to close that half, one that gave the Dogs a 42-32 lead at the break.
The second half was a different story entirely. Kentucky came out hot while Georgia struggled on offense. In fact, in just more than six minutes of the second half, UK used a 15-5 run to tie the game at 47-47. After Georgia got a free throw from Kario Oquendo, the Cats got give straight points from Toppin to take a 52-48 advantage with 11:53 to play.
Georgia, as they did all day, would respond. The Bulldogs went on an 18-6 run and never looked back, winning 75-68 inside Stegeman Coliseum.
Kentucky (16-9, 7-5 SEC) got 20 points, 14 rebounds, four assists and four steals from Oscar Tshiebwe. UK also got 20 points and six rebounds from Reeves. Toppin had 12 points and eight rebounds for the Cats.
Georgia (15-10, 5-7) got a game-high 21 points from Oquendo.
Kentucky returns to action on Wednesday night, visiting Starkville to face Mississippi State. Tipoff is set for 8:30 p.m. ET and the game can be seen on the SEC Network.