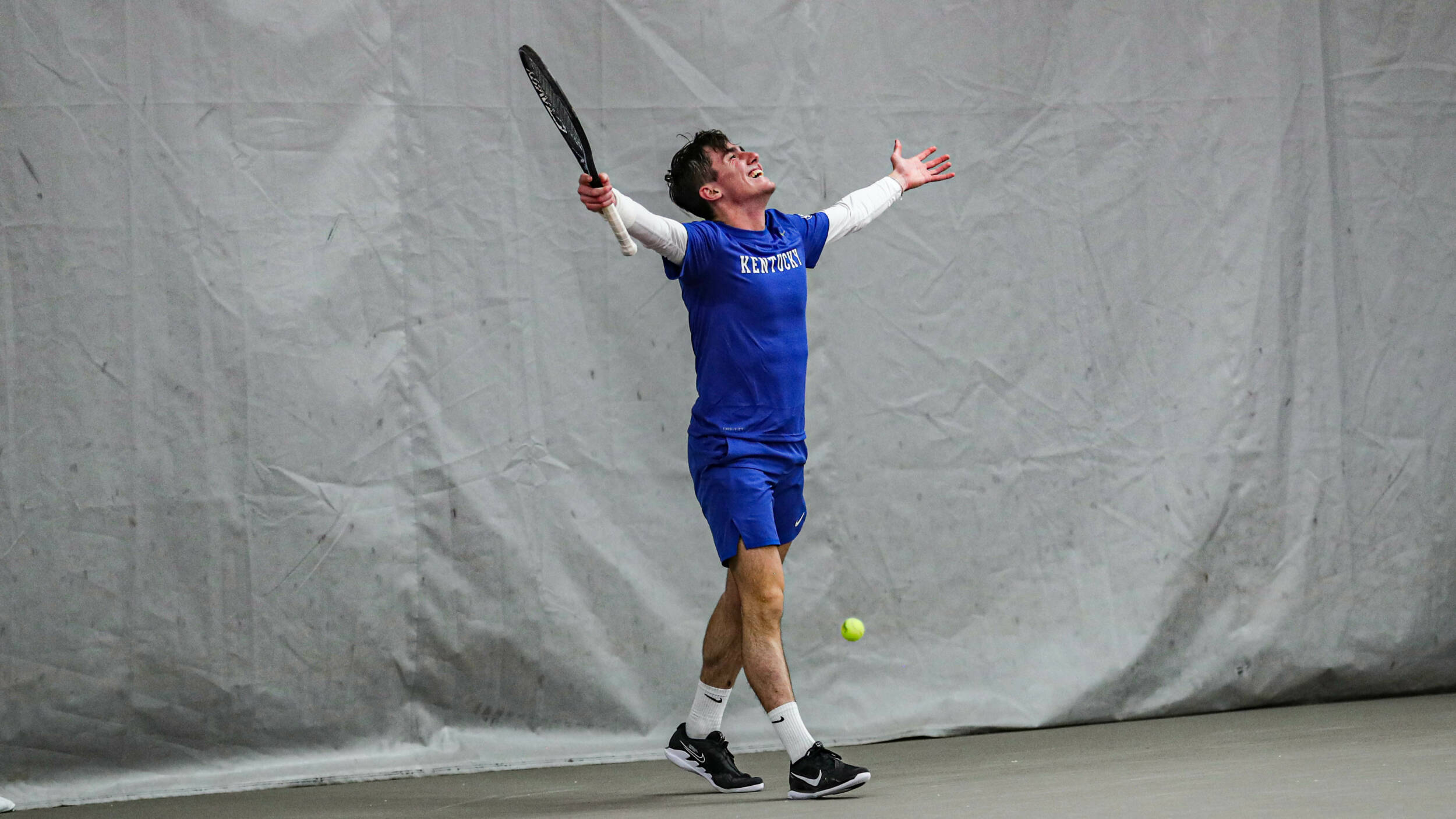 February 10, 2023 - 11:51 PM
Freshmen Power Comeback Effort as No. 2 Kentucky Drops No. 23 Louisville
LOUISVILLE, Ky. – A pair of formidable freshmen rose to the occasion as No. 2 Kentucky (9-0) rallied from a 3-2 deficit to take down No. 23 Louisville (5-2), 4-3, in a rivalry road match at the Bass-Rudd Tennis Center on Friday evening.
Freshmen Jaden Weekes and Charlelie Cosnet earned the day's final two points, securing a 4-3 UK victory with wins at five and six singles. It was Cosnet who proved to be the ultimate hero for the Cats, as the Frenchman broke a 3-3 tie with his three-set triumph over Louisville's David Mizrahi on court six.
Kentucky found itself down early after dropping the doubles point for just the second time this season. The Wildcats would secure the required four points in singles play, however, with the bottom of the lineup powering the come-from-behind effort.
Taha Baadi earned Kentucky's first point at four singles, making no mistake in a 6-1, 6-4 victory over No. 121 Matthew Fung. With the win, Baadi improved his spring singles record to a team-best 7-0, while simultaneously leveling the team score at one apiece.
Louisville pulled back in front with win at first singles, before Kentucky tied matters at two, courtesy of graduate-transfer, Alafia Ayeni. Despite, at one point, trailing 2-5 in the opening set, Ayeni took down the Cardinals' top-ranked singles player, No. 26 Fabien Salle, 7-5, 7-6 (5) to gain a crucial point for the Wildcats.
The home team proceeded to regain the advantage when No. 53 Etienne Donnet defeated Kentucky's Joshua Lapadat, 6-4, 6-4, giving Louisville a 3-2 lead with two freshmen remaining on court for the Cats.
Unfazed by the deficit and raucous Cardinal crowd, Weekes and Cosnet showed they were up for the task at hand. Weekes struck first, equalizing the match at three with a hard-fought win at fifth singles against the Cardinals' Sergio Hernandez. That result left the match's outcome solely in the hands of Cosnet, who, after splitting sets with Mizrahi, eventually got the better of his opponent in a back-and-forth final set, 7-5.
With the wins, Weekes and Cosnet both remain unbeaten in singles with records of  5-0 and 4-0, respectively, on their freshman years.
Kentucky returns home to the Boone Tennis Center to host Duke this Sunday at 12 p.m. Admission is free to the public. Free pizza and pom poms will be available for those in attendance.
Doubles:
No. 1 – No. 13 Salle/Rodrigues (UL) def. Draxl/Ayeni (UK): 6-3
No. 2 – Weekes/LeBlanc (UK) vs. Mizrahi/Fung: 4-5 (unfinished)
No. 3 – Donnet/Hernandez (UL) def. LeBlanc/Mercer (UK): 6-1
Order of finish: 3, 1
Singles:
No. 1 No. 47 Natan Rodrigues (UL) def. No. 45 Liam Draxl (UK): 6-2, 6-3
No. 2 No. 66 Alafia Ayeni (UK) def. No. 26 Fabien Salle (UL): 7-5, 7-6 (5)
No. 3 No. 53 Etienne Donnet (UL) def. No. 16 Joshua Lapadat (UK): 6-4, 6-4
No. 4 No. 115 Taha Baadi (UK) def. No. 121 Matthew Fung (UL): 6-1, 6-4
No. 5 Jaden Weekes (UK) def. Sergio Hernandez (NKU): 7-5, 7-5
No. 6 No. 57 Charlelie Cosnet (UK) def. David Mizrahi (UL): 7-5, 3-6, 7-5
Order of finish: 4, 1, 2, 3, 5, 6
For the latest on UK Men's Tennis, follow the Wildcats on Twitter and Instagram at @UKMensTennis.