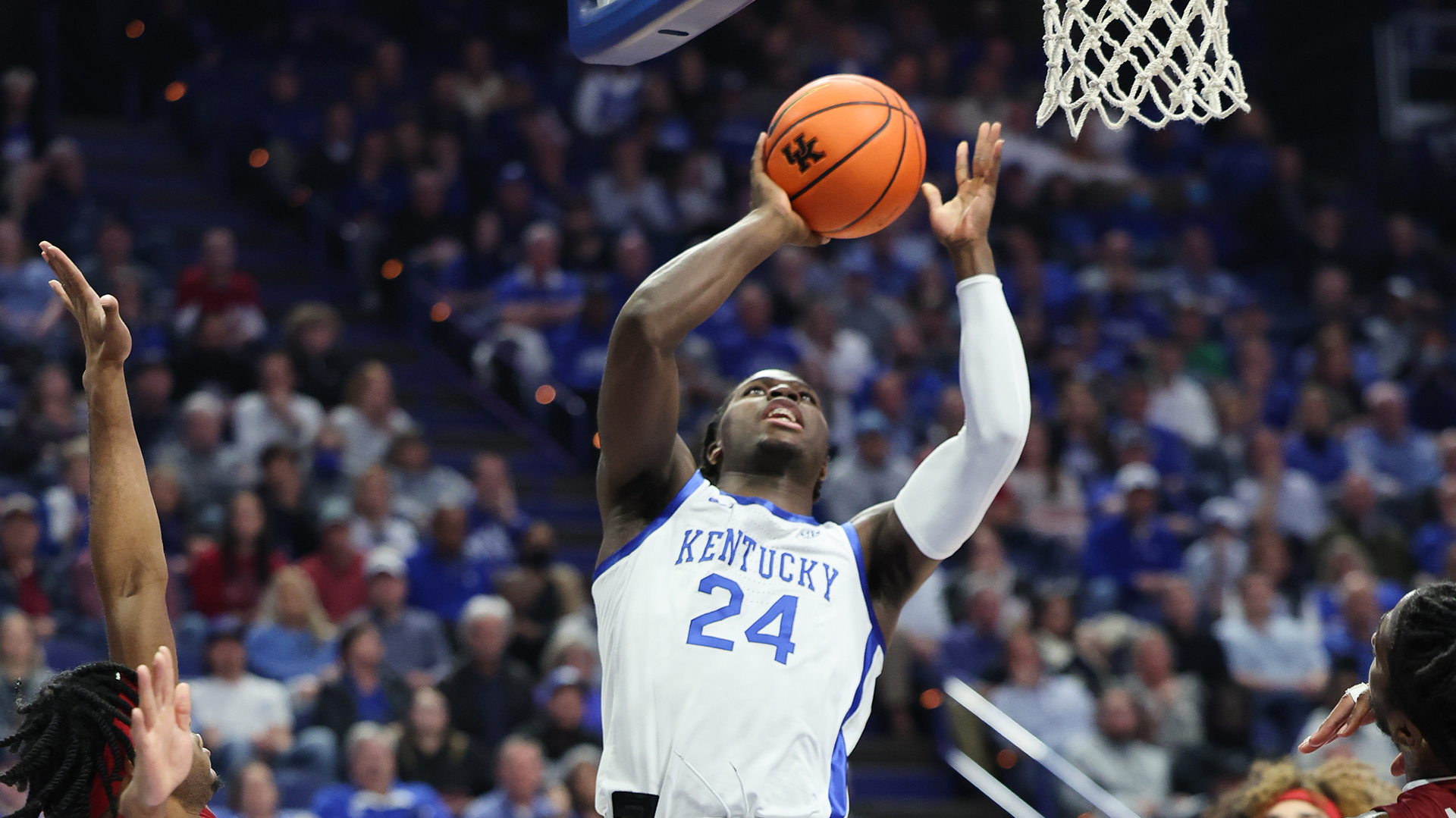 February 10, 2023 - 03:13 PM
Big Blue Preview: Kentucky at Georgia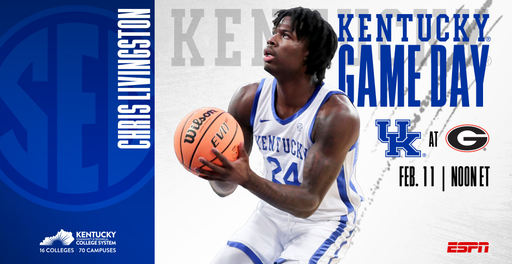 Kentucky has just seven games remaining in the regular season and, according to the latest projections, the Cats are still sitting on the NCAA Tournament bubble. UK is 16-8 this season and is coming off a loss to Arkansas on Tuesday night.
The important seven-game, regular season-concluding stretch begins on Saturday when Kentucky visits Georgia at Stegeman Coliseum in Athens (Noon ET, ESPN). It will be the second meeting between the two teams this season. The Cats beat the Dogs 85-71 on Jan. 17 behind Oscar Tshiebwe's 37-point, 24-rebound effort.
But this game will not be easy, according to UK forward Jacob Toppin.
"They're a good team. They came in here and fought us until the end," Toppin said. "They have good guard play, so we have to limit their guards."
Toppin also knows that now is the time for the Cats to build momentum for the postseason.
"We have to start winning games, meaningful games. And that starts tomorrow," Toppin said. "You can say it's a sense of urgency but we're still taking it day by day. (If) we make it to the NCAA Tournament, you'll see what happens. Obviously, we have to get there and that starts with tomorrow. We've got to win tomorrow and just go on from there."
Toppin believes that the Cats need to have a better mental mindset over the course of the last four weeks of the regular season.
"A hundred percent, it's a mindset. It's the will to win, it's the will to want to do more," Toppin said. "Like yesterday in practice, we worked on ball screen coverage for about 30, 35 minutes, just ball screen coverage. So, we're going to get better at that, we're going to get better defensively because we want to win games, we want to make the tourney. There is a sense of urgency right now and we're all ready to take on that battle."
In Tuesday's loss, Kentucky again struggled on the defensive end of the floor. That has been a focus in practice this week.
"We're trying to throw (Tuesday's game) away but we watched film, and we need to get better defensively," Toppin said. "We've got to be better defensively in our ball screen coverage. And, as a team, stay connected on the defensive end. We've been working on it. Obviously, we've got to continue to work on it. We've gotten better but against Arkansas, we took a step back."
Toppin knows that it will take a team effort for the Cats to be their best.
"Obviously, if I'm doing well, it gives us a better chance to win games. But it's not just me, everyone has to do well," Toppin said. "Against Arkansas, we only had like two people do well, everyone else was kind of struggling. We have to get back to all five guys on the court doing well."
It's crunch time for Kentucky and the crucial stretch to close the season begins at Georgia on Saturday.
Injury Bug a Story with the Cats
A season after playing just 17 games at full strength, the Wildcats are once again dealing with a multitude of injuries. Kentucky has played 13 of 24 games at full strength. Two starters were missing for the team's home loss against South Carolina.
Daimion Collins: Missed the Tennessee game with a left foot injury
CJ Fredrick: Exited the Missouri game with a right-hand injury after playing four minutes. Missed the Louisville, LSU and Alabama games
Jacob Toppin: Exited the Alabama game with a right-shoulder injury and did not return. Missed the South Carolina game
Oscar Tshiebwe: Had a minor knee procedure and missed the duration of the preseason as well as the team's games against Howard and Duquesne
Cason Wallace: Exited the South Carolina game with a lower-back injury and did not return after playing eight minutes. Missed the Ole Miss game due to precautionary reasons as he dealt with a lower-extremity issue
Lance Ware: Missed the North Florida game due to an illness and the LSU game with a left-shoulder injury
Sahvir Wheeler: Missed both exhibition games and the team's opener vs. Howard with a right-leg injury and the team's trip to Tennessee with a left-shoulder injury. He then missed the game vs. Arkansas with a right ankle injury
Super Sixth Man: Antonio Threeves
Senior Antonio Reeves came to Kentucky after ranking among the nation's top 20 in points per game (20.1) a season ago. He showed flashes of his ability to put the ball in the basket after leading the team in scoring during its foreign tour this summer and knocking down six 3-pointers in his debut against Howard. However, Reeves has become a clutch player for the Cats and made an immediate impact off the bench.
• Reeves has reached double-figure scoring in nine of the last 10 games. Over that 10-game stretch, he's averaging a teamhigh 15.3 points per game. He's drained 22 3-pointers and is shooting 45.7% from the floor and 41.5% from behind the arc.
• He drained a season-high 27 points and made a season-high-tying six 3-pointers at Ole Miss. He was 8 of 12 from the field, 5 of 6 from 3-point range and a perfect 5 for 5 at the line
• His clutch play down the stretch has paid dividends for the Cats. Reeves scored 10 points over the final eight minutes against Tennessee and seven against Texas A&M. At Ole Miss with UK clinging to a 35-34 lead and 16:58 to play, Reeves scored 11 of UK's next 13 points over a 3:34 span to give the Wildcats a cushion they would not surrender at seven points with 13:24 to go
• Reeves' 12.8 points per game in 19 contests off the bench rank fourth nationally among players who have made at least 15 appearances as a reserve