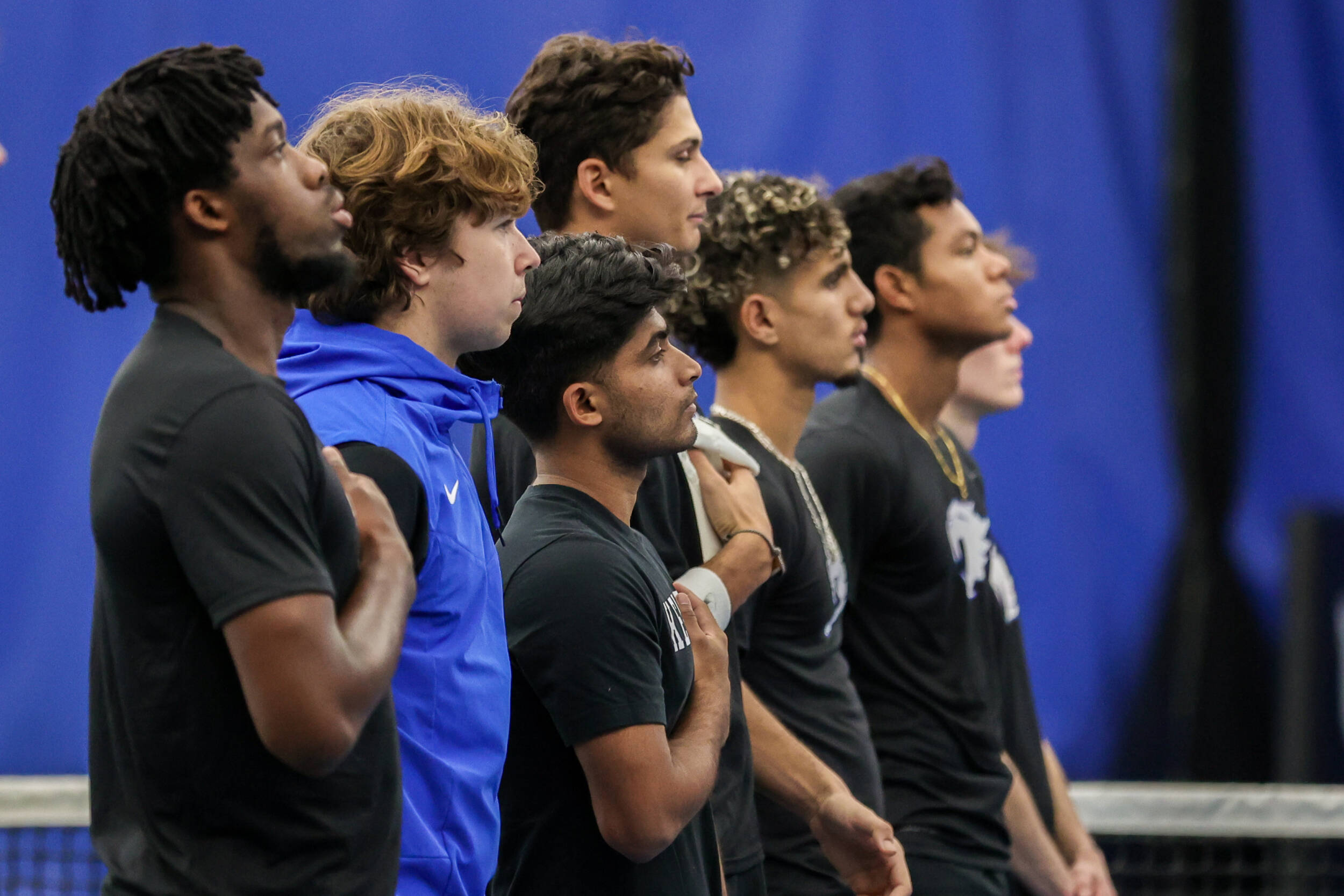 February 9, 2023 - 01:06 PM
No. 2 Men's Tennis Battles No. 23 Louisville and Duke this Weekend
LEXINGTON, Ky. – Boasting its highest ever ITA ranking, No. 2 Kentucky (8-0) will look to continue its early season momentum when the Wildcats take on a pair of ACC foes this Friday and Sunday.
First, UK will trek across state to square off with rival No. 23 Louisville (5-1) on Friday, before returning to the Boone Tennis Center on Sunday to play Duke (5-3). Match times are set for 5 p.m. and 12 p.m., respectively.
The Wildcats are coming off a weekend in which they knocked-off No. 1 Virginia, as well as Virginia Tech, on the road. The wins helped Kentucky climb to the program's highest ever ITA ranking in this week's poll at No. 2 in the country.
Five Kentucky student-athletes were also featured in the first singles rankings of the spring, led by Joshua Lapadat at No. 16. Liam Draxl (No. 45), Charlelie Cosnet (No. 57), Alafia Ayeni (No. 66) and Taha Baadi (No. 115), also appear in the rankings.
Louisville enters Friday inside the ITA top-25 with what appears to be one of the Cardinals best teams in recent years. UL began the season by winning its first five matches, before falling to No. 13 Georgia its last time out. The Cardinals have a quartet of nationally ranked singles players in Fabien Salle (No. 26), Natan Rodrigues (No. 47), Etienne Donnet (No. 53) and Matthew Fung (No. 121), as well as a pair of ranked doubles teams – Rodrigues/Salle (No. 14) and Will Mayew/David Mizahi (No. 39).
UK has beaten Louisville each of the last two seasons, including a 4-0 sweep in Lexington a year ago.
Heading into the weekend, Duke owns a 5-3 record which includes a 4-0 victory against No. 23 Auburn. In the team's most recent action, the Blue Devils were edged, 4-3, in Durham by No. 23 Northwestern. Duke will face ETSU on Friday before making the trip to Lexington. The Blue Devils are led by two-time All-ACC selection, Garrett Johns, currently the sixth-ranked singles player in the country. Freshman Pedro Rodenas also appears in the national singles rankings at No. 88.
The Wildcats have defeated Duke in two consecutive meetings. Free pizza and pom poms will be available to fans in attendance on Sunday.
Live stats and streaming will be available for both of this weekend's contests. Links can be found below.
For the latest on UK Men's Tennis, follow the Wildcats on Twitter and Instagram at @UKMensTennis.