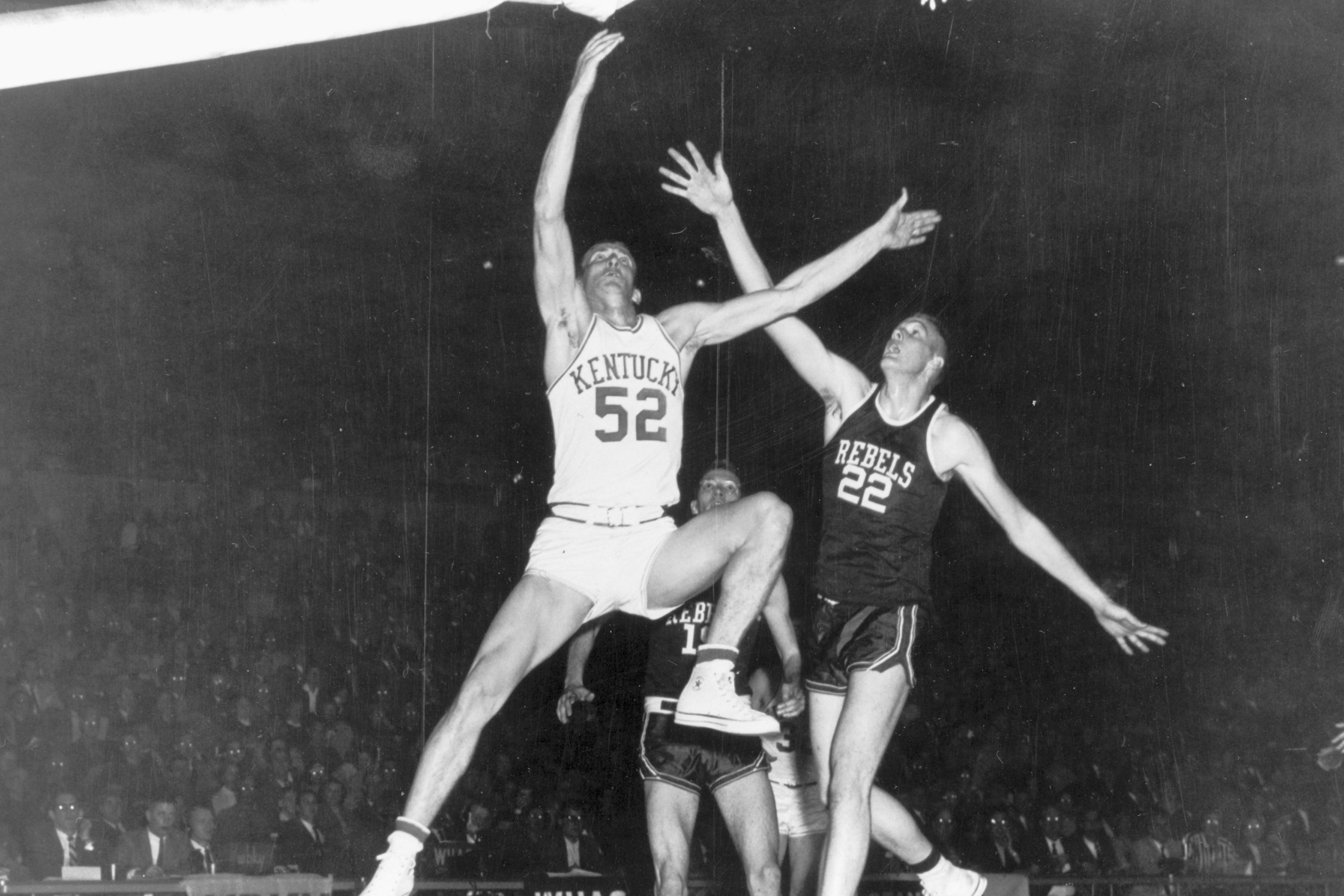 February 8, 2023 - 02:00 PM
Vernon Hatton Named 2023 SEC Legend
BIRMINGHAM, Ala. – Former Kentucky men's basketball All-American and national champion Vernon Hatton will represent the Wildcats as a member of the 2023 Southeastern Conference Legends at the SEC Tournament in Nashville, Tennessee.
Past greats from all 14 SEC member institutions will be honored at the league tournament at Bridgestone Arena. Each legend will be recognized during halftime of their team's first game of the tournament, as well as a group introduction at halftime of the first semifinal game on Saturday.
Hatton helped lead UK to the 1958 national championship, its fourth in school history. He averaged a team-high 17.1 points per game for the 23-6 national title team. Hatton scored 30 points to guide UK past Elgin Baylor-led Seattle in the championship game.
The Lexington native was tabbed All-America First Team by Converse Yearbook and the Helms Foundation in 1958 and was a member of the 1958 Final Four All-Tournament Team and the NCAA All-Regional Team. Hatton was also an All-SEC First Team selection by the league's coaches and a second-team selection by the media.
Hatton scored 1,153 career points and averaged double-figure scoring in all three seasons of varsity basketball. He hit one of the most memorable shots in program history, sinking a 47-foot shot with one second left in overtime to force a second overtime vs. Temple, a game UK would eventually win in triple overtime. He also hit a layup with 17 seconds left vs. Temple in the national semifinals for a one-point victory and a ticket to the championship game.
The Wildcats claimed the league crown in Hatton's junior and senior seasons.
He was selected in the second round of the 1958 NBA Draft by the Cincinnati Royals and played four seasons in the NBA.
His No. 52 jersey hangs in the rafters of Rupp Arena as one of Kentucky's retired jerseys and he was a part of the inaugural class for the UK Athletics Hall of Fame in 2005.
The men's basketball legends program began in 1999 with classes honored every year with the exception of 2020, 2021, and 2022.
2023 Allstate® SEC Basketball Legends
ALABAMA – Jerry Harper, 1953-56
ARKANSAS – Nick Davis, 1997-99
AUBURN – Layton Johns, 1960-63
FLORIDA – Chris Richard, 2003-07
GEORGIA – Rod Cole, 1987-91
KENTUCKY – Vernon Hatton, 1956-58
LSU – Collis Temple III, 1999-2003
OLE MISS – Eric Laird, 1982-85
MISSISSIPPI STATE – Jerry Jenkins, 1973-75
MISSOURI – Steve Stipanovich, 1979-83
SOUTH CAROLINA – Tre' Kelley, 2003-07
TENNESSEE – Lang Wiseman, 1989-93
TEXAS A&M – David Britton, 1978-1980
VANDERBILT – Butch Feher, 1973-76
Kentucky returns to action with an away date at Georgia on Saturday. Game time is set for Noon ET and will air live on ESPN.
For the latest on the Kentucky men's basketball team, follow @KentuckyMBB on Twitter, Facebook, Instagram and TikTok, and on the web at UKathletics.com.