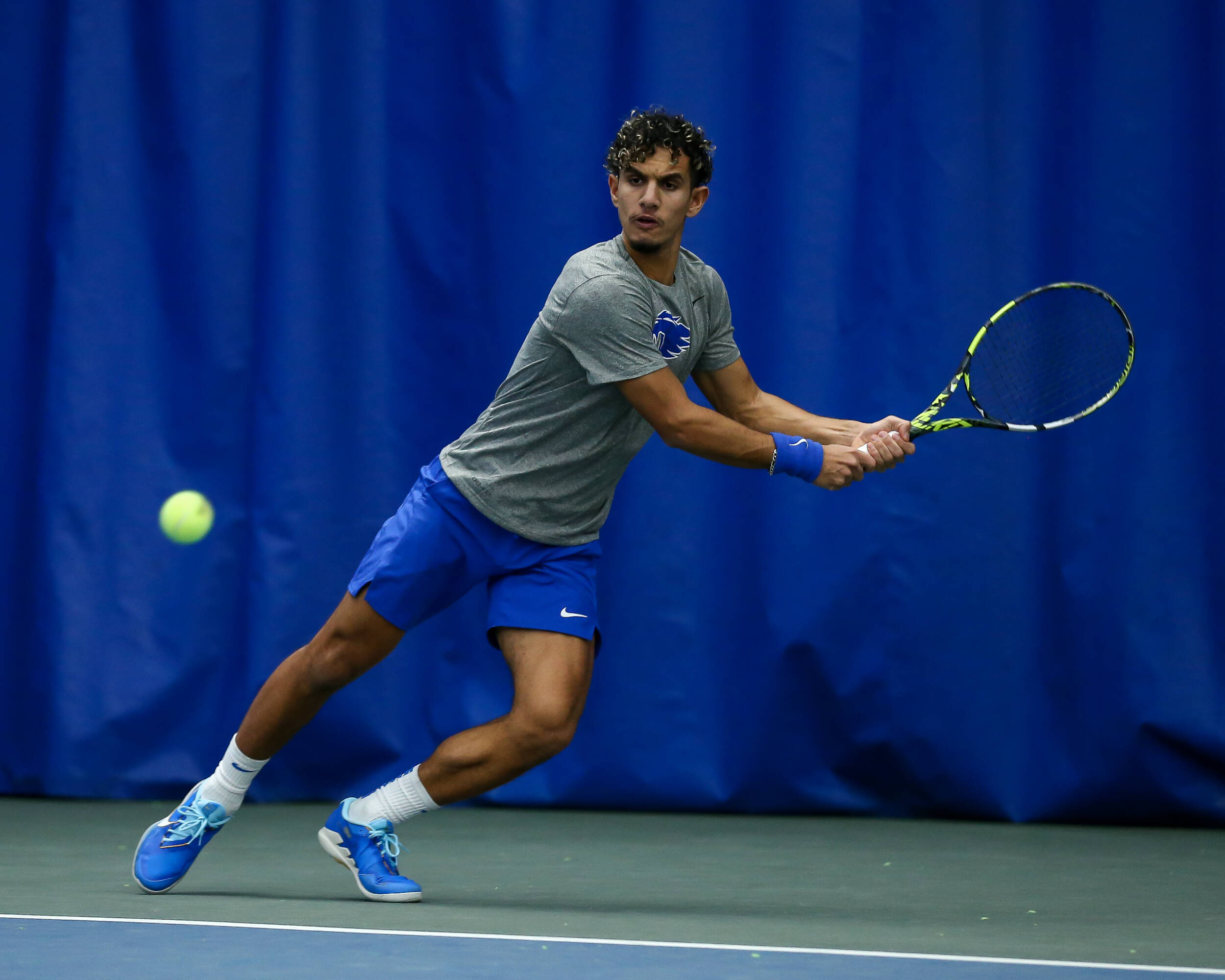 February 3, 2023 - 09:28 PM
No. 5 Kentucky Upsets No. 1 Virginia in National Championship Rematch
CHARLOTTESVILLE, Va. – The fifth-ranked Kentucky Wildcats (7-0) enacted a bit of revenge on Friday evening, edging No. 1 Virginia (6-1)in a 2022 National Championship rematch at the Boar's Head Sports Center, 4-3.
Senior transfer Taha Baadi earned the fourth and final point for Kentucky, winning a third-set tiebreaker over the Cavaliers' Ryan Goetz in the decisive singles match.
"It was meant to be," Baadi said. "Everyone on this team works so hard. I know for a fact that we are the hardest working team in the country. Nights like this just prove that when you work hard and do everything the right way, the universe is very giving. I feel like right now I'm in the right place with the right people and it was time for me to have some success."
Freshman Jaden Weekes and Charlelie Cosnet were up to the challenge in the first road match of their collegiate careers, tallying crucial singles' victories on courts four and five, respectively.
The contest began with Kentucky taking the doubles' point courtesy of wins from the no. 1 pairing of Baadi and Alafia Ayeni, and the no. 3 tandem of Joshua Lapadat and JJ Mercer. For Baadi/Ayeni, today's match marked their first together as a doubles team. Lapadat/Mercer, meanwhile, improved their record together to 4-0 for the season.
Virginia began to build momentum in singles play, claiming the first set on each of the top four courts. UK's Cosnet was the first to put a singles' point on the board, however, taking out UVA junior, Alexander Kiefer, 7-6 (5), 6-3. Cosnet's victory gave the Cats a 2-0 advantage, but the score line was soon evened by way of straight-set wins on courts one and two from the Cavaliers' Inaki Montes and Jeffrey von der Schulenburg.
Soon after, the home team took its first lead of the day when Douglas Yaffa earned a three-set win over UK's JJ Mercer on court six, bringing Virginia within a point of victory. With their backs against the wall, Baadi and Weekes kept Kentucky alive, forcing third sets on courts three and four.
Weekes, who had completed just two collegiate singles' matches entering today, took over in set number three against fellow freshman, Mans Dahlberg, securing the win, 2-6, 7-5, 6-1.
"The beginning [of the match] was tough as a freshman," Weekes said. "Playing in my first away match everything was kind of new to me. I was nervous and it showed in the doubles and at the start of singles, but I'm very happy that I was able to turn it around. I have a very good leader in Liam Draxl who shows his fighting spirit every single day. I was definitely thinking about him when I was down."
The Wildcats' fate was then left in the hands of Baadi, who found himself in a back-and-forth final set at third singles. With Baadi serving at 4-5 in the third set, a deuce point presented a match-clinching opportunity for Goetz, but the grad-transfer was unable to convert as Baadi held for 5-5. The two opponents would trade holds once again to send the match into a winner-take-all tiebreaker, which Baadi eventually claimed, 7-4, sealing the result for Kentucky.
With the win, the Wildcats snap a three-match losing streak to the Cavaliers dating back to 2018. The team will remain on the road to face Virginia Tech this Sunday at 11 a.m. in Blacksburg.
Results
Doubles
Court 1: Ayeni/Baadi (UK) def. Goetz/Botzer (UVA) – 6-3
Court 2: Montes/Dahlberg (UVA) def. LeBlanc/Weekes (UK) – 6-3
Court 3: Lapadat/Mercer (UK) def. Schulenburg/Kiefer (UVA) – 6-4
Order of finish: 2, 1, 3
Singles
Court 1: No. 37 Inaki Montes (UVA) def. Alafia Ayeni (UK) – 6-4, 7-6(6)
Court 2: No. 45 Jeffrey von der Schulenburg (UVA) def. No. 14 Joshua Lapadat (UK) – 7-5, 6-4
Court 3: No. 108 Taha Baadi (UK) def. Ryan Goetz (UVA) – 3-6, 6-2, 7-6(4)
Court 4: Jaden Weekes (UK) def. Mans Dahlberg (UVA) – 2-6, 7-5, 6-1
Court 5: Charlelie Cosnet (UK) def. Alexander Kiefer (UVA) – 7-6(5), 6-3
Court 6: Douglas Yaffa (UVA) def. JJ Mercer (UK) – 3-6, 6-2, 6-2
Order of finish: 5, 1, 2, 6, 4, 3
For the latest on UK Men's Tennis, follow the Wildcats on Twitter and Instagram at @UKMensTennis