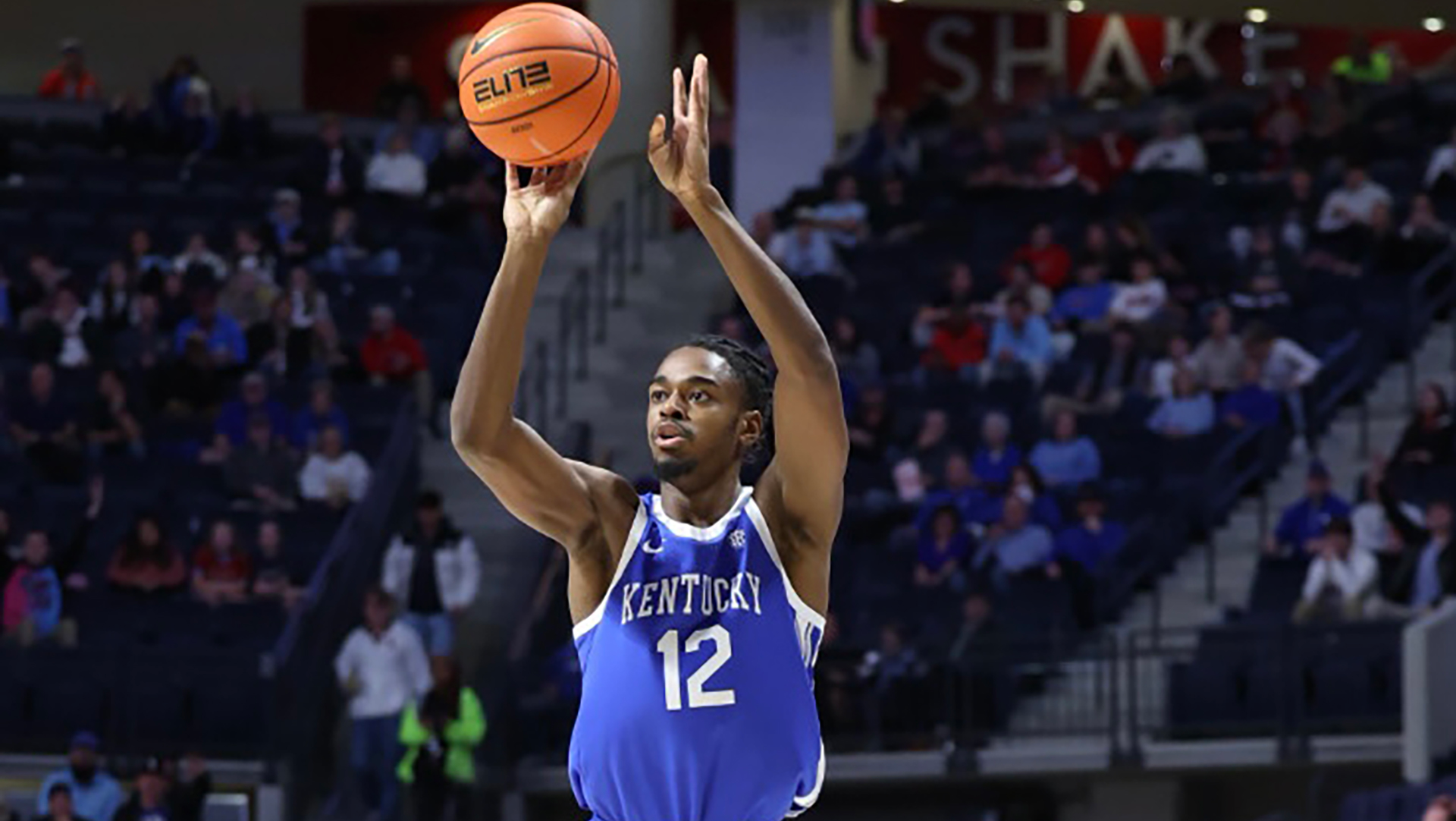 January 31, 2023 - 11:17 PM
Reeves Leads Kentucky Past Ole Miss on Tuesday
In the 1980's, the Detroit Pistons had a player named Vinnie Johnson. The reserve guard was better known as "The Microwave" because of his ability to heat up quickly, coming off the bench to score early and often.
Kentucky has its own "microwave" this season in Antonio Reeves. And the Cats needed everything the transfer guard had on Tuesday night in a 75-66 win over Ole Miss at the Pavilion at Ole Miss in Oxford.
Reeves entered the game with 14:02 left in the first half and Kentucky trailing 15-10. Less than five minutes later, Reeves had connected on three shots from behind the arc, sparking an 11-2 run that gave the Cats a 21-17 lead.
Ole Miss (9-13, 1-8) would hang around and would tie the game at 32-32 heading into the half.
In the second half, Reeves again did not start but he entered after just two minutes of play, and with the Cats ahead by one. Reeves would score UK's next eight points as Kentucky extended the lead to six, 43-37, with 15:04 to play.
Reeves finished with a season-high 27 points, tying a Calipari Era record in the process. Reeves now has four games this season in which he has come off the bench to score at least 20 points, tying Doron Lamb, who also accomplished the feat on four occasions.
It was also the eighth straight game in which Reeves has scored in double figures.
Oscar Tshiebwe recorded his 13th double-double of the season, and the 53rd of his career, scoring 14 points and grabbing 11 rebounds on Tuesday. Jacob Toppin scored 18 points for the Cats in the win.
The Cats played without starting point guard Cason Wallace, who was out with a leg injury. In his place, Sahvir Wheeler returned to the starting lineup and the senior had a big game. He scored just four points but he dished out nine assists
Kentucky returns to action on Saturday, hosting Florida at Rupp Arena. Tipoff is set for 8:30 and the game can be seen on ESPN.