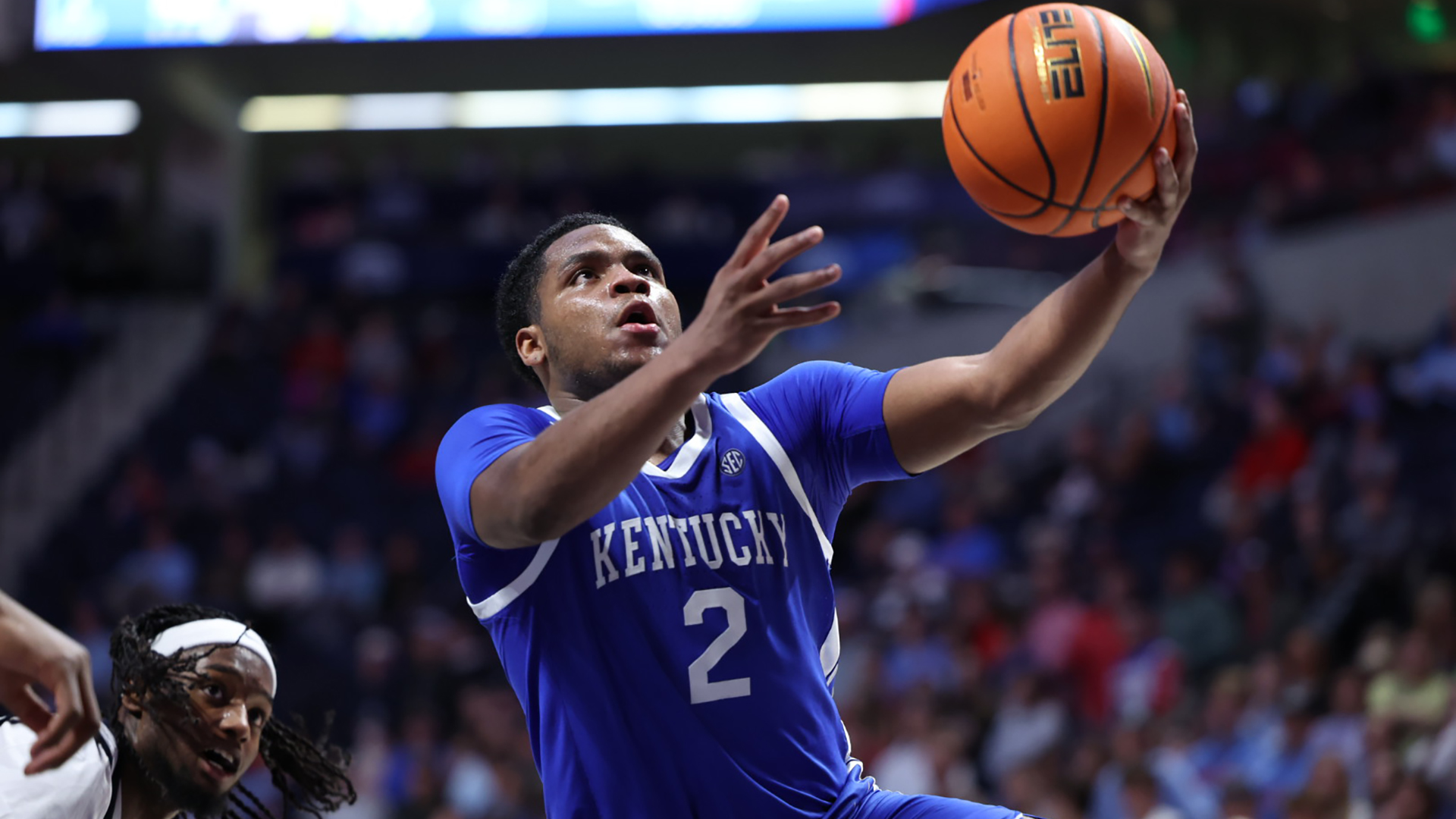 February 1, 2023 - 12:09 AM
Kentucky-Ole Miss Postgame Notes
KENTUCKY MEN'S BASKETBALL POSTGAME NOTES
THE PAVILION AT OLE MISS | OXFORD, MISS.
JAN. 31, 2023
ATTENDANCE: Not Listed
Final Score: Kentucky 75, Ole Miss 66
Team Records and Series Notes
Kentucky is now 15-7 overall, 6-3 in the Southeastern Conference, and has a five-game winning streak in conference play.
Ole Miss is 9-13 overall, 1-8 in league action.
Kentucky leads the series 110-14 and has won two in a row.
UK leads the series 30-11 in games played in Oxford.
Next for UK: on Saturday, the Wildcats play host to Florida at 8:30 p.m. The game will be televised on ESPN.
Team Notes
Kentucky won its third-straight away game, first time that has happened since winning at Kansas, Alabama and South Carolina in 2022 and the first time against SEC opponents since winning the last five away games of the 2020 season.
Tied at halftime, UK got the first points of the second half and never trailed again.
Kentucky went 6 of 12 from 3-point range tonight and the Wildcats are 4-0 this season when making at least half their 3-point tries.
Kentucky shot 82.6% from the free-throw line. It is the second game in a row that the Wildcats made 12 of 12 in the second half.
Kentucky's shooting a combined 42 of 50 (84.0%) in its last three SEC road games.
Kentucky had 17 assists tonight and is 10-0 this season when getting at least 17.
Kentucky led by as many as 14 points and the Wildcats are 322-13 (96.1%) under Calipari when leading the opponent by at least 10 points at any time during the game.
Kentucky has allowed 71 points or fewer in six consecutive SEC regular-season games for the first time since the 2014-15 season.
Player Notes
Antonio Reeves came off the bench and tossed in a season-high 27 points, including a career-high-tying six 3-pointers.

It is his fifth 20-point game of the season. Four of them have been off the bench, tying Doron Lamb for the most 20-point games in one season by a reserve in the Calipari era.
It is his eighth-straight double-figure scoring game and 17th of the season.
He hit all five foul shots, giving him 21 in a row, the longest streak for a Wildcat since Tyler Herro hit 38 straight in 2019.
Reeves' 27 points are the fourth-most by a Kentucky player coming off the bench in the Calipari era and the most since PJ Washington scored 28 against Auburn on March 31, 2019.

Oscar Tshiebwe amassed 14 points and 11 rebounds, his 41st double-double in 54 games at Kentucky.
Jacob Toppin was poppin' for 18 points, his fifth-straight double-figure scoring game.
Playing a career-high 31 minutes, Chris Livingston assembled six points and a career-high-tying seven rebounds.
Despite incurring a injury late in the first half, Sahvir Wheeler played 33 minutes and had four points and nine assists, his most dishes since he had nine in consecutive wins over Louisville and LSU.
Coach John Calipari
Calipari notched his 179th SEC victory tonight, moving past Harry Rabenhorst of LSU for sixth-most in league history. His record in league games is now 179-57.
Calipari is 18-5 vs. Ole Miss, including 14-2 at UK.
Calipari has an 825-248 all-time on-court record and is 380-108 in 14 seasons at UK.
UK is 312-60 (83.9%) against unranked competition under Calipari.
In the First Half
Kentucky opened with a starting lineup of Sahvir Wheeler, CJ Fredrick, Chris Livingston, Jacob Toppin and Oscar Tshiebwe for the first time this season.

Cason Wallace was held out for precautionary reasons (lower extremity). Wallace had been the only Wildcat to start the first 21 games of the season.

Antonio Reeves was the first substitute at 14:02.
Tied at 8, Ole Miss had a 7-0 run, countered by a 10-0 UK spurt.
Kentucky was leading 29-23 when Ole Miss had another 7-0 run to reclaim the lead.
The teams went to halftime tied at 32.

Reeves led UK with 9 points with Tshiebwe totaling five points and six rebounds.

UK is now 13-0 this season when tied or leading at halftime.
In the Second Half
Kentucky opened the second half with the starting lineup.
With a well-placed lob from Toppin, Tshiebwe began the scoring with a basket-and-one, and the Wildcats never trailed in the second half.
Nursing a 38-37 lead, Reeves hit a jumper and 3-pointer to give UK some breathing room.
Moments later, Reeves' driving banker-and-one gave UK its then-largest lead at 48-41.
Ahead 50-45, an 8-0 run – featuring three baskets by Toppin – put Kentucky up 58-45.
Ole Miss jumped right back in the game with consecutive 3-pointers but Reeves again countered with a pair of free throws and his sixth long ball of the night.
UK stretched the lead to as many as 14 points.