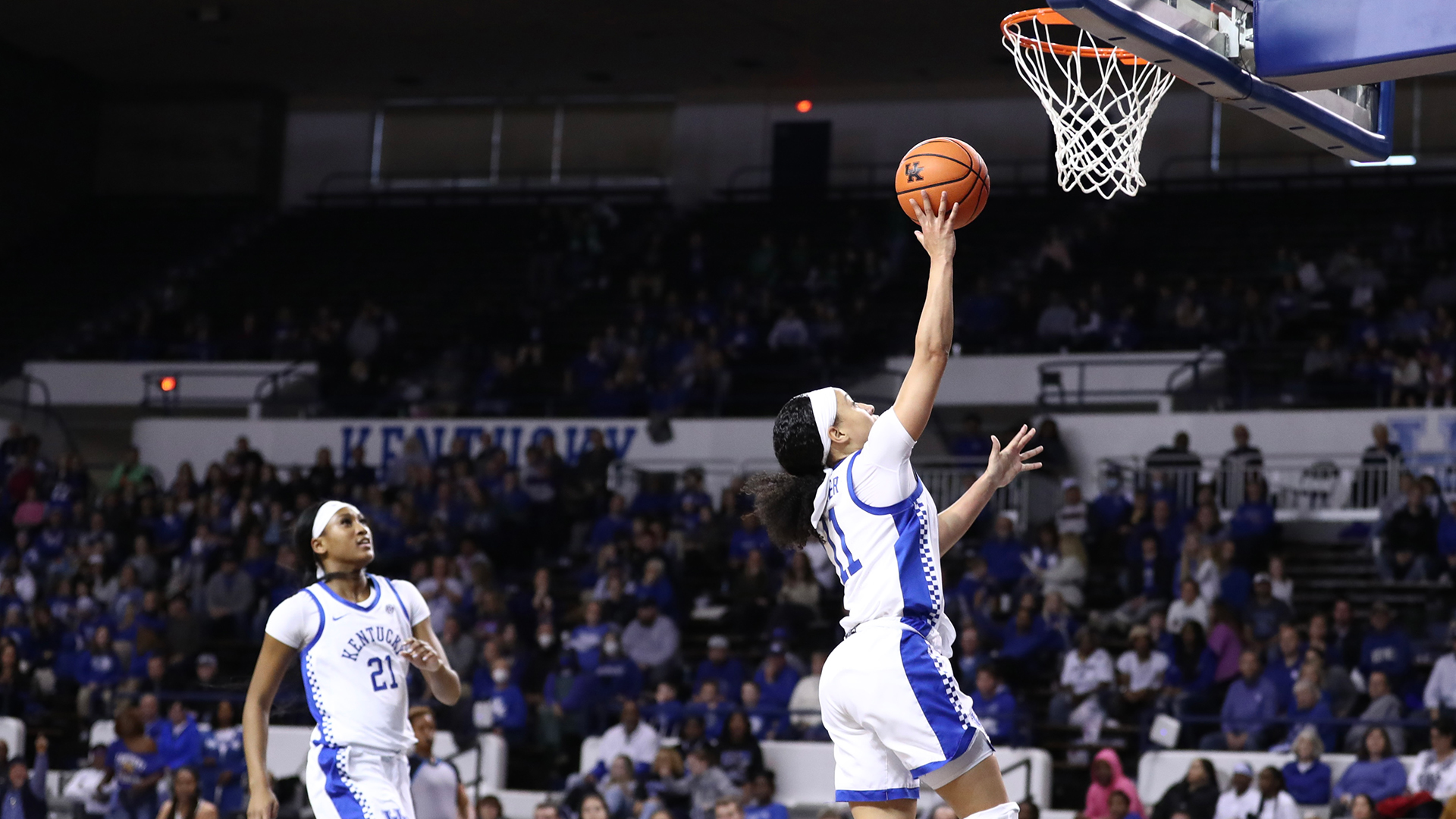 January 29, 2023 - 04:49 PM
Kentucky Blasts Missouri on Sunday
LEXINGTON, Ky. – Four players scored in double figures on Sunday as the Kentucky women's basketball team thumped Missouri 77-53 inside Memorial Coliseum.
Sophomore guard Jada Walker paced the Cats with 18 points while adding five assists. Walker had plenty of help from her teammates on Sunday. Blair Green had 14 points and five rebounds for UK, while Maddie Scherr had 13 points, eight assists, five rebounds, three steals and a blocked shot. Robyn Benton also scored 13 for the Cats.
Kentucky (10-10, 2-7 SEC) used its pressure defense to force Missouri into 22 turnovers in the game and the Cats turned those miscues into 28 points. Meanwhile, the Cats turned it over just 13 times and Missouri turned those mistakes into just eight points.
Kentucky got off to a quick start, jumping out to a 9-3 lead early behind five points from Benton. Missouri would get within four, 11-7, before the Cats scored nine straight to open a 20-7 advantage. The Cats would lead 22-9 after one quarter.
In the second period, Kentucky would extend its lead early. UK got threes from Benton and Scherr to extend the lead to 28-9. But Missouri would clamp down on defense to get themselves back into the game. The Tigers used a 10-2 run to cut the UK lead to 30-19.
The Cats would close the half on a run of their own, scoring the final nine points of the half to take a 41-22 lead into the break. UK forced 17 turnovers in the first half and turned those into 20 points.
Kentucky's onslaught continued in the third quarter as the Cats opened the period with an 8-3 run to lead 49-25. Missouri would fight back and eventually cut the UK lead to 56-39. However, Kentucky closed the third quarter with a 13-3 run to take a 69-42 advantage into the final period.
Both teams struggled to score in the fourth quarter, which allowed UK to maintain its lead
Missouri (14-8, 3-6) got a game-high 21 points from Hayley Frank.
Kentucky returns to action on Thursday, facing top-ranked South Carolina in Columbia. Tipoff is set for 7 p.m. ET and the game can be seen on the SEC Network.