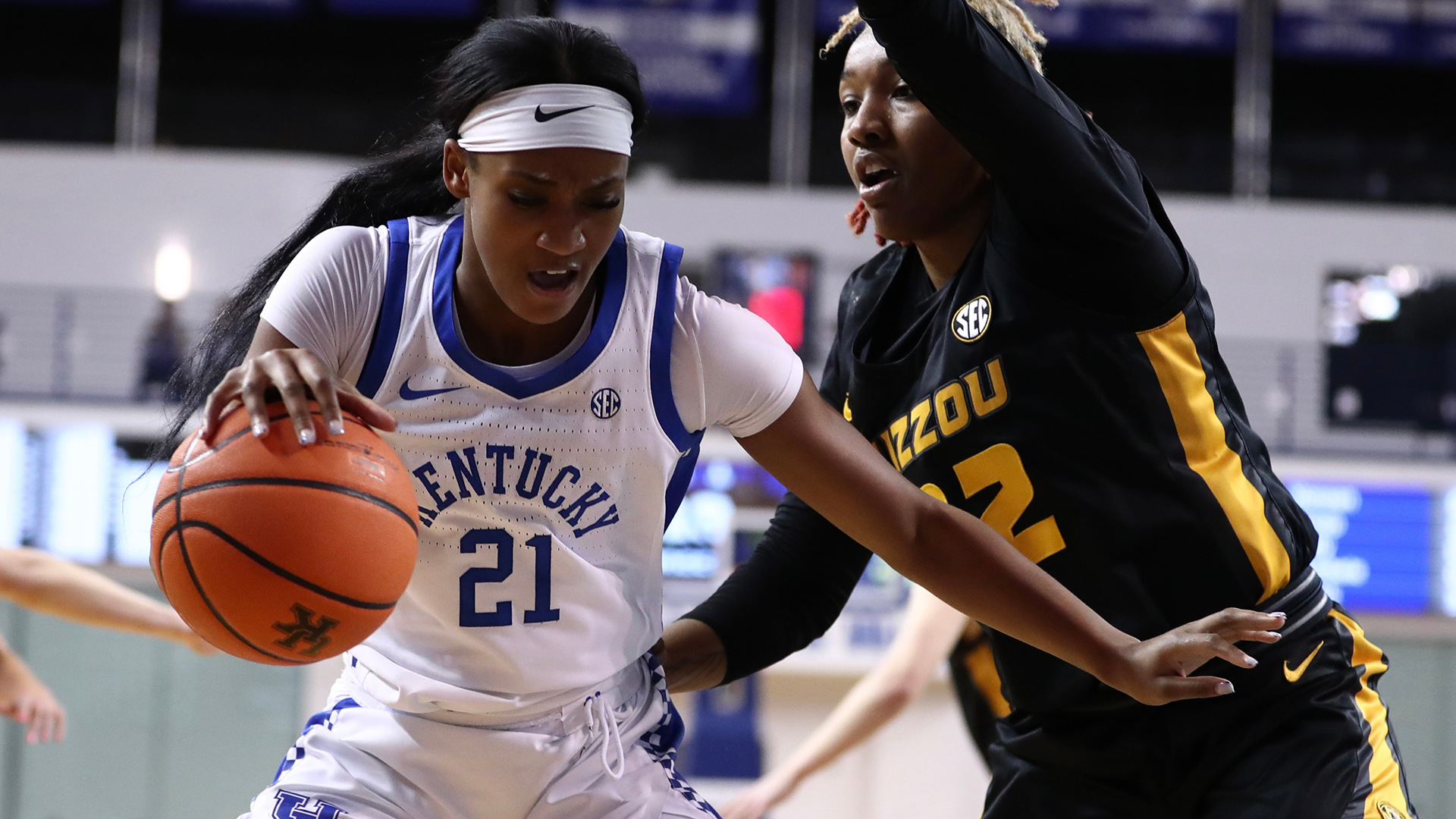 January 29, 2023 - 05:36 PM
Kentucky-Missouri Postgame Quotes
KENTUCKY BASKETBALL POSTGAME QUOTES
KENTUCKY VS. MISSOURI
MEMORIAL COLISEUM – LEXINGTON, KY.
January 29, 2023
On defensive adjustments for this game …
"I just want to say so proud of this team. I thought they set the tone defensively early. Robyn (Benton) getting the steal out of the gates, and we switched up our defense serval times. But this team defense, being aggressive positioning helping one another. I am just so proud of the tone. That is the energy that we need defensively flying around generating scoring opportunities."
On how encouraging it is to beat Missouri by 23 points after losing to them just a few weeks ago  …
"It is a very happy day. But, you know, I was talking in the locker room – we are a better team today then the first time we played them. We are playing for so much more confidence offensively have more of an identity but what we talked about was we refused to lose. That was the message the past two days, refuse to lose. What are you willing to do outside of your comfort zone to help us get over the hump. We have been close, but we haven't gotten over the hump. And I thought they were willing to sell out today to get over that hump."
On team responding to being unsettled …
"That's big, we called a timeout, we talked about it in the huddle. Settle in here lock back in defensively don't play so fast. But Missouri is a great team. They are well coached they can score, so they are always in the game, they are extremity tough. They are going to make a run, but we must answer the run and it starts on the defensive end and play from there. They reset their mindset for the defense end and then we scored on the other end."
On the mentality before the game today after the last two losses…
"The message has been the same the past two days. Winning mentality. Everyone wants to win, but are you willing to do the things above and beyond to win? Everyone in the SEC wants to win. But what are we going to do differently to actually get the win? We stood in front of each other and said these are the things we're holding ourselves accountable for and this is what we're going to bring to the table individually for us to collectively have team success. I felt that everyone stood true to what they said they were going to bring today."
On the bigs acting together as a unit…
"I'm so proud of my bigs. We talked as a unit and just wanted to give them some things that would challenge them. They work extremely hard, they want to help this team win. They play with a lot of confidence. I stood in front of the team and said 'this is the group you need. They do the dirty work.' I'm so proud of them."
On how she encouraged Blair Green…
"Stay in the flow of the offense. We can get you a shot. This is where you've got to stay mentally tough. I thought she had some great shots. I want to say welcome back to Blair Green. It was so good to see the ball go in the basket. She has been working so hard, so it was good to see the ball go in. But Jada Walker, let's talk about her. The defensive tone that she set, all gas, no breaks. I love that mentality about her. Same with Maddie Scherr. Pure toughness. Our guards are tough, they can score in a variety of ways and are extremely versatile."
On the takeaway from this victory…
"We have it in us. Our motor has to be extremely high, I tell them we have to play with high octane, even though they don't know what octane means, but it's OK. I tell them to play with big energy. We just have to be tough, relentless defensively, and play to our strength, which is transitioning to offense."
#5, Blair Green, G
On the attitude shift during today's game…
"I think our biggest thing is just energy. I think we kind of preached in that timeout – just like bringing that energy, having the first punch when we go back out of that timeout. I think we really did that and we did what coach asked. When our team plays with energy and fights and we're cheering on each other and just having fun with it that's when we play our best basketball, and I think that's what we did.
On the biggest difference in their second outing versus Mizzou…
"I think the last couple weeks really just haven't gone as played and leading up to this game we really just had to look ourselves in the mirror and just like, have some tough talks – have some heart-to-hearts and figure out who we are, and who we are individually and what we can bring to this team. That loss at Mizzou that really hurt us because we knew we could be that team. We were up on them in the first half and we kind of let it go so our biggest thing is no let-ups. No let-ups at all. I thought we really did that and really showed that we weren't backing down so we really wanted to get them back.
On what they're taking from this game as they move onto South Carolina…
"Yeah, just bringing that competitive energy and just keeping each other up. I think our biggest thing right now is we can't re-write the past – like we can't rewrite those last games. How are we going to be remembered for these last, like, we only get nine more games. That's all we get guaranteed until then, we start tournament play. And it's just how you play from there, but how are we going to rewrite our story – how are we going to be remembered, not everyone remembers the beginning of the season, but how are they going to remember us in the end, so that's kind of our biggest thing right now."
#21 Nyah Leveretter, F
On focus of post players recently with increased productivity …
"The focus for us has just been to be active on the boards. She tells us 12 points and then 15 rebounds as a group. Our guards get a lot of the attention, a lot of the points, but we've got to understand that we have to contribute too and that will help the team goal of winning for the team when we really put our heads down and focus on that."
On what has changed to boost the play …
"I think it's just the mentality. We didn't understand before how much we effect the game too. Actually meeting with the team, coaches, position groups, we understand like we're valuable, we are here what we need to do and produce in order for this team to change their route and win games. That's what we did and focused on."