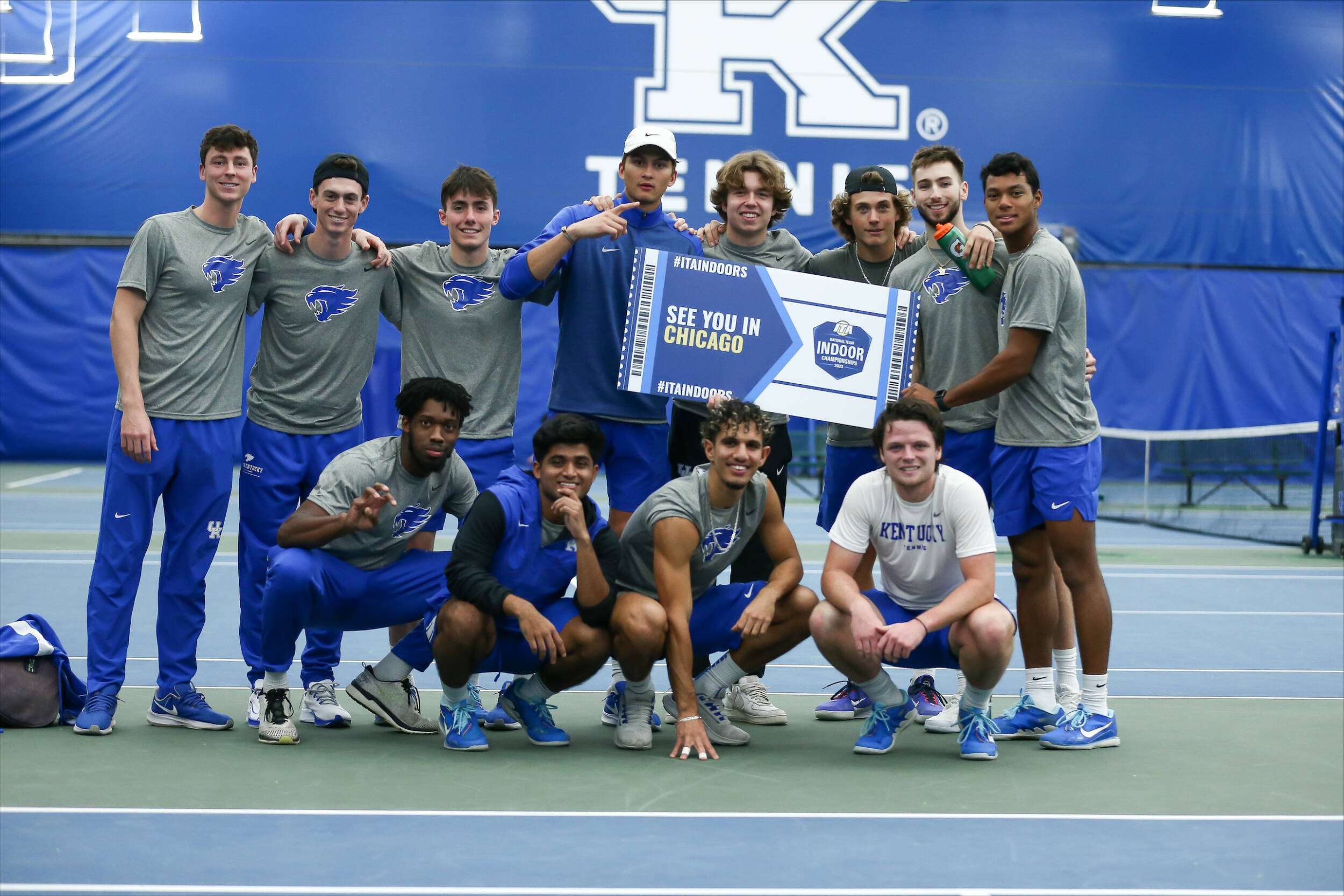 January 28, 2023 - 07:59 PM
Kentucky Punches Ticket to ITA Nationals with 4-1 Win Over Notre Dame
LEXINGTON, Ky. – The No. 5 Kentucky Wildcats (6-0) secured their bid to the 2023 ITA National Indoor Championships on Saturday evening, defeating Notre Dame (5-2) in the Lexington Regional Final at the Hilary J. Boone Tennis Center, 4-1.
This marks the second straight season in which the Wildcats have qualified for Indoor Nationals. Last year, the Cats beat USC in the round of 16 before falling in a close contest to Baylor in the quarterfinals. This year's event will be hosted by the University of Illinois in Chicago, Feb. 16-19.
The Cats were forced to play from behind for the first time this season after dropping the doubles point. UK's Joshua Lapadat and JJ Mercer struck first at third doubles with a comfortable 6-1 win, but Notre Dame soon leveled things with a 6-3 result on court one from their top team of Sebastian Dominko and Connor Fu. A tight set at second doubles ended with a tiebreak victory for Notre Dame, giving the visitors the early edge.
UK would respond in singles play, taking the first four matches to solidify the win. No. 4 singles Taha Baadi was the first to finish, prevailing over Fu, 7-6 (5), 6-2 to put Kentucky on the board. Moments later, the Cats grabbed two more matches as Lapadat and Alafia Ayeni notched wins in rapid succession. Lapadat remained unbeaten on the year in singles play, beating The Fighting Irish's Addy Vashistha, 6-2, 6-3, while Ayeni dispatched Matt Che in straight sets, 6-4, 6-4.
As the no. 5 and no. 6 singles took to the courts for warmups, Kentucky's Liam Draxl was locked in a three-set battle on court one with the Notre Dame freshman, Dominko. After falling in the opening set, 6-2, Draxl dug deep to claim set number two in a tiebreaker, 7-6(5). The senior captain eventually wore his opponent down in set three, winning, 6-1 to seal the team victory. Both Charlelie Cosnet (no. 5) and Mercer (no. 6) led in their opening sets at the time the match was called.
"The fans kind of carried for it for us, we had a full house today so that was great," Ayeni said. "We did drop the doubles point. Credit to Notre Dame, they came out firing. They had a really good top of their lineup. I had a tough match, Drax[l] had a tough match, but I think in the end we kind of fought through.  Our training took over and that's what makes Cats, Cats."
The Wildcats will be off until Feb. 3 when the team makes its first road trip of the season to take on No. 1 UVA in a rematch of last year's NCAA National Championship. Match time is set for 5 p.m. in Charlottesville.
Results
Doubles
Court 1: Dominko/Fu (ND) def. Draxl/Ayeni (UK) – 6-3
Court 2: Che/Zhang (ND) def. LeBlanc/Weekes (UK) – 7-6 (1)
Court 3: Lapadat/Mercer (UK) def. Halpin/Lee (ND) – 6-1
Order of finish: 3, 1, 2
Singles
Court 1: Liam Draxl (UK) def. Sebastian Dominko (ND) – 2-6, 7-6 (5), 6-1
Court 2: Alafia Ayeni (UK) def. Matt Che (ND) – 6-4, 6-4
Court 3: Joshua Lapadat (UK) def. Addy Vashistha (ND) – 6-2, 6-3
Court 4: Taha Baadi (UK) def. Connor Fu (ND) – 7-6 (5), 6-2
Court 5: Charlelie Cosnet (UK) vs. Yu Zhang (ND) – 3-1 (unfinished)
Court 6: JJ Mercer (UK) vs. Jameson Corsillo (ND) – 5-0 (unfinished)
Order of finish: 4, 3, 2, 1
For the latest on UK Men's Tennis, follow the Wildcats on Twitter and Instagram at @UKMensTennis.