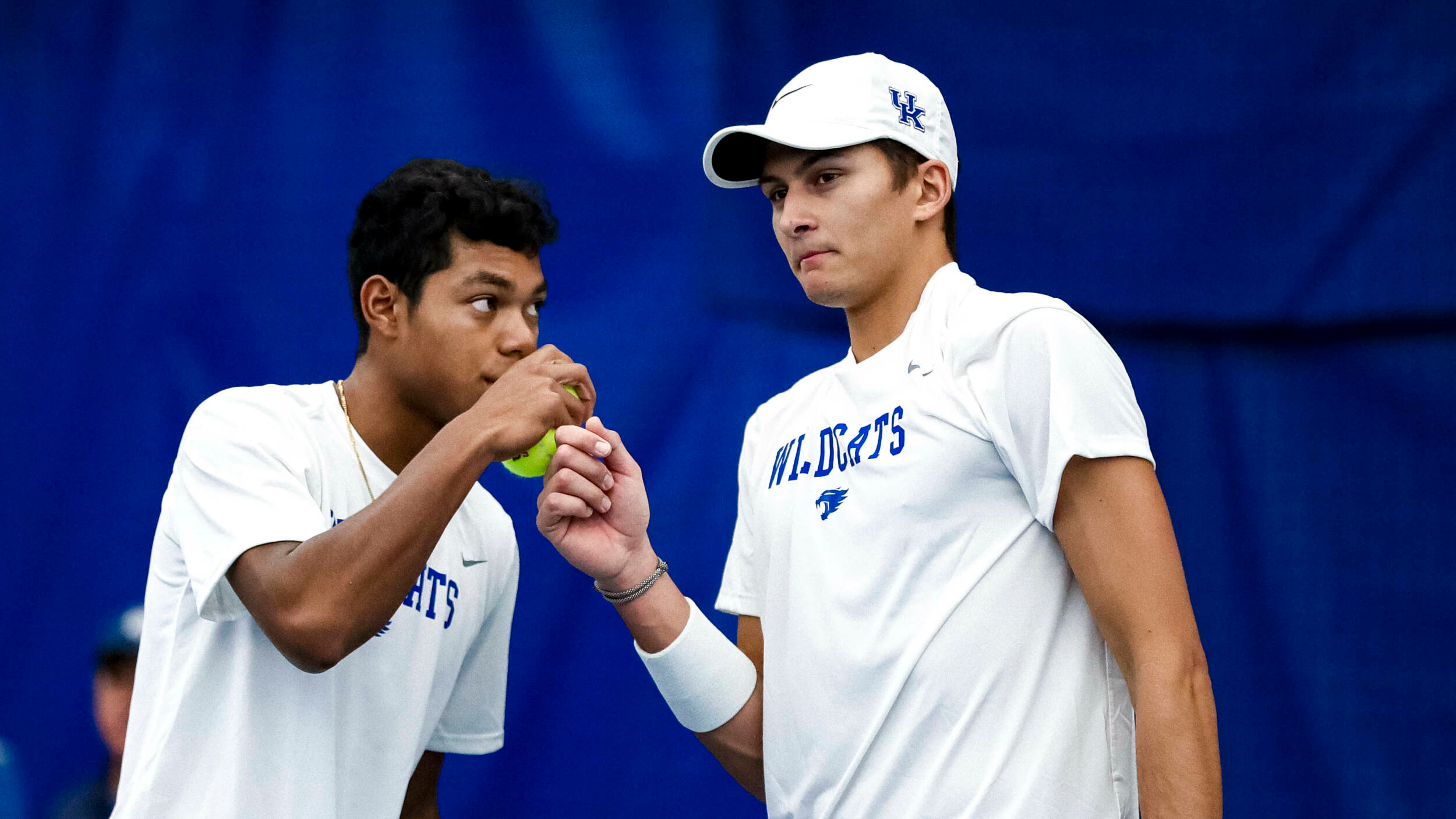 January 27, 2023 - 04:31 PM
No. 5 Kentucky Advances to ITA Kickoff Regional Championship
LEXINGTON, Ky. – The Kentucky Wildcats, ranked fifth nationally and seeded first in the Lexington Regional of ITA Kickoff Weekend, took down the fourth-seeded Liberty Flames, 4-0, on Friday afternoon inside the Hilary J. Boone Tennis Center. Kentucky, the victors in the regional's first semifinal, will square off against either Notre Dame or Washington for the right to qualify for the ITA National Indoor Championship. The triumph over the Flames marks Kentucky's second win over an NCAA Tournament team from a season ago, with the potential for a third existing in Saturday's Championship matchup with the Fighting Irish or Huskies.
2021 National Player of the Year Liam Draxl continued his sizzling start to 2023, claiming victories in both singles and doubles to advance his unblemished record to 5-0 in each discipline. Alafia Ayeni, a fifth-year transfer from Cornell, also went 2-0 on the day, teaming up with Draxl for a doubles win, before easily dispatching his Flame opponent on the singles court. Taha Baadi remained undefeated on the season as the senior transfer from Wake Forest maintains his undefeated start to his Wildcat career.
The Cats got out to a hot start in doubles, quickly jumping ahead of Liberty in both No. 1 and No. 2 doubles. Senior Alexandre LeBlanc and freshman Jaden Weekes were the first court to cross the finish line, claiming a 6-2 victory to place Kentucky one court away from the opening advantage. It was Draxl and Ayeni who would clinch the point for the blue and white, winning 6-3 at the top flight and closing out doubles play in less than forty minutes.
Kentucky did not take long to extend its lead as all four Wildcats in the first flight claimed their opening sets. Ayeni made quick work of Liberty's Beau Pelletier, doubling Kentucky's advantage with a 6-1, 6-0 win that took under an hour to complete. Draxl was the next Wildcats to claim singles victory, fighting back after dropping the second set to win 6-2, 3-6, 6-2 in an intense three-setter. Playing up 3-0 and a dual point away from clinching the match, two courts were locked in tiebreakers that could push Kentucky over the hump. Baadi, who stormed back to claim the first set at No. 4 singles after falling behind, 0-2, 0-40,  and Lapadat each had the chance to advance the Wildcats to tomorrow's championship. Lapadat fell 7-3 to send No. 3 singles to a third, but the effort was futile, as Baadi was able to win his breaker, 7-4 to seal the team's victory.
With the result, Kentucky is now one step closer to advancing to the ITA DI Team Indoor National Championships to be held in Chicago, Ill. from Feb. 17-20. Kentucky advanced to Indoor Nationals last season after knocking off Alabama and Mississippi State en route to the Starkville Regional title. The Wildcats would knock of USC to open the event held in Seattle, before falling in tight contests to Baylor and South Carolina. The 2022 appearance marked the first for the program since 2013.
Kentucky will be back in action tomorrow, Jan. 28, for the ITA Kickoff Weekend Championship. The match will pit the Wildcats against the winner of the second semifinal from Lexington, Notre Dame vs. Washington, with the contest beginning at 3 p.m. The championship will be preceded by the Regional Consolation match, featuring Liberty and the loser of Semifinal number two. Action from the Hilary J. Boone Tennis Center will kick off at 11 a.m.  Fans can follow along with live stats or watch live on Track Tennis. Cracked Racquets will also be providing whip-around coverage from ITA Kickoff Weekend sites around the country on their YouTube channel. Admission is free to the public.
ITA Kickoff Weekend-Lexington Regional Schedule
Friday, January 27
1 p.m.- (1) Kentucky def. (4) Liberty, 4-0 (Semifinal no. 1)
5 p.m.- (2) Notre Dame vs. (3) Washington (Semifinal (no. 2)
Saturday, January 28
11 a.m.- (4) Liberty vs. Loser of Semifinal no. 2
3 p.m.- (1) Kentucky vs. Winner of Semifinal no. 2
RESULTS
Kentucky vs. Liberty
Doubles
Ayeni/Draxl (UK) def. Wilson/Worst (LIB) 6-3
LeBlanc/Weekes (UK) def. Heaven/Pelletier (LIB) 6-2
Lapadat/Mercer (UK) vs. Miguel/Thomas-Smith (LIB) 5-5 (unfinished)
Singles
Liam Draxl (UK) def. Wilson (LIB) 6-2, 3-6, 6-2
Alafia Ayeni (UK) def. Pelletier (LIB) 6-1, 6-0
Joshua Lapadat (UK) vs. Thomas-Smith 6-1, 6-7 (3), 0-0 (unfinished)
Taha Baadi (UK) def. Worst (LIB) 6-3, 7-6 (4)
Jaden Weekes (UK) vs. Miguel 4-5 (unfinished)
Charlelie Cosnet (UK) vs. Heaven 0-0 (unfinished)
Order of Finish:
Doubles—2, 1
Singles—2, 1, 4
For the latest on UK Men's Tennis, follow the Wildcats on Twitter and Instagram at @UKMensTennis.