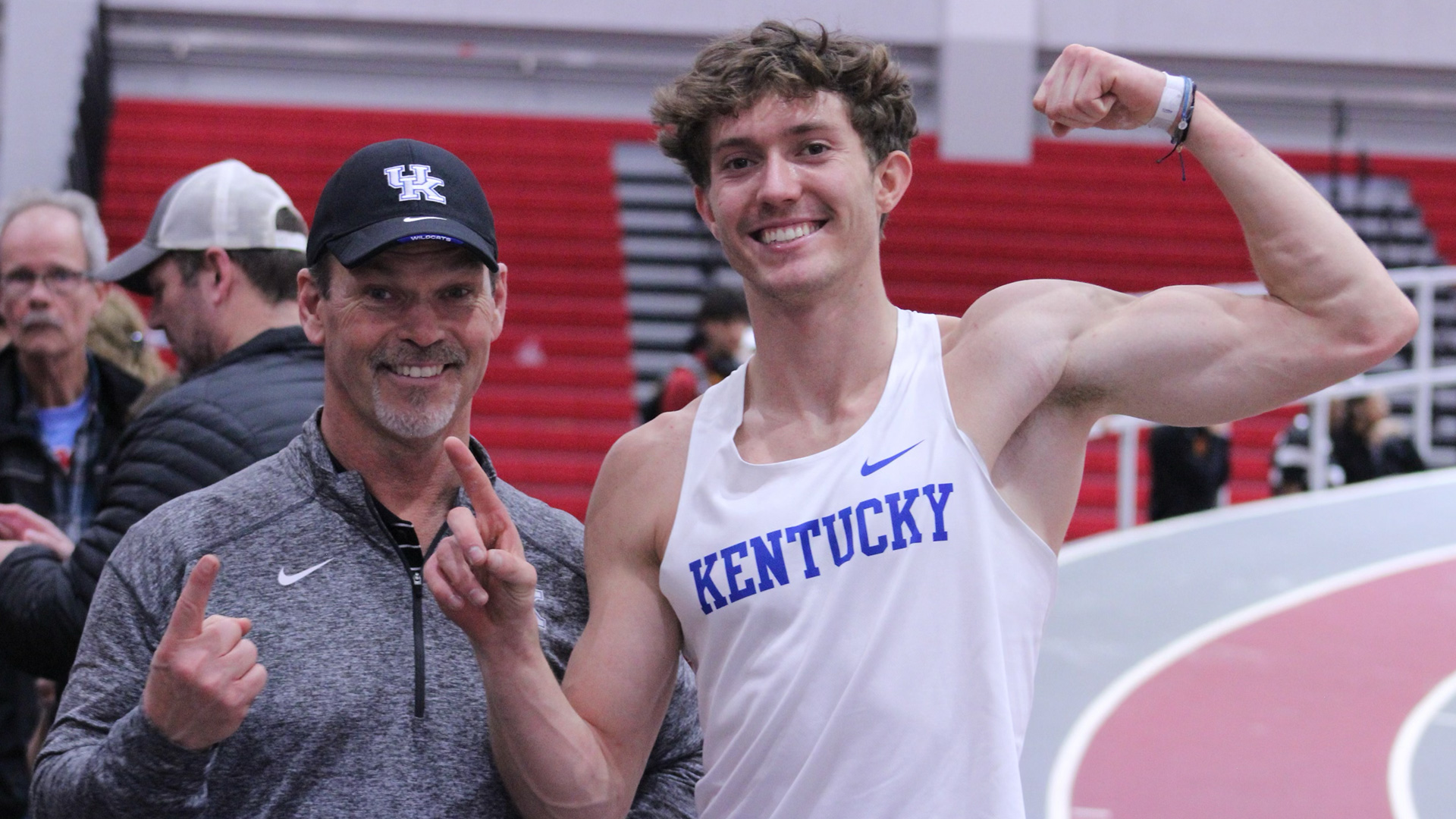 Live Results | Heat Sheets | Meet Schedule | SEC Network + Saturday 11 am CT 
FAYETTEVILLE, Ark. – Keaton Daniel has done it again. 
For the third time during the indoor season, Daniel has broken his own school record in the men's pole vault, as he ascended 18 feet, 10.25 inches / 5.75 meters Friday at the Razorback Invitational in Fayetteville, Arkansas.  
Daniel raised his school record by five inches and is the collegiate leader as of Friday evening. The senior from Henderson, Nevada, also continued his undefeated streak of wins in all four indoor meets this season. 
Daniel wasn't alone in the victory circle Friday as senior Kennedy Lightner (North Little Rock, Ark.) starred in the return to his home state by zipping 20.71 seconds to claim the men's 200-meter dash. It's back-to-back wins for Lightner, who also commanded the 200 in the Red Raider Open last week. 
In the shot put, graduate student Josh Sobota (Knoxville, Tenn.) earned his third victory this season by heaving the sphere 65'11"/20.09m.  
Notching a personal best was sophomore Anthaya Charlton (Nassau, Bahamas), who soared 20'7"/6.27m in the women's long jump to land in sixth place on UK's all-time indoor list. She finished fifth in today's competition.  
Kentucky's ended the evening on a high note, as Sydney Steely, Christal Mosley, Jenna Schwinghamer and Tori Herman set a school-record time of 10:58.26 in the distance medley relay. They finished sixth in the strong field. UK had entered the meet with the nation's fastest time: 11:17.69 run two weeks ago at the home Rod McCravy Memorial, so as of Friday evening the team rank sixth nationally with their new school record. 
All totaled, the Wildcats notched six personal bests at the Randal Tyson Track Center, which will be the host site of the 2023 Southeastern Conference Championships in February.  
A total of 16 women's teams and 15 men's teams are competing in this weekend's event, including host Arkansas, Arizona State, Baylor, BYU, Florida, Florida State, Iowa, Iowa State, Kentucky, LSU, Oklahoma State, Ole Miss, Oregon State (women only), Stanford, Southern California and Texas A&M.   
Saturday's action begins (all times Central) with running events at 9:10 a.m. and field events resume at noon. 
Follow along with the Cats on Facebook, Instagram, Twitter and on the web at UKathletics.com.  
Women's Pentathlon | Friday, January 27

 

60 Hurdles

 

Final 

 

12. Annika Williams: 8.85, 941 pts.

 

High Jump 

 

Final 

 

7. Annika Williams: 5'7.25"/1.71m, 867 pts.

 

Shot Put 

 

Final 

 

2. Annika Williams: 42'9.75"/13.05m, 731 pts.

 

Long Jump 

 

Final 

 

12. Annika Williams: 18'2.25"/5.54m, 712 pts.

 

800 Meters 

 

Final 

 

8. Annika Williams: 2:26.10, 743 pts.

 

Pentathlon

 

Total

 

4. Annika Williams: 3994 pts.

 
Men's Heptathlon | Friday, January 27

 

Day One

 

Men 

 

60m 

 

Final 

 

10. Jacob Sobota: 7.16, 826 pts.

 

Men 

 

Long Jump 

 

Final 

 

9. Jacob Sobota: 22'7.75"/ 6.90m, 790 pts.

 

Men 

 

Shot Put 

 

Final 

 

10. Jacob Sobota: 40'4.75"/12.31m, 625 pts.

 

Men 

 

High Jump

 

Final

 

 

11. Jacob Sobota: 6'2.25"/1.89m, 705 pts.,

 

personal best 

Day One Total

 

9. Jacob Sobota: 2946 pts.

 

Day Two: Saturday, January 28 (All times central)

 

10:15 AM 

 

Men 

 

Hept. 60 Hurdles 

 

Final 

 

Ja. Sobota 

 

11:00 PM 

 

Men 

 

Hept

.

P

ole Vault

 

 

Final 

 

Ja. Sobota 

 

2:10 PM 

 

Men 

 

Hept. 1000 Meters

 

Final 

 

Ja. Sobota 

 

Total

 

 

Heptathlon

 

Total

 

Ja. Sobota

 
Friday, January 27 (all times Central)

 

3:00 PM 

 

Men 

 

Pole Vault 

 

Final 

 

1. Keaton Daniel: 18'10.25"/5.75m | Raises his school record by five inches, 2023 collegiate leader to date

 

10. Dalton Shepler: 16'6.75"/5.05m 

3:30 PM 

 

Women 

 

Shot Put 

 

Prelim/Final 

 

18. Simi Akinrinsola: 43'6.5"/13.27m

 

4:15 PM 

 

Women 

 

High Jump 

 

Final 

 

7. Mallory Mullen: 5'8"/1.73m

 

4:30 PM 

 

Men 

 

Long Jump

 

Prelim/Final 

 

11. Robbie Springfield: 25'2.75"/7.69m

 

5:45 PM 

 

Women 

 

Long Jump

 

Final 

 

5. Anthaya Charlton: 20'7"/6.27m, PB, No. 6 on UK all-time indoor list

 

5:50 PM 

 

Men

 

Shot Put 

 

Prelim/Final 

 

1. Josh Sobota: 65'11"/20.09m

 

9. Dennis Ohene-Adu: 57'4.25"/17.48m 

6:10 PM 

 

Men 

 

200 Meters 

 

Final 

 

1. Kennedy Lightner: 20.71

 

7. Brandon Miller: 21.02  

17. Jordan Anthony: 21.32

(Volunteer Assistant Coach Christian Coleman won the "open 200m" in 20.64) 

6:50 PM 

 

Women 

 

200 Meters 

 

Final 

 

8. Masai Russell: 23.54

 

18. Tamiia Fuller: 23.80, PB 

25. Shadajah Ballard: 24.04 

32. Colleen Branch: 24.28, PB 

36. Yasmin Brooks: 24.43 

39. Reynei Wallace: 24.51, PB 

53. Iantha Wright: 24.98, SB 

 (UKTF alumna Alexis Homes won the "open 200m" in 23.40) 

7:45 PM 

 

Women 

 

Distance Medley Relay

 

Final 

 

6. Sydney Steely, Christal Mosley, Jenna Schwinghamer, Tori Herman: 10:58.26, school record, No. 6 in the nation as of Friday

 
Saturday, January 28 (all times Central)

 

9:10 AM 

 

Men 

 

3000 Meters – Open

 

Final

 

Withrow, Watts, Brush

 

9:35 AM 

 

Women 

 

3000 Meters – Open

 

Final

 

Kenne

 

9:45 AM 

 

Men 

 

Mile – Open 

 

Final 

 

Alston

 

10:00 AM 

 

Women 

 

Mile – Open 

 

Final 

 

Kruger, McCowan, J. Williams

 

10:30 AM 

 

Men 

 

400 Meters – Open

 

Final 

 

Nyandoro, Wilson

 

10:45 AM 

 

Women

 

400 Meters – Open

 

Final 

 

Wallace, Wright

 

11:25 AM 

 

Women 

 

60m Hurdles

 

Prelim

 

Brooks, Ballard

 

12:00 PM 

 

Women 

 

Weight Throw 

 

Prelim/Final 

 

Akinrinsola

 

12:10 PM 

 

Women 

 

60 Meters

 

Prelim

 

Perrow, Russell, Charlton

 
12:30 PM 

 

Men 

 

Mile 

 

Final 

 

D. Allen

 

12:50 PM 

 

Women 

 

Mile 

 

Final 

 

Herman, Schwinghamer, Steely 

 

1:18 PM 

 

Women 

 

60m Hurdles

 

Prelim

 

Brooks, Ballard

 

1:20 PM 

 

Men 

 

400 Meters

 

Final

 

Lawrence Jr.

 

1:30 PM 

 

Women 

 

Triple Jump

 

Prelim/Final

 

Galloway

 

1:45 PM 

 

Women

 

400 Meters 

 

Final

 

Miles, Moss, Mosley

 

2:30 PM 

 

Women 

 

Pole Vault 

 

Final 

 

Szerencsits, Phillips

 

2:30 PM 

 

Men 

 

Weight Throw 

 

Prelim/Final

 

Browning, Coles, Ohene-Adu

 

2:32 PM 

 

Women 

 

60 Meters

 

Final

 

Perrow, Russell, Charlton

 
2:35 PM 

 

Men

 

800 Meters

 

Final

 

Justus, Swann, O'Donnell

 

2:45 PM 

 

Men 

 

Triple Jump 

 

Prelim/Final

 

Palmer

 

2:55 PM 

 

Women

 

800 Meters

 

Final

 

Martin, Lucas

 

3:15 PM 

 

Men

 

3000 Meters

 

Final 

 

J. Allen

 

4:05 PM 

 

Men

 

400 Meter Relay 

 

Final

 

UK

 

4:30 PM 

 

Women 

 

400 Meter Relay 

 

Final

 

UK