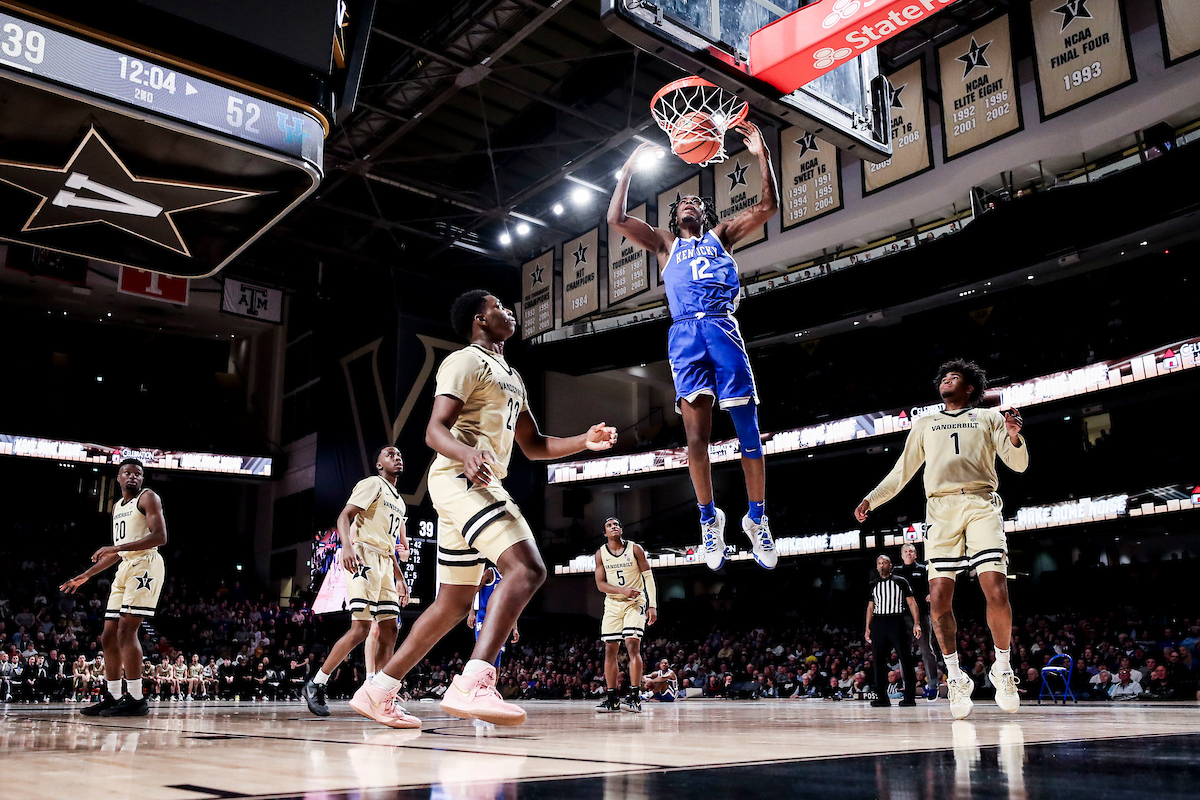 January 27, 2023 - 06:36 PM
Big Blue Preview: Kentucky vs. Kansas
Kentucky continues its string of marquee games on Saturdays with another challenge this weekend. The Cats host No. 9 Kansas at Rupp Arena on Saturday night in perhaps the most anticipated game of the collegiate basketball weekend.
This will be the fifth consecutive Saturday that the Cats have had a major matchup on Saturday. It started with UK's 86-63 win over Louisville on New Year's Eve. The following Saturday, UK lost to No. 7 Alabama 78-52. One Saturday later, the Cats topped No. 5 Tennessee 63-56 in Knoxville. And last Saturday, Kentucky handed Texas A&M its first SEC loss, 76-67, inside Rupp Arena.
The Jayhawks enter the game on an uncharacteristic three-game losing streak. Still, Kansas finds itself at 16-4 overall and inside the top 10 in the national polls.
Kansas will also likely have revenge on its mind after seeing Kentucky come to Allen Fieldhouse last season and deliver an 80-62 loss to the Jayhawk faithful.
Freshman guard Cason Wallace knows that Kansas will have plenty of motivation coming into Saturday's game.
"They've been losing a few games in a row, they're on the road," Wallace said. "We beat them last year, so they've got some vengeance."
So what does he expect from the Jayhawks?
"We know that they're going to come in and fight as hard as they can," Wallace said. "They're going to play together and they're going to try to take our heads off."
As for the Wildcats, Kentucky has now won four in a row and finds itself at 14-6 on the season. Wallace believes that the Cats are coming together.
"We're starting to figure it out offensively and defensively," Wallace said. "Just coming together on and off the court. I think our chemistry is more together and it shows on the court."
One of UK's most effective lineups recently has featured Wallace at the point, with both CJ Fredrick and Antonio Reeves on the wings. Wallace knows that the three-guard look, combined with Oscar Tshiebwe's inside presence, makes the Cats tough to guard.
"I feel like it spaces the court out," Wallace said. "It makes them stay honest to the three-point line and with Oscar down low, it's like almost giving up another three pointer because he's going to get the and-one if he gets it down there. Just knowing that we can throw it in to him and if they double, he can throw it out. I feel like that's a hard lineup for people to guard."
Kentucky is hoping that its confidence can help push the Cats through a fifth consecutive marquee Saturday game.
Kentucky and Kansas Highlight the Final SEC/Big 12 Challenge
Saturday's matchup between Kentucky and Kansas headlines the final installment of the Big 12/SEC Challenge.
The 2023 slate of the Big 12/SEC Challenge games will mark the ninth season of the event, which has been held annually. It is also the final time the two leagues will compete in a challenge. The Southeastern Conference announced a new version of the challenge set to debut in the 2023-24 season, with SEC teams taking on squads from the Atlantic Coast Conference.
Ten of the SEC's 14 teams will participate in this year's Challenge against all of the Big 12's institutions, with each conference hosting five games. The four SEC teams not participating will play each other in conference games that day.
Kentucky is 5-3 in the challenge and has won its last four in a row, at Kansas (2022), at Texas Tech (2020), vs. Kansas (2019) and at West Virginia (2018). UK is 2-2 when playing Kansas in the Challenge.
UK missed the matchup with Texas in 2021 due to COVID-19 issues within the UK program.
JT Having the Top(pin) Season of His Career
Jacob Toppin has steadily improved in each of his four seasons as a collegiate basketball player, but in his third year under John Calipari he has taken a major leap.
• In 19 games this season, he's already set career highs in points scored, rebounds, assists, minutes played, field-goals and freethrows made for a season
• Toppin had never recorded a double-double during his first three seasons in college – he has four this season thus far — including two in the last four games
• The senior has set single-game highs in points (24 vs. Louisville) and rebounds (11, twice)
3J Fredrick and Antonio Threeves Making an Impact
Seniors CJ Fredrick and Antonio Reeves both came to Kentucky with impressive resumes from previous schools. Fredrick was the nation's top-returning player in career 3-point field-goal percentage, while Reeves ranked among the nation's top 20 in points per game (20.1) a season ago. During UK's four-game winning streak, the duo has been vital to Kentucky's turnaround.
It won't show up on a box score, but Fredrick's leadership has perhaps been the most vital attribute to this team. That hasn't stopped him from producing in a big way however:
• Fredrick has scored in double-figures in four of his last five games. He's averaging 10.4 points per game during that stretch and has knocked down an average of two 3-pointers per game. Against Vanderbilt, he also chipped in with a game-high-tying five assists
Reeves showed flashes of his ability to put the ball in the basket after leading the team in scoring during its foreign tour this summer and knocking down six 3-pointers in his debut against Howard. However, Reeves has become a clutch player for the Cats and made an immediate impact off the bench.
• Reeves has reached double-figure scoring in each of the last six games and scored a season-high 23 points in UK's win over Texas A&M. Over that six-game stretch, he's drained 15 3-pointers and is shooting 46.2% from the floor and 38.5% from behind the arc. Furthermore, it's his clutch play down the stretch that has paid dividends. Reeves scored 10 points over the final eight minutes against Tennessee and seven against Texas A&M