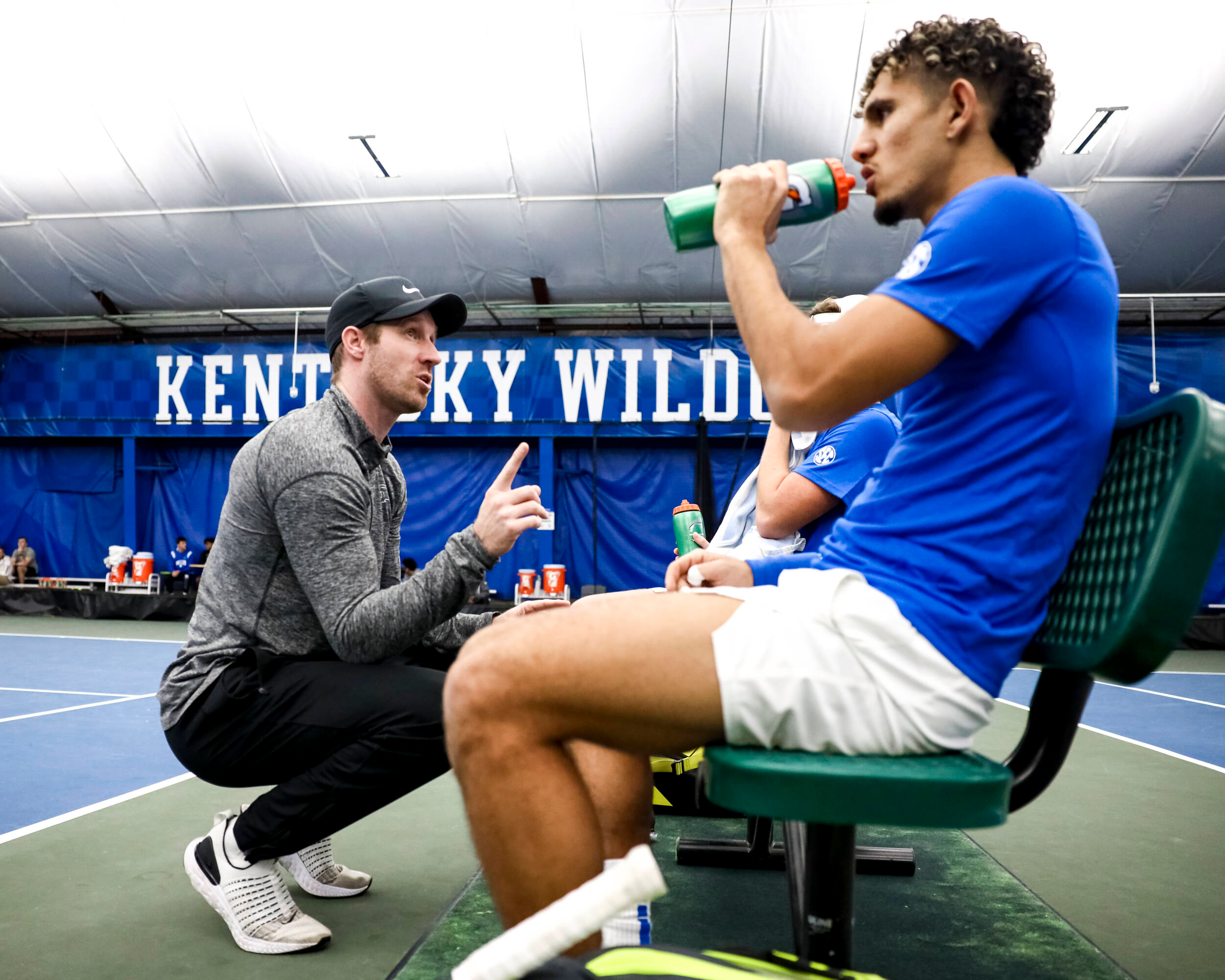 January 26, 2023 - 11:05 AM
Kentucky to Host ITA Kickoff Weekend Beginning Friday
LEXINGTON, Ky. – No. 5 Kentucky (4-0) will serve as one of 15 hosts across the country for ITA's 2023 Kickoff Weekend this Friday and Saturday.
The Cats will take on Liberty (2-1) in the first semifinal on Friday at 1 p.m. with Notre Dame (4-1) and Washington (2-0) doing battle in the other semifinal match at 5 p.m. Friday's two winning teams will move on to Saturday's championship match (3 p.m.), while the losing sides will square off in a consolation contest (11 a.m.). The winner of Saturday's final will advance to ITA National Indoors in Chicago, Feb. 16-19.
This year marks Kentucky's 13th time participating in ITA Kickoff Weekend since the event's founding in 2009 and the seventh time UK has served as a host site. Last season, the Cats advanced out of Mississippi State's regional with a 4-2 victory over the Bulldogs in Starkville.
Kentucky has cruised through its opening four matches this season, most recently defeating Northern Kentucky, 6-1, on Tuesday. The Cats' no. 1 doubles team of Liam Draxl and Alafia Ayeni is a perfect 4-0 on the year, with just eight games dropped across four sets. In singles, Draxl owns a team best 4-0 record while Joshua Lapadat sits at 3-0.
Liberty has played three matches on the spring with its lone loss coming at home to No. 1 ranked Virginia. The Flames are the two-time defending ASUN Conference champion and were picked to finish first once again in the preseason coaches poll. The team is led by its all-time singles wins record holder, Josh Wilson, a ASUN All-Conference first team selection in 2022.
Notre Dame boasts four wins in the early season, most recently upending Western Michigan, 4-3. The Fighting Irish are led by standout freshman, Sebastian Dominko, who finished the fall at No. 17 in the ITA Singles Rankings.
The Washington Huskies come to Lexington with just two dual matches under their belt, victories over Seattle and Louisiana. The program is in its first year under head coach Rahim Esmail and is coming off an NCAA Tournament bid a year ago. Junior Han-Chih Lin has occupied the No. 1 singles position in each of the team's first two matches, going 2-0 to this point.
Admission to the Hilary J. Boone Tennis Center is free to the public. Live stats for the matches can be found here. The action can also be streamed live on Track Tennis.
For the latest on UK Men's Tennis, follow the Wildcats on Twitter and Instagram at @UKMensTennis.