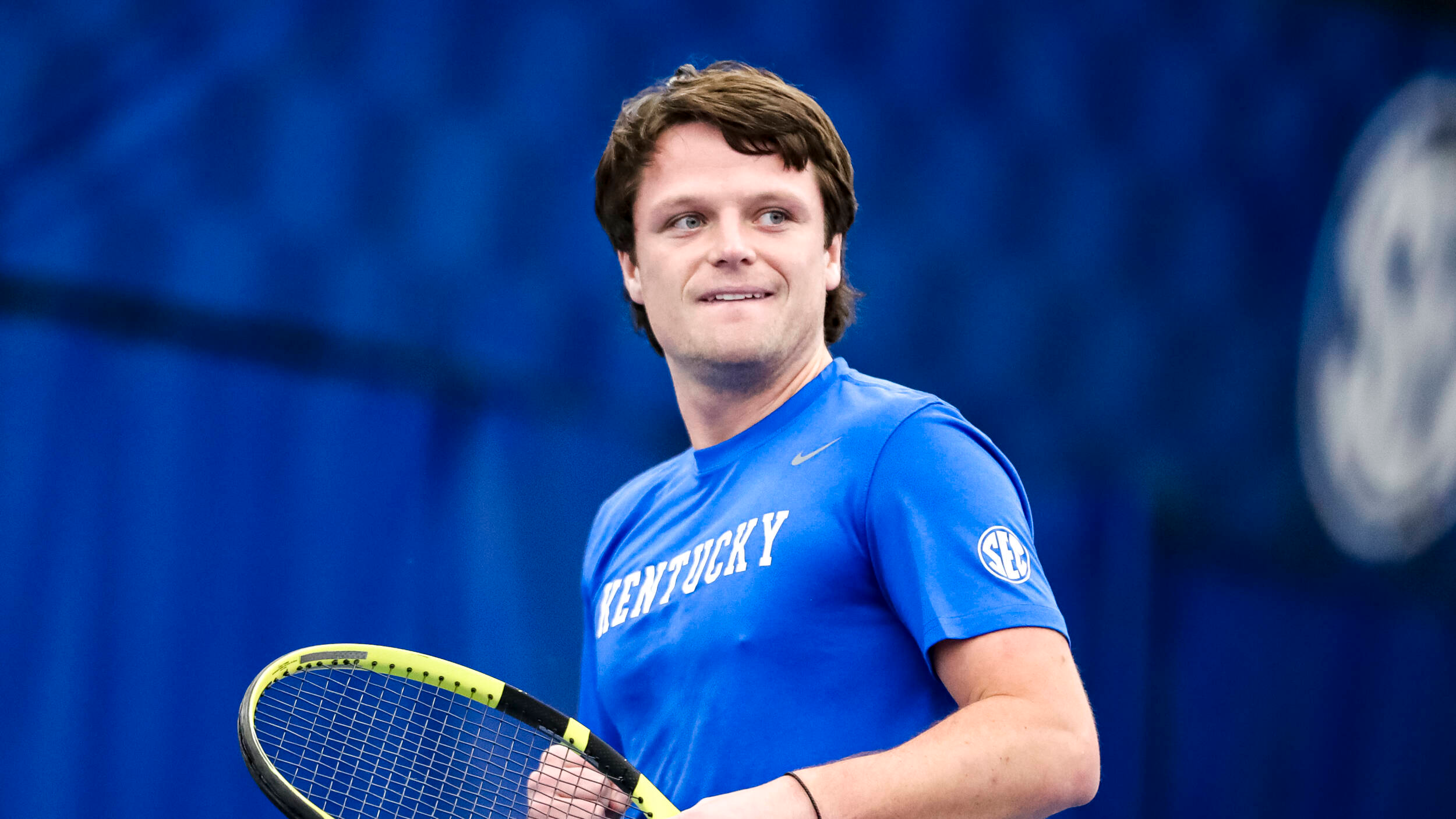 January 24, 2023 - 03:51 PM
Wildcats Remain Perfect with 6-1 win vs. Northern Kentucky
LEXINGTON, Ky. – No. 4 Kentucky (4-0) remained unbeaten on the year with a 6-1 win over Northern Kentucky (2-3) at the Boone Tennis Center on Tuesday afternoon.
The Wildcats took the initial lead with a sweep in the doubles matches. The top pairing of Liam Draxl and Alafia Ayeni improved their doubles' record to a team-best 4-0 with a convincing 6-1 result on the top court. Taha Baadi/Christophe Clement and Charlelie Cosnet/Jaden Weekes came away with 6-2 and 6-3 wins, respectively. For Cosnet and Weekes, the win marked their first as a doubles pair.
Draxl got the Cats started in singles, defeating Norse no. 1, Brandon Ponomarew, 6-1, 2-0 (ret.), to move to 4-0 on the year individually. Joshua Lapadat followed by securing another point for Kentucky at no. 2 singles with a 6-0, 6-2 victory against Tom Berry, before Weekes clinched the team result by winning a second-set tiebreaker over NKU's Bartosz Losiak for 6-2, 7-6 (2) final.
With the two teams playing out the remaining courts, JJ Mercer (No. 6) raced to a 6-0, 6-1 win, and freshman Cosnet (No. 5) earned his first singles' victory as a Wildcat, defeating Emilio Bravo, 7-5, 6-1.
Clement, another UK freshman, also made his first singles appearance of the season, falling in a tightly contested match at four singles to Josef Zapletal, 6-4, 6-4.
UK is back in action this Friday (Jan. 27) when the Cats face Liberty in the opening round of ITA Kickoff Weekend at the Hilary J. Boone Tennis Center. The match will begin at 1 p.m. and will be followed by a dual between Notre Dame and Washington. Friday's two winning teams will advance to the final on Saturday where they will play for a bid to the ITA National Indoor Championships next month.
Doubles:
No. 1 – Draxl/Ayeni (UK) def. Losiak/Zapletal (NKU): 6-1
No. 2 – Baadi/Clement (UK) def. Bravo/Ponomarew (NKU): 6-2
No. 3 – Cosnet/Weekes (UK) def. Berry/Knott (NKU): 6-3
Order of finish: 1, 3, 2
Singles:
No. 1 – Liam Draxl (UK) def. Brandon Ponomarew (NKU): 6-1, 2-0 (ret.)
No. 2 Joshua Lapadat (UK) def. Tom Berry (NKU): 6-0, 6-2
No. 3 Jaden Weekes (UK) def. Bartosz Losiak (NKU): 6-2, 7-6(2)
No. 4 Josef Zapletal (NKU) def. Christophe Clement (UK): 6-4, 6-4
No. 5 Charlelie Cosnet (UK) def. Emilio Bravo (NKU): 7-5, 6-1
No. 6 JJ Mercer (UK) def. Vincent Knott (NKU): 6-0, 6-1
Order of finish: 1, 2, 3, 4, 6, 5
For the latest on UK Men's Tennis, follow the Wildcats on Twitter and Instagram at @UKMensTennis.