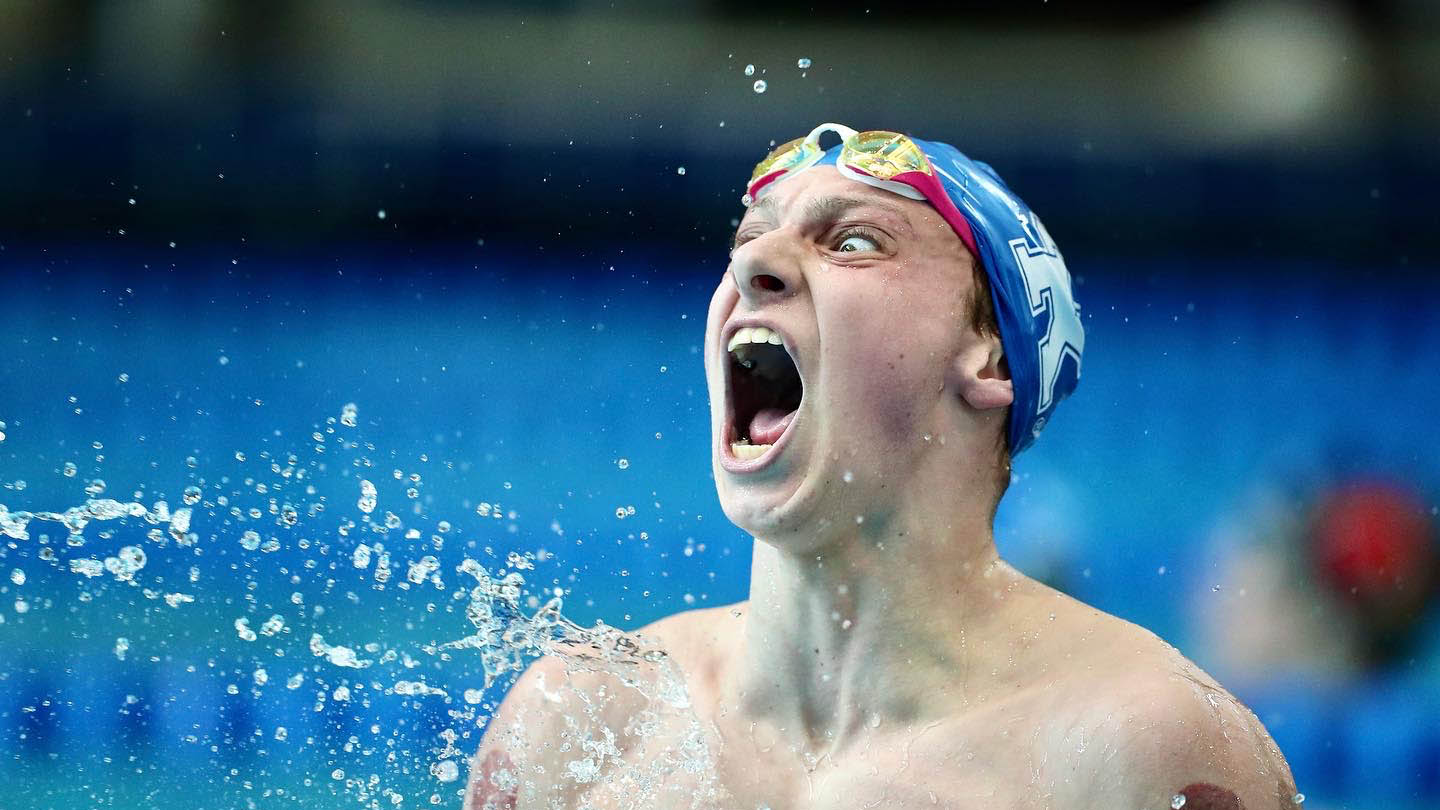 January 21, 2023 - 06:51 PM
Kentucky Women Earn Second-Straight Top-10 Win, Men Fall Short vs. Louisville
LEXINGTON, Ky. – The No. 14 Kentucky women's swimming & diving team recorded its second consecutive dual meet win over a top-10 opponent on Saturday, defeating No. 6 Louisville, 168-132, on senior day at Lancaster Aquatic Center.
For the UK men, sophomore Nick Caruso set a new program record in the 1000 freestyle with a time of 8:53.74, while fifth-year Mason Wilby swam to three individual victories in what was ultimately a 200-96 defeat at the hands of No. 17 Louisville.
The Kentucky women were powered by podium sweeps in four events (100 back, 100 breast, 200 back, 200 breast), as the Wildcats topped their in-state rival for the fifth time in the last six years. Saturday's win follows the Cats' victory over then No. 9 Georgia back on Dec. 19, giving Kentucky two straight top-10 wins on the women's side.
For the day, 10 different Wildcats were victorious across a total of 15 events. Wilby was the lone three-event winner for UK, while Caruso, Beth McNeese and Kyndal Knight captured two wins apiece. For Wilby, all three of his winning times were season-bests. McNeese enjoyed a career day, highlighted by her time of 9:39.54 in the 1000 freestyle, the second fastest mark by a woman in Kentucky program history.
In all, 13 program top-10 times were recorded including a number by UK freshman. Denise Phelan clocked a personal-best 1:00.29 to claim the 100 breast, placing her sixth all-time, while fellow freshman Lydia Hanlon touched the wall in 1:52.16 in the 200 backstroke to move into seventh on the all-time top-10.
Senior Henry Miller also had a senior day to remember, registering personal bests in both the 100 and 200 breasts. Miller's 1:57.60 in the 200 breaststroke gives him the sixth fastest time at Kentucky, while his mark of 54.87 in the 100 breast puts him ninth all-time.
Kentucky swam to a total of 34 NCAA B-standards on the afternoon. Members of the class of 2023 that were honored at a pre-meet senior day ceremony include: Emily Baeth, Caitlin Brooks, Gillian Davey, Beth McNeese, Jodi Ogle, Lauren Poole, Morgan Southall, Kaitlynn Wheeler, Keanan Dols, Timothy Ellett, John Michael Gordon, Max Hawton, Henry Miller and Callie Blandford (manager).
Yesterday, an exhibition event was held in platform diving between UK and UL in advance of today's dual. Claire McDaniels, Abby Devereaux and Jodi Cobb all posted NCAA zone cut scores for Kentucky on the tower.
The Wildcats will travel to Cincinnati for their final dual meet of the season next Friday, Jan. 27. The meet will start at 4 p.m. at the Keating Aquatic Center.
UK Event Winners
Beth McNeese – Women's 1000 Free (9:39.54), Women's 500 Free (4:42.39)
Nick Caruso – Men's 1000 Free (8:53.74), Men's 500 Free (4:20.53)
Kaitlynn Wheeler – Women's 200 Free (1:45.34)
Caitlin Brooks – Women's 100 Back (52.09)
Denise Phelan – Women's 100 Breast (1:00.29)
Mason Wilby – Men's 200 Fly (1:42.26), Men's 200 Back (1:42.79), Men's 200 IM (1:46.23)
Lydia Hanlon – Women's 200 Back (1:52.16)
Bridget Engel – Women's 200 Breast (2:09.37)
Kyndal Knight – Women's 1-mtr Diving (286.73) and Women's 3-mtr Diving (342.45)
Lauren Poole – Women's 200 IM (1:57.65)
For the latest on UK Swim & Dive, follow the Wildcats on Twitter and Instagram at @UKSwimDive, and on Facebook at Kentucky Swimming and Diving.