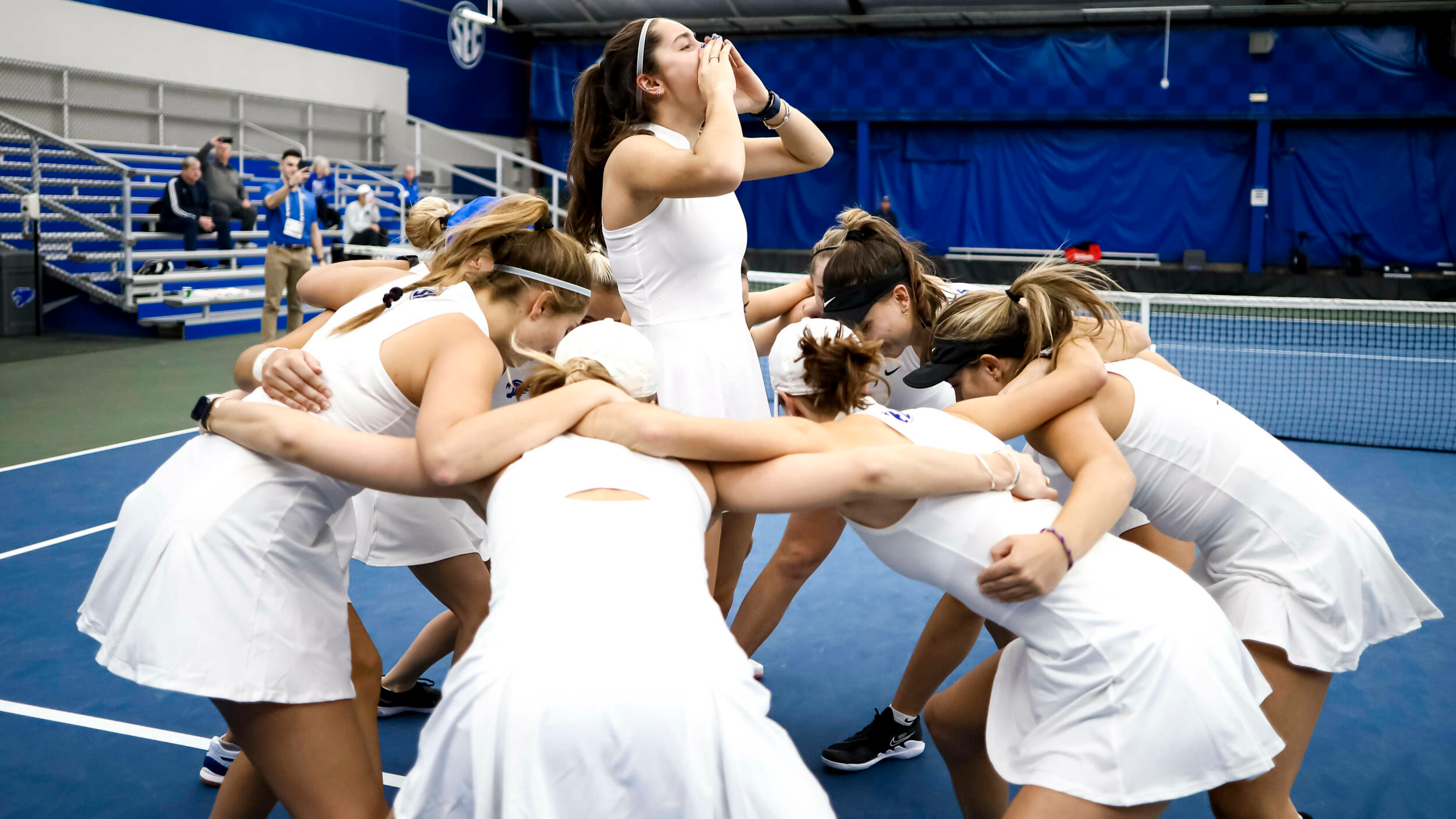 January 20, 2023 - 07:10 PM
Wildcats Sweep Opening Day Doubleheader
LEXINGTON, Ky. – The Kentucky Women's Tennis team (2-0) kicked off the 2023 campaign in high gear on Friday afternoon, winning both contests of a doubleheader held at the Hillary J. Boone Indoor Tennis Center. In the first match of the day, the 'Cats swept East Tennessee State 7-0 and followed that performance with a 5-2 win over Miami (Ohio). This is the second year in a row that Kentucky has defeated ETSU in its season opener.
Kentucky was paced by Florencia Urrutia, a senior from Santa Fe, Argentina, who went a combined 4-0 on opening day. Urrutia claimed double victory on both the no. 2 singles and no. 2 doubles courts. Elizabeth Stevens, a junior from Tigard, Oregon, won both of her matches on the no. 1 singles court, claiming victories over two all-conference opponents. Two fresh faces for the 'Cats made stellar debuts as junior transfer Makayla Mills and freshman Zoe Hammond each won singles and doubles matches in both duals.
The Wildcats kicked off the day by winning every contest against ETSU. Kentucky raced out to claim a 1-0 lead, thanks to convincing performance in doubles. Urrutia and Mills won their no. 2 doubles match handily, claiming a 6-1 victory. Ellie Eades and Zoe Hammond teamed up to claim the clinching doubles set, defeating their Buccaneer opponent 6-2.
In singles action, Kentucky claimed all six points, with four coming via the comeback. Urrutia rode her stellar fall performance, which saw her peak at #67 in the ITA Rankings, to a clinical 6-2, 6-3 win over ETSU's Mariya Shumeika. Following her, Stevens returned to action in her first dual match appearance since January 23, 2022, downing reigning SoCon Player of the Week Laylo Bakhodirova 4-6, 6-2, 6-1. Senior Carlota Molina and Sophomore Lidia Gonzalez both recovered from dropping the first set to win their matches, clinching the dual for the 'Cats. Singles play was closed out by victories from Mills at court five and Hammond at court six, the maiden victory in a Wildcat uniform for both players.
Against Miami (Ohio), Kentucky would once again claim the doubles point to take the early advantage. Sending out the same lineup as the match before, it was the pairs of Mills & Urrutia and Eades & Hammond that took down the Redhawks.
Heading to singles with the advantage, Kentucky wasted no time to push toward the finish line. Playing at no. 2, Urrutia was the first to finish once again, dispatching reigning Mid-American Conference Freshman of the Year Nishitha Saravanan, 6-1, 6-1.  Stevens was not far behind her teammate, taking down All-MAC First Team selection Lauren Rico, 6-3, 6-3 on the first court. After a grueling, two-plus hour match, Mills rallied from a set down to clinch the match for the 'Cats with a 2-6, 6-3, 6-4 victory. Minutes later, Hammond would win her second match in as many tries with a routine 6-2, 6-4 win on Court no. 5.
The Wildcats will return to the court on Sunday, Jan. 22, facing off against Illinois and Northern Illinois.  Action on Sunday will begin with a 10 a.m. contest against the Fighting Illini and will be followed by a 2 p.m. matchup with NIU. Admission is free for the public. Fans away from Lexington can follow along with live stats  or watch live on Track Tennis.
RESULTS
Kentucky vs. ETSU
Doubles
Molina/Stevens (UK) vs. Bakhodirova/Shumeika (ETSU) 4-3(unfinished)
Mills/Urrutia (UK) def. Carvajal/Rivera (ETSU)  6-1
Eades/Hammond (UK) def.  Alexandrova/Alfaro (ETSU) 6-2
Singles
Elizabeth Stevens (UK) def. Bakhodirova (ETSU) 4-6, 6-2, 6-3
Florencia Urrutia (UK) def. Shumeika (ETSU) 6-2, 6-3
Carlota Molina (UK) def. Carvajal (ETSU) 3-6, 7-6(3), 6-0
Lidia Gonzalez (UK) def. Rivera (ETSU) 4-6, 6-3, 6-4
Makayla Mills (UK) def. Alexandrova (ETSU) 2-6, 6-4, [10-5]
Zoe Hammond (UK) def. Elizarraras (ETSU) 7-5, 6-1
Order of Finish:
Doubles—2, 3
Singles—2, 1, 3, 4, 5, 6
Kentucky vs. Miami (OH)
Doubles
Molina/Stevens (UK) vs. Denysiewicz-Slowek/Rico (M-OH) 3-4 (unfinished)
Mills/Urrutia (UK) def. Valentinsson/Zalukar (M-OH) 6-2
Eades/Hammond (UK) def. Saravanan/Van Hansewyk (M-OH) 6-1
Singles
Elizabeth Stevens (UK) def. Rico (M-OH) 6-3, 6-1
Florencia Urrutia (UK) def. Saravanan (M-OH) 6-1, 6-1
Denysiewicz-Slowek (M-OH) def. Carlota Molina (UK) 7-5, 6-2
Makayla Mills (UK) def. Valentinsson (M-OH) 2-6, 6-3, 6-4
Zoe Hammond (UK) vs. Van Hansewyk (M-OH) 6-2, 6-4
Zalukar (M-OH) def. Ellie Eades (UK) 6-4, 4-6, [11-9]
Order of Finish:
Doubles—3, 2
Singles—2, 1, 3, 4, 5, 6