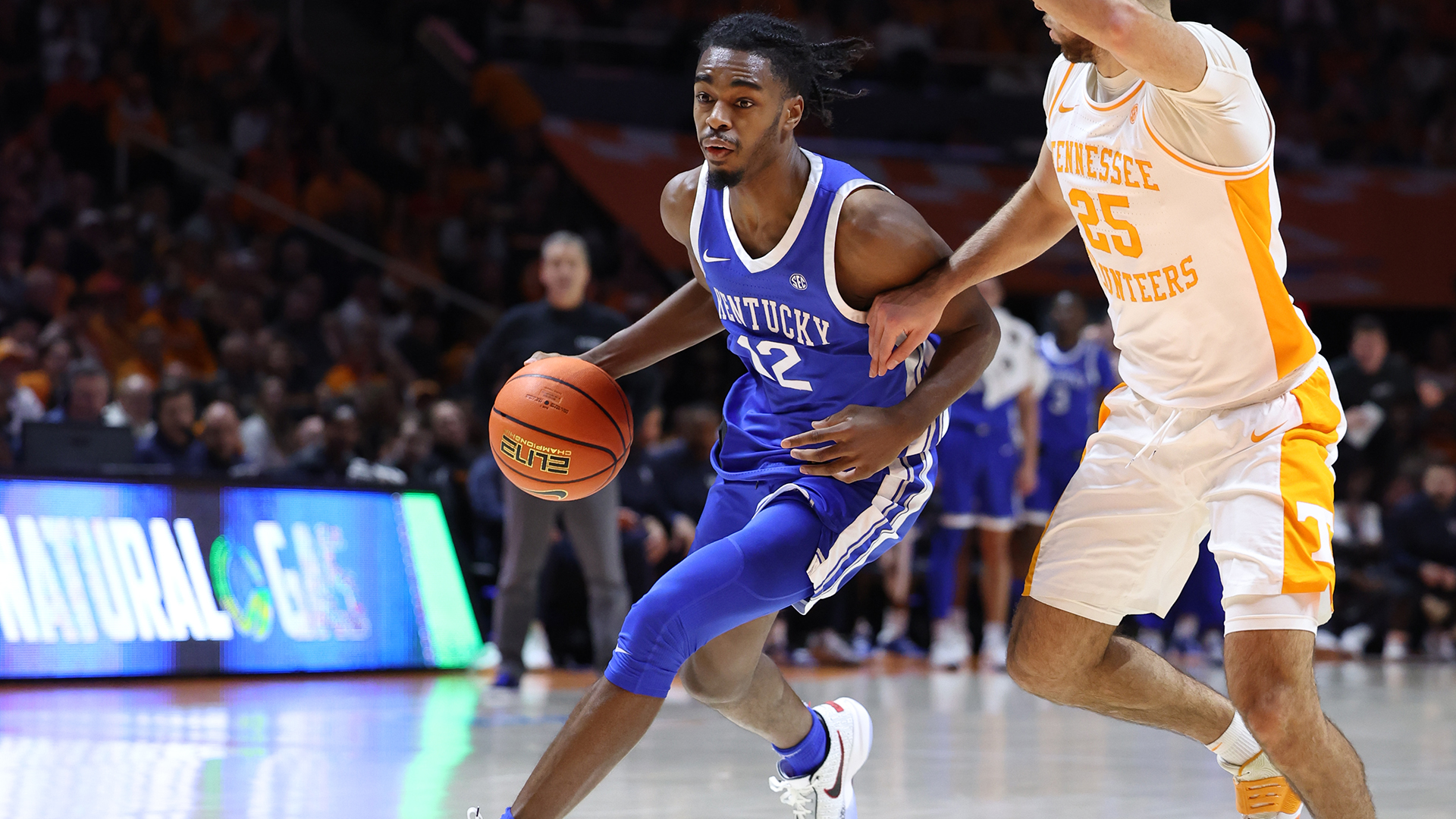 January 14, 2023 - 02:44 PM
Kentucky Fights Past No. 5 Tennessee in Knoxville
Kentucky head coach John Calipari has implored his team to fight all season. Fight on defense. Fight for rebounds. Fight for loose balls. Fight through tough times.
On Saturday, the Cats needed to bring the fight even more. UK was without starting point guard Sahvir Wheeler and forward Daimion Collins, who both missed the game due to injury.
The task would be a tough one as the Cats visited fifth-ranked Tennessee in Knoxville, where the Vols had won 25 in a row at home.
Things did not start well for the Cats, who fell behind 8-0 early. But the Cats showed plenty of fight, scoring the next 10 points to lead for the first time. Later in the first half, Kentucky would trail 23-21, but the Cats fought back again, closing the half on a 12-3 run to lead 33-26 at the break.
Tennessee would make a run in the second have, as would be expected. The Vols scored five in a row in the middle of the second half to take a 43-41 lead.
But the Cats, again, showed fight. Antonio Reeves hit a three, then another jumper, giving UK a 46-43 lead with 7:54 to play.
Tennessee would continue to chip away at the UK lead, eventually getting within two points inside the final minute. But Kentucky fought on defense, keeping the Vols off the board and winning 63-56 at Thompson-Boling Arena.
Kentucky (11-6, 2-3 SEC) snapped a two-game losing streak behind 18 points from Reeves, along with 15 points and 13 rebounds from Oscar Tshiebwe. CJ Fredrick added 13 for the Cats.
The Cats controlled the boards on Saturday, grabbing 43 rebounds compared to just 23 for the Vols. UK has struggled at the line all season but the Cats made 22 of 25 (88 percent) in Saturday's game.
Kentucky's bench came up big on Saturday as well. The Cats got 18 points, and a ton of crucial minutes, from the bench. The Cats also moved the ball on Saturday, which led to 14 assists on 18 made baskets in the game.
Tennessee (14-3, 4-1) got 19 points from Uros Plavsic and 13 from Santiago Vescovi.
Kentucky returns to action on Tuesday, hosting Georgia at Rupp Arena. Tipoff is set for 9 p.m. ET and the game can be seen on ESPN.