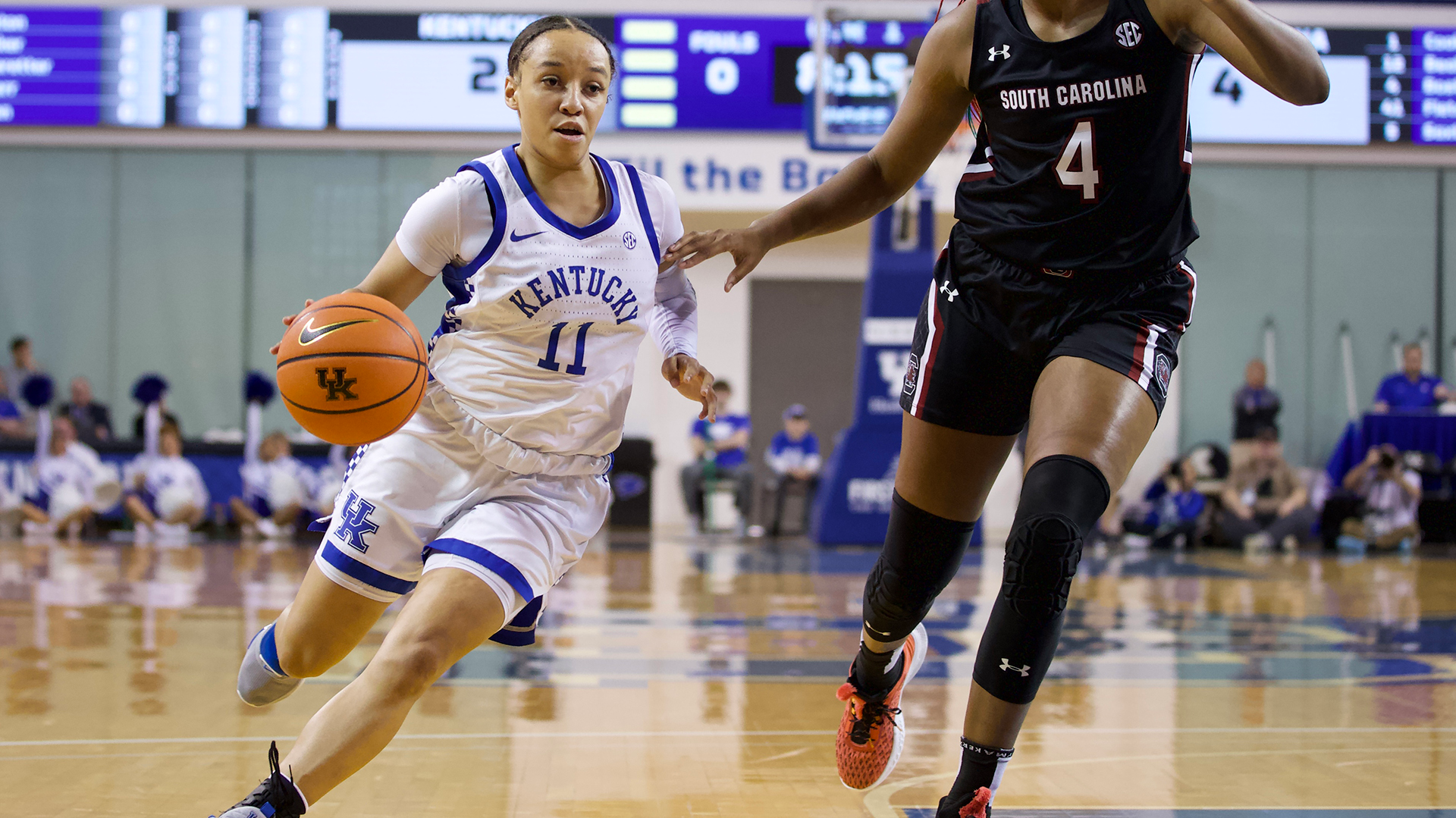 January 12, 2023 - 08:56 PM
Kentucky Falls to No. 1 South Carolina
LEXINGTON, Ky. – Maddie Scherr scored a career-high 25 points and dished out six assists but the Kentucky women's basketball team lost to top-ranked South Carolina 95-66 on Thursday night at Memorial Coliseum.
Scherr made 10 of 15 from the floor, including five of seven from behind the arc, on her way to setting a career high in points for the second consecutive game. The junior also had four rebounds and a steal in the game.
Kentucky (8-9, 0-5 SEC) got 17 points from Jada Walker and 10 from Robyn Benton.
The game was tied twice early, at 2-2 and 4-4, with the UK offense being powered by Jada Walker. However, South Carolina scored six in a row to lead 10-4. The Gamecocks would eventually lead 18-10 before the Cats closed the period on a 7-2 run, with five points from Maddie Scherr, to cut the deficit to 20-17 after one period of play.
Kentucky opened the second period with a flourish, scoring the first 12 points of the period to take a 29-20 lead. Scherr hit a pair of threes in the run and Walker added four in the stretch. Kentucky would eventually lead by 10, 31-21, before South Carolina rallied back. The Gamecocks would score 16 in a row and would lead 37-33 at the half.
In the third quarter, South Carolina was able to maintain its lead but the Gamecocks were never able to build it larger than eight. Each time it appeared that South Carolina was ready to go on a run, the Cats had an answer. Benton led the Cats with seven in the period and UK went into the fourth quarter trailing 59-51.
South Carolina (17-0, 5-0) would pull away in the fourth quarter, using an 18-2 run to extend the lead. The final score was the largest margin in the game. Aliyah Boston had 21 points and 11 rebounds for the Gamecocks. Zia Cooke added 20 for South Carolina.
Kentucky returns to action on Sunday, visiting Florida in Gainesville. Tipoff is set for 3 p.m. ET and the game can be seen on the SEC Network.