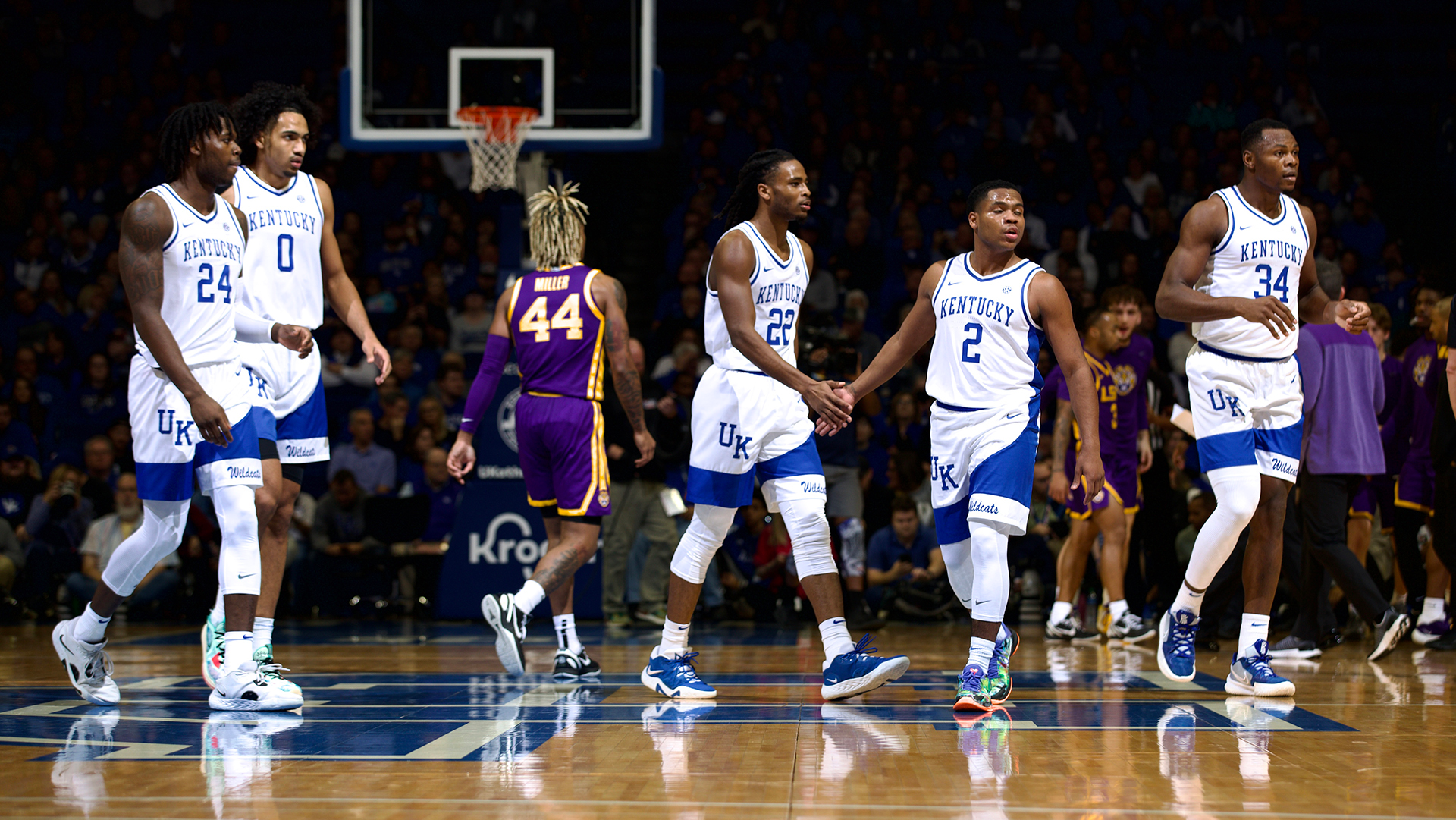 January 9, 2023 - 05:47 PM
Big Blue Preview: Kentucky vs. South Carolina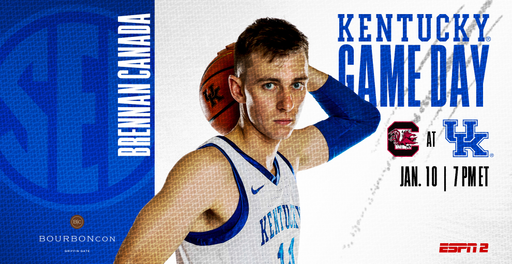 After falling at No. 7 Alabama on Saturday, Kentucky is looking to bounce back on Tuesday night against South Carolina. While losing is always tough, UK sophomore forward Daimion Collins knows that the team needs to put Saturday's loss in the rear-view mirror.
"Just worry about the next game, keep coming to practice, working hard, getting better, working on our mistakes," Collins said. "Trying to fix everything that we were messing up on and playing better to win some games."
What are the things that Collins and the team are working on heading into Tuesday's contest?
"Being better executing on offense and then just getting those assignments down on defense," Collins said. "Not breaking down a lot, limiting turnovers. Most of all, just being able to execute."
Both Kentucky and South Carolina are coming off rough outings on Saturday. And both happened in similar fashion.
The Cats fell to No. 7 Alabama 78-52 after making just 21 of 73 (28.8 percent) from the floor, including just five of 20 (25 percent) from behind the arc. Defending National Player of the Year Oscar Tshiebwe was held to four points and six rebounds, well below his averages.
South Carolina is coming off a big loss to Tennessee on Saturday. The Gamecocks struggled shooting the ball, making just 12 of 48 (25 percent) of its shots in the game, including just four of 26 (15.4 percent) from behind the arc. South Carolina's leading scorer, GG Jackson, was held scoreless in the game.
Kentucky (10-5, 1-2 SEC) needs to maintain its unbeaten record at home and cannot afford to fall further back in the race for the Southeastern Conference title. South Carolina (7-8, 0-2) is looking for its first SEC win of the season.
The game is set for a 7 p.m. ET tipoff and can be seen on ESPN2.
Streaking at Home
With a victory over Ole Miss in the home finale, Kentucky notched a perfect 18-0 record in Rupp Arena for 2021-22. With its win over LSU, Kentucky extended its home winning streak to 28 games. That mark is the longest current home winning streak in the Southeastern Conference.
• 2021-22 was the 14th perfect season in the 46-year history of Rupp Arena
• 2021-22 marked the sixth time under Calipari the Cats were perfect at home. Calipari's teams were also spotless in 2009-10, 2010-11, 2011-12, 2014-15 and 2015-16
• UK is 642-77 (89.3%) in Rupp Arena in program history
• The Cats are 215-17 (92.7%) under Calipari
• Calipari owns the venue's longest winning streak at 54 games
• With the win over LSU, the Cats and Calipari now own the fifth-longest winning streak in the building at 28 games
Ulis Returns to Kentucky
Tyler Ulis was one of the most accomplished players in UK program history from 2015-16. He was an All-American and Bob Cousy Award winner in 2016. He was also a part of a team that won its first 38 games and went to the Final Four in 2015. He has returned to the Wildcats for the spring semester to serve as a student assistant coach as he works towards completing his undergraduate degree.
• 2016 Consensus First-Team All-American
• 2016 Bob Cousy Award winner
• Was the SEC Player of the Year, Defensive Player of the Year and SEC Tournament MVP in 2016
• Set the UK single-season record with 246 assists in 2016
• Was a part of 65 career wins in two years at UK
• Drafted 34th overall by the Suns in 2016
• Western Conference Rookie of the Month in April of 2017 when he averaged 20.7 points and 6.8 assists per game during the month. It was the most points and assists in a single month since Damian Lillard in March of 2013
Floor General Wheeler
Sahvir Wheeler has paced the Southeastern Conference in assists per game in each of his last two seasons. He's once again leading the conference with 6.6 dimes per game. A Bob Cousy Award finalist a season ago, Wheeler is once again serving the Wildcats with one of the best floor generals in the country.
• Wheeler leads the SEC and ranks fifth nationally with 6.6 assists per game. He has generated two games with 10 or more, six with eight or more and 11 with five or more thus far
• Since the start of the 2019-20 season, his freshman season at Georgia, Wheeler's 631 total assists rank second nationally, only behind the 727 by Yuri Collins of Saint Louis
• A season after becoming just the fourth player in program history to amass at least 200 assists in a season, Wheeler is moving up the career charts as well. In just 44 games with the Wildcats, Wheeler already ranks 18th in program history with 299 dimes
Hold Them to 55 Points, 40%
Defense has always been a recipe for success for the Wildcats under John Calipari. The special ingredient: 55 points. Kentucky is a perfect 85-0 under Calipari when holding the opponent to 55 points or fewer, including 2-0 this season after limiting Duquesne to 52 points and Bellarmine to 41.
The Wildcats are 209-10 (95.4%) under Calipari when limiting the opponent to 63 points or less, including 7-1 this season. Kentucky also fares well when it keeps the competition to 40% or less from the floor. UK is 228-24 (90.5%) vs. opponents under Calipari when its field-goal percentage is 40% or less.