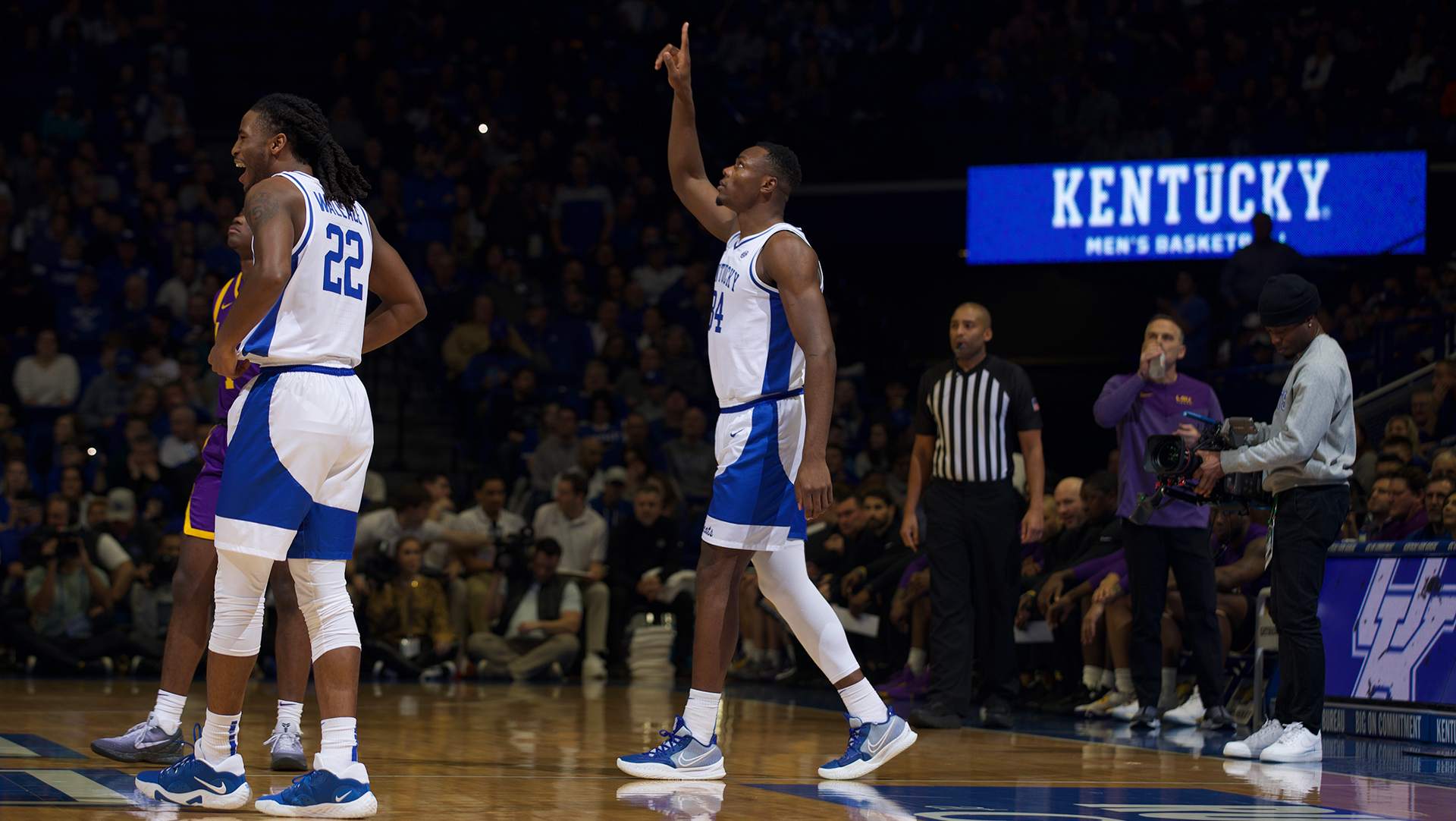 January 3, 2023 - 10:15 PM
Kentucky Holds Off LSU on Tuesday
After Kentucky's win over Louisville on Saturday, UK head coach John Calipari spoke about how he wanted his team to be more deliberate. That didn't necessarily mean slower, it just meant being deliberate about taking good shots.
Another part of being deliberate is passing the ball well. That's something that the Cats did very well on Tuesday night as Kentucky hung on late to beat LSU 74-71 at Rupp Arena.
How well did the Cats pass the ball? UK had 15 assists on its first 23 field goals and the Cats were averaging 1.463 points per possession through 30 minutes. The Cats finished with 18 assists on 28 made baskets and averaged 1.345 points per possession for the game.
Five of the seven players who played significant minutes for the Cats recorded an assist in Tuesday's win. Three of them (Sahvir Wheeler, Cason Wallace and Jacob Toppin) had at least three assists.
Defending National Player of the Year Oscar Tshiebwe was the beneficiary of many of the good passes from his teammates. Tshiebwe made seven of nine from the floor on his way to 19 points in the game. And in what should come as no surprise, Tshiebwe had 16 rebounds, giving him his eighth double-double of the season and the 48th of his college career.
Jacob Toppin followed his career-high effort against Louisville with another strong game on Tuesday. The senior had 21 points on nine of 13 shooting from the floor.
The Cats played Tuesday's game with a short bench due to both CJ Fredrick and Lance Ware out of the lineup due to injuries. But the seven players who got into the game each contributed something to the win. Wheeler thinks the short bench is helping the team build some chemistry.
"Yeah, definitely. A lot of it is also having in-practice reps," Wheeler said. "We're scrimmaging a lot more, we scrimmaged yesterday, the day before the game and we did the same thing against Louisville to build continuity with each other to continue to find chemistry, find what works, continue to build on execution and know what it takes to win. Definitely starting to see some good things in how we're flowing in starting the games."
Kentucky returns to action on Saturday, facing Alabama in Tuscaloosa. Tipoff is set for 1 p.m. ET and the game can be seen on ESPN.