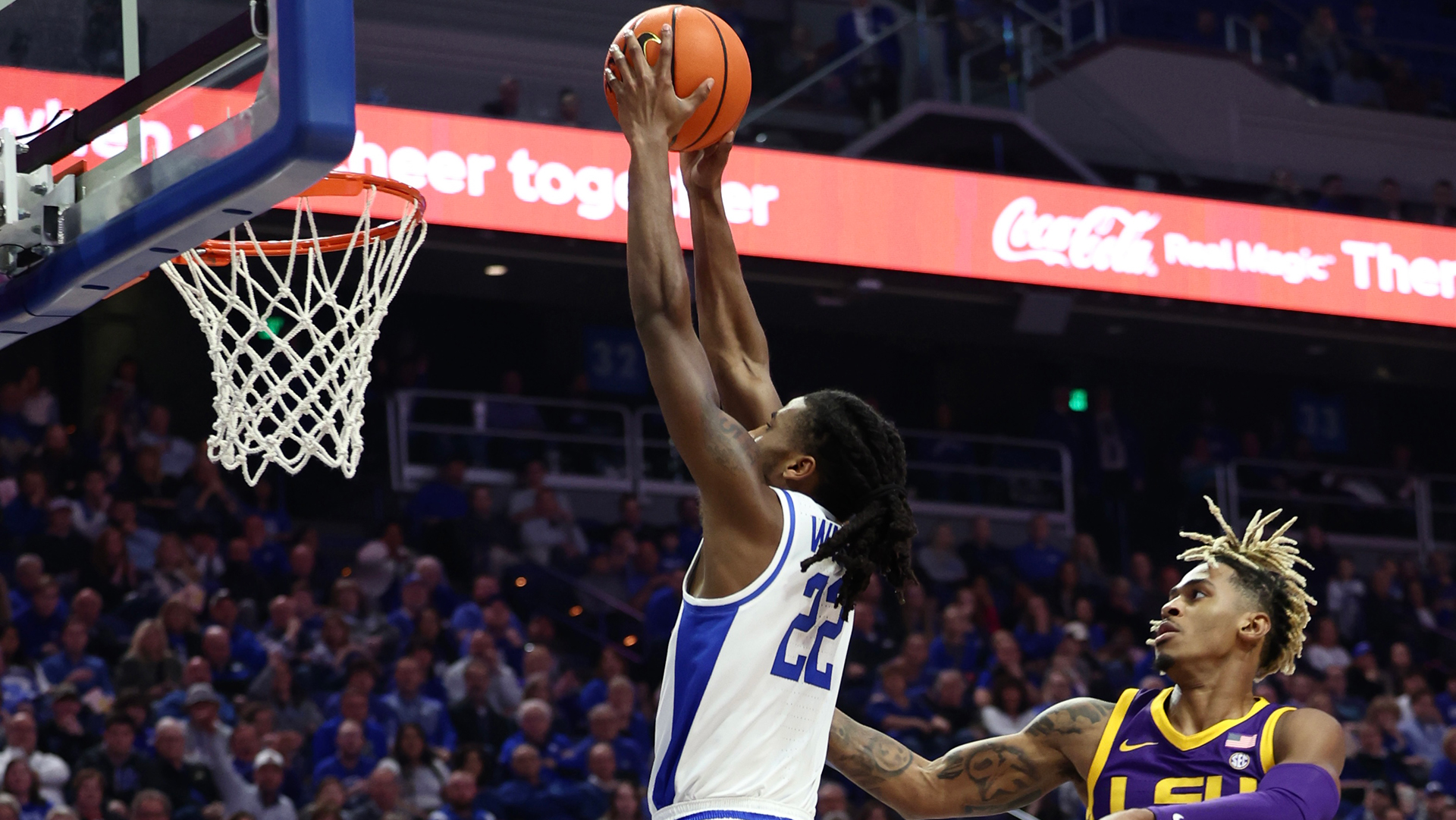 January 3, 2023 - 11:23 PM
Kentucky-LSU Postgame Notes
KENTUCKY MEN'S BASKETBALL POSTGAME NOTES
RUPP ARENA AT CENTRAL BANK CENTER | LEXINGTON, KY
JAN. 3, 2023
ATTENDANCE: 19,610
Final Score: RV/25 Kentucky 74, RV/RV LSU 71
Team Records and Series Notes
Kentucky is now 10-4 on the season, 1-1 in the Southeastern Conference.
LSU is 12-2 overall, ending a seven-game win streak, and is 1-1 in league play.
Kentucky holds a 92-28 advantage in the all-time series, including 47-6 in Lexington.
The Wildcats have won two in a row in the series.
Next for UK: the Wildcats are at Alabama on Saturday with a 1 p.m. tipoff (noon Central time in Tuscaloosa) in a game that will be televised on ESPN.
Team Notes
Kentucky opened with a starting lineup of Sahvir Wheeler, Cason Wallace, Chris Livingston, Jacob Toppin and Oscar Tshiebwe for the second consecutive game. UK is 2-0 with this lineup.
Kentucky won the rebounding battle, 31-22, leading to a 12-6 margin in second-chance points.
Kentucky has a season-low six turnovers while compiling 18 assists on 28 made baskets.
Kentucky led by as many as 10 points. The Wildcats are 319-13 (96.1%) under Calipari when leading by as many as 10 points at any time during the game.
Player Notes
Jacob Toppin scored 17 of his 21 points in the second half, including 11 of UK's last 16 points.

It is his third 20-point game of the season, and coming off a career-high 24 points vs. Louisville, he is averaging 22.5 points over the last two contests.

Oscar Tshiebwe had 19 points and a game-high 16 rebounds, his SEC-best eighth double-double of the season.

Tshiebwe has 36 double-doubles in 46 career games for UK.
He entered the game leading the nation with 13.6 boards per contest.

Cason Wallace had 14 points and four assists.

The game marked Wallace's fourth double-figure scoring game in a row and he is averaging 19.3 per game over that span.
Wallace added four assists and three rebounds tonight. He entered the game as the only freshman in the nation averaging at least 12 points, three assists, three rebounds and two steals per game.

Sahvir Wheeler had 11 points, six rebounds and a game-high nine assists.

He entered the game leading the SEC in assists at 6.7 per game and has averaged 8.7 feeds over the last three games.
This marked the 10th time this season and 81st time in his career he led the team in assists.
Coach John Calipari
Calipari is 15-4 vs. LSU, with all but one of the wins coming during his term at UK.
Calipari has an 820-245 all-time on-court record and is 375-105 in 14 seasons at UK.
UK is 308-59 (83.9%) against unranked competition under Calipari.
Rupp Arena
UK extended its home win streak to 28 games, dating back to the 2020-21 season, the fifth-longest streak in Rupp history.
It is (as this was written) the longest active home win streak in the Southeastern Conference and the third-longest in the nation.
Kentucky is 642-77 (89.3%) in the 47-year history of Rupp Arena.
Kentucky is 215-17 (92.7%) in Rupp Arena under Calipari.
In the First Half
For the second game in a row, Livingston began the Kentucky scoring with a 3-pointer.
Ahead 22-21, a 9-2 run gave UK the largest lead of the half at 31-23.
UK went to halftime ahead 42-38, with Tshiebwe leading the Wildcats with 12 points and eight rebounds.
Each team had outstanding offensive efficiency in the first half, with UK averaging 1.56 points per possession and LSU averaging 1.27 per possession.
In the Second Half
Kentucky opened the second stanza with the starting lineup.
LSU opened the half with a 3-pointer but seven straight by the Wildcats restored the eight-point advantage at 49-41.
When Kentucky did not score at 14:59, it was the first time in the game that the Wildcats had gone more than two possessions without scoring.
Ahead 53-48, a 5-0 spurt gave UK the largest lead of the game at 58-48.
Ahead 60-50, UK went scoreless for more than four minutes and the Tigers got within 60-58 but consecutive baskets by Toppin restored a six-point cushion.
Trailing 67-61, LSU scored five in a row but again Toppin quelled the advance, this time by drilling a 3-pointer near the expiration of the shot clock (1:13 left at the game) to make it 70-66.
After a Tiger basket, Wallace's driving layup at the expiration of the shot clock (29 seconds left in the game) made it 72-68.
LSU was fouled on a 3-pointer and made all three free throws with nine seconds left.
Toppin again kept the visitors at bay with two free throws with 3.4 seconds left and an LSU 3-pointer missed at the buzzer.