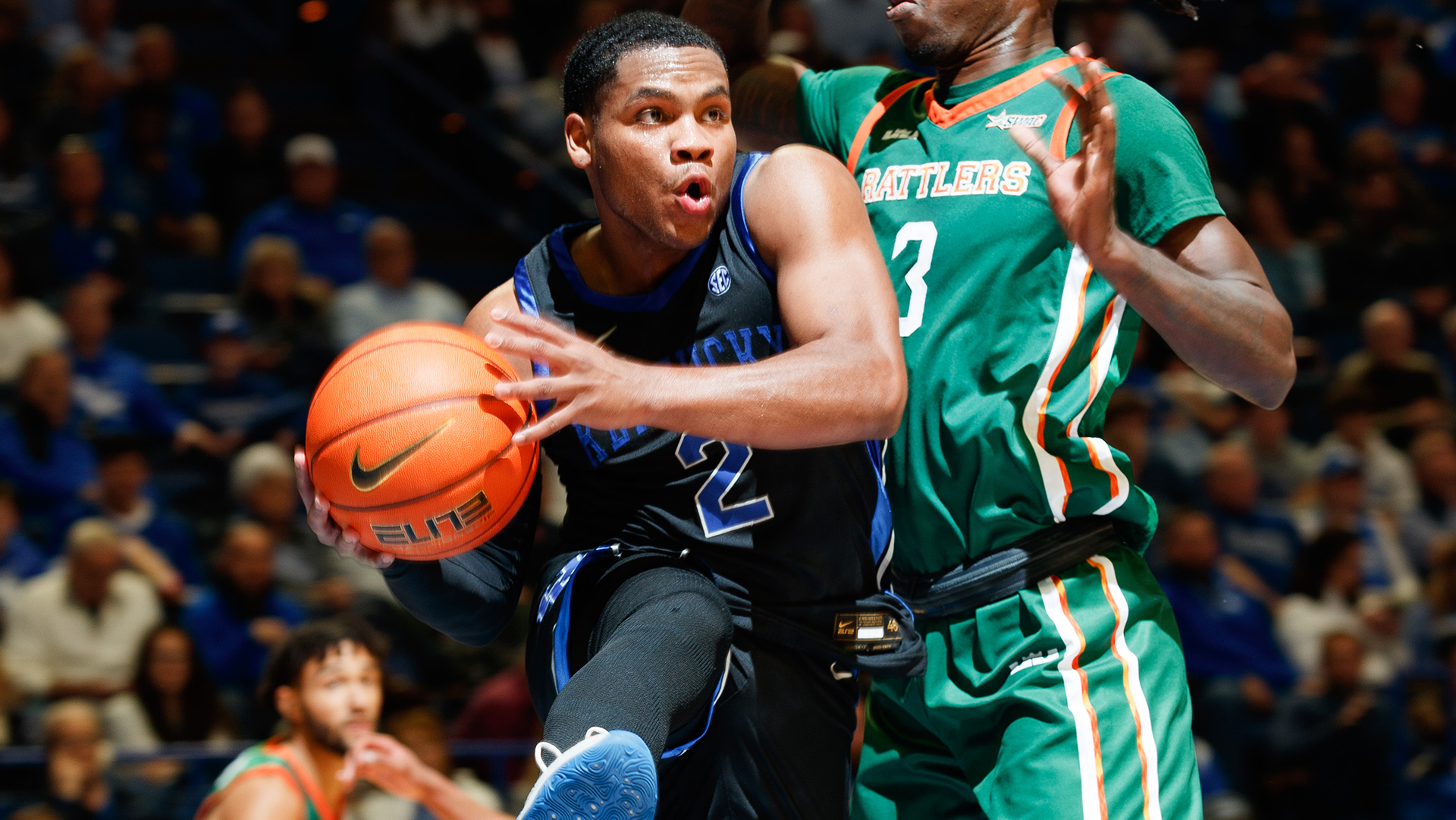 January 2, 2023 - 12:57 PM
Big Blue Preview: Kentucky vs. LSU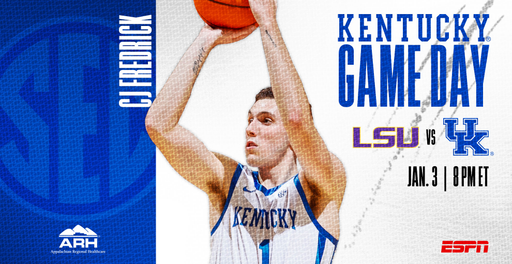 The Kentucky offense looked much better in Saturday's win over Louisville. And, despite popular sentiment, it might be because the Cats slowed down rather than speeding up.
UK head coach John Calipari used the word deliberate in his postgame press conference on Saturday.
"I'm mad at myself because we needed to be playing more deliberate," Calipari said. "Playing faster and quicker and doing that, that's all good, and you're scoring 60. We played deliberate, which is what my teams have done historically. Still play fast and shoot threes. We didn't shoot as many today but we scored a lot of points playing deliberate."
Point guard Sahvir Wheeler, who makes the Cats go as fast as anyone, knows that being deliberate doesn't always mean slowing down.
"Control the pace a little bit more, knowing when to go, when not to go, execution," Wheeler said. "I think you kind of saw that in the last game. Control the pace the whole game. We weren't playing super fast, we played kind of deliberate sometimes. We could deliberately push or deliberately grind it out. Pass up a good shot for a great shot."
The Cats hope to carry over the momentum from Saturday's 86-63 win into Tuesday's game against LSU. The Tigers are 12-1 on the season and are coming off an impressive win over Arkansas on Wednesday. LSU's only loss this year was a four-point setback against Kansas State in the Cayman Islands on Nov. 23. Since then, LSU has won seven in a row.
Wheeler knows what to expect from the Tigers.
"We know they're going to play really hard, they're going to get after it," Wheeler said. "They've got a couple of guys playing really well."
K.J. Williams, who was the OVC Player of the Year last season at Murray State before transferring to LSU, leads the Tigers in scoring and rebounds. The 6-10 forward averages 18.5 points and 8.0 rebounds per game.
Kentucky (9-4, 0-1 SEC) will counter with Oscar Tshiebwe and Cason Wallace. Tshiebwe is averaging 16.5 points and 13.6 rebounds per contest, while Wallace scores 12.8 points per game and is second on the team with 51 assists. He's also shooting a sizzling 47.5 percent (29 of 61) from three-point range.
The Cats and the Tigers are set for an 8 p.m. ET tipoff on ESPN.
Need to Know …
Need to know facts about the Cats:
• Sahvir Wheeler leads the SEC and ranks seventh nationally with 6.7 assists per game
• Since the start of the 2019-20 season, his freshman season at Georgia, Wheeler's 619 total assists rank second nationally, only behind the 703 by Yuri Collins of Saint Louis
• Cason Wallace ranks third in the SEC and 15th nationally with 2.46 steals per game. The 2.46 steals per contest are the most in the country among freshmen
• Wallace is the only freshman in the country averaging at least 12.0 points, at least 3.0 assists, at least 3.0 rebounds and at least 2.0 steals per game
• Oscar Tshiebwe's 23-point, 19-rebound game against Missouri was the fourth such contest of his UK career. He now has four of the seven 20 or more points and at least 18 rebounds in a game by an SEC player in the last 10 seasons. No other player has more than one and the feat had not been accomplished since South Carolina's Sindarius Thornwell did so against Alabama on Feb. 7, 2017
• Tshiebwe also has tallied three 20-point, 15 rebound games so far this season and has six over the last two seasons. He has 10 of the 52 20-point, 15-rebound contests by SEC players in the last 10 seasons
• Tshiebwe is one of two players in the NCAA this season averaging more than 15 points and 13 rebounds per game (Zach Edey – Purdue)
• Tshiebwe leads the country with 13.6 rebounds per game
• He leads the nation with 5.64 offensive rebounds per game and seventh with 8.00 defensive boards per contest
• With 1,205 points and 1,030 boards, Tshiebwe is one of two players nationally to total at least 1,000 points and 1,000 rebounds over the last four seasons, joining North Carolina's Armando Bacot (1,540 points, 1,148 rebounds). Tshiebwe has played 27 fewer games than Bacot
Cats Deliver the Knockout Punch
Kentucky is 318-13 (96.1%) in the John Calipari era when leading by at least 10 points at any time in the contest. Ten of the 13 losses in the Calipari era are to conference opponents.
Perhaps most impressive of all is that 69.0% of games Calipari has coached in at Kentucky have produced 10-point leads at some point during the game for UK. The Wildcats have led by 10 points or more in a whopping 84.9% of Calipari's 374 career wins at Kentucky.
Hold Them to 55 Points, 40%
Defense has always been a recipe for success for the Wildcats under John Calipari. The special ingredient: 55 points. Kentucky is a perfect 85-0 under Calipari when holding the opponent to 55 points or fewer, including 2-0 this season after limiting Duquesne to 52 points and Bellarmine to 41.
The Wildcats are 209-10 (95.4%) under Calipari when limiting the opponent to 63 points or less, including 7-1 this season. Kentucky also fares well when it keeps the competition to 40% or less from the floor. UK is 228-24 (90.5%) vs. opponents under Calipari when its field-goal percentage is 40% or less.
Cleaning the Glass
Kentucky was one of the top teams in the country on the boards a season ago. With the nation's best rebounder in Oscar Tshiebwe back again, UK is again one of the nation's best on the boards. Tshiebwe leads the country for the second season in a row in rebounds per game. He's averaging 13.6 per game in 2022-23. As a team, UK is logging 40.1 boards per game which ranks as the 27th-best mark in the nation. UK is plus-8.4 in rebound margin to rank 17th nationally.
• UK is averaging 14.00 offensive boards per outing, ranking sixth in the country
• Tshiebwe leads the nation at 13.6 per game
• He leads the country with 5.64 offensive rebounds per game and seventh with 8.00 defensive boards per contest